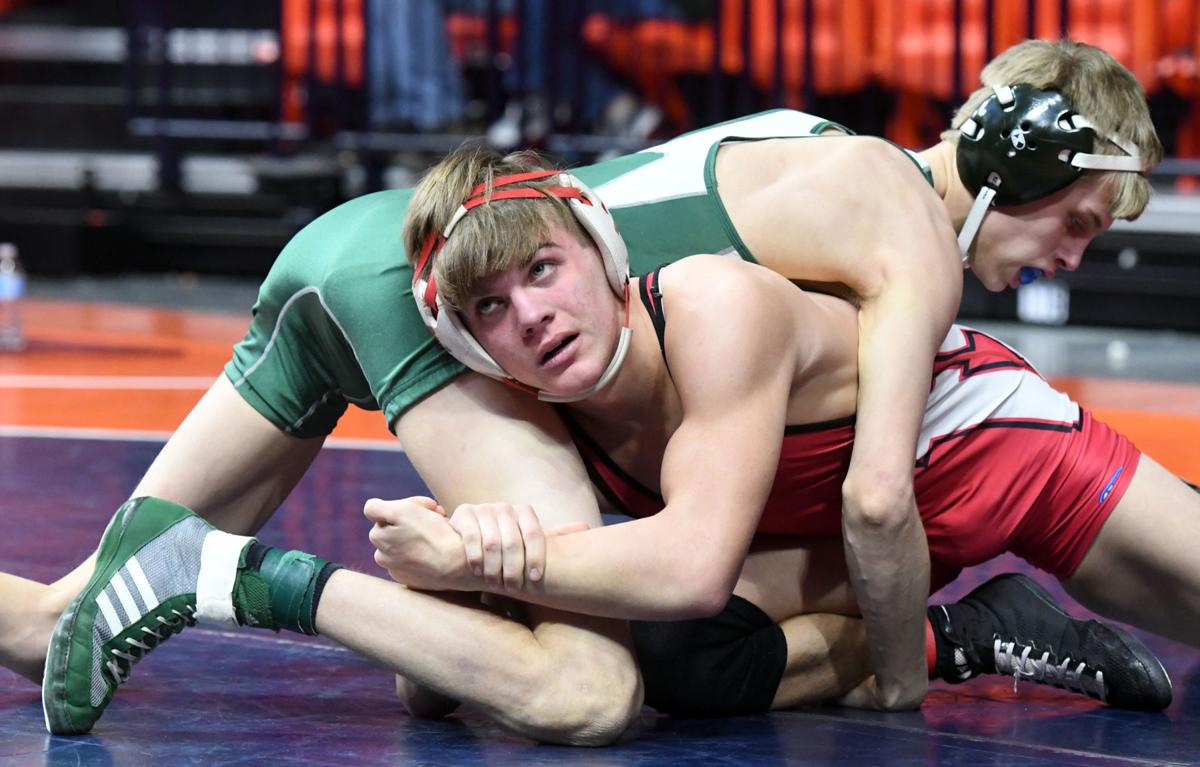 CHAMPAIGN -- Vandalia knew it would have a tough Thursday with a couple of wrestlers going up against top-ranked competition.
The Vandals advanced two of seven onto the quarterfinals as Jarrett Paslay (126) and Anthony Enlow (285) both won their matches.
For Paslay, Thursday's 5-0 decision was a redemption after he went one and done last year.
"Last year wasn't very good, and I didn't want that to happen again," he said.
With wrestling partners like Tanner Swain, Paslay's had quality practice. Now the goal is work his way to the medal stand.
"I want to get up there," Paslay said. "I've wrestled 11 years and it sucks if you don't make it there -- to work this hard and not get there."
Clay said Paslay's attacking more this season, and he's good enough to get out of a jam if needed.
"He's able to use his athleticism, he's probably the most athletic kid on our team as far as his pure athletic skills," Clay said.
Adding more goals
Between the numerous pins and tech falls, it's been exciting for Mattoon's Trevor Edwards to have a teammate in Garrette Branson who is undefeated like him.
Not only is there someone who relates to what he's going though during the season, they are able to find new ways to push each other.
"Definitely, it's really fun having him undefeated this year, too, in the room and at tournaments," Edwards said. "We like to make little bets, see who can beat someone by more or who can pin somebody faster. Definitely fun having someone to push you."
Not that either wrestler is looking ahead. Edwards was in complete control as he dominated a match against Chicago De La Salle's Ricky Young before a fall 1:50 in. Branson won his match 7-6.
"I'm not going to think as anybody is easy out here," Edwards said. "Obviously at the state tournament, nothing's going to come easy. Basically, coach just tells me, go out and have fun. It's my last year here. I just want to go out there and wrestle like how I know I can."
Two for two
It was a much more enjoyable Thursday this year for Monticello.
Ethan O'Linc (106) kicked off state with the first win of the day, pinning Wilmington's Tyler Rock in 1:26, before Kaehl VanDalsen (152) took care of business with a 7-0 decision against Rock Falls' Rollie Elder.
You have free articles remaining.
Last year, the Sages had three qualifiers, but all dropped first-round matches and missed out on wrestlebacks as well.
Soaring Hinz
There was plenty to process in a short amount of time for Cumberland's Konnir Hinz.
Moments after the senior saved his season in overtime, he had to spend a little more time scouting his next opponent sparring into triple overtime.
But the senior making his first trip to state didn't seem overwhelmed or flustered about wading through the commotion. After all, he had calmed himself heading into overtime against Lena-Winslow's Peyton Keeffer to win by fall at 6:32.
"I don't feel like I did horrible," Hinz said. "He's definitely been one of my tougher matches this year. A couple of spots, I didn't know entirely what to do, so I did as much as I could. When he tried to throw me over, I was able to stick him perfectly in overtime."
Hinz, now 36-3, has been on a mission this season to finish a wrestling career he started later than most.
"I originally went to T-Town and we were going to move towns," he said. "So I really didn't know anybody at Cumberland. Let's just throw you in wrestling and see how you do. It's happened to work out great so far. "
Under the lights
Eisenhower's Caleb Guise knew he had a tall order in wrestling the No. 1 heavyweight in 2A. He held on for a scoreless first period before taking the fall in the second.
But after the first-round match, he got a promise from Arlington Heights St. Viator's James Valentino.
With Valentino likely winning his quarterfinals match, that would give Guise a shot in the wrestlebacks. Regardless, Guise was thrilled to be on the state stage, especially considering how young he is.
"It was a real big accomplishment for me to be here in my sophomore year," he said. "I knew it was going to be a hard match. I had some things that I practiced on.
"It's a real big eye-opener. It's way different than being in the stands. I'm really proud of myself."
You again?
Shelbyville's Clayton Peterson made a late move to secure a quarterfinals berth for today.
After Erie's Kerrick Cameron had an escape with about a minute left in the third period to go up by one, Peterson roared back with a takedown and rode out a 4-3 decision.
Peterson will wrestle a familiar face today in Quincy Notre Dame's Zach Haley. Haley, the No. 3 wrestler by Illinois Matmen, has beaten Peterson three times, including a fall, 9-8 and 11-5.