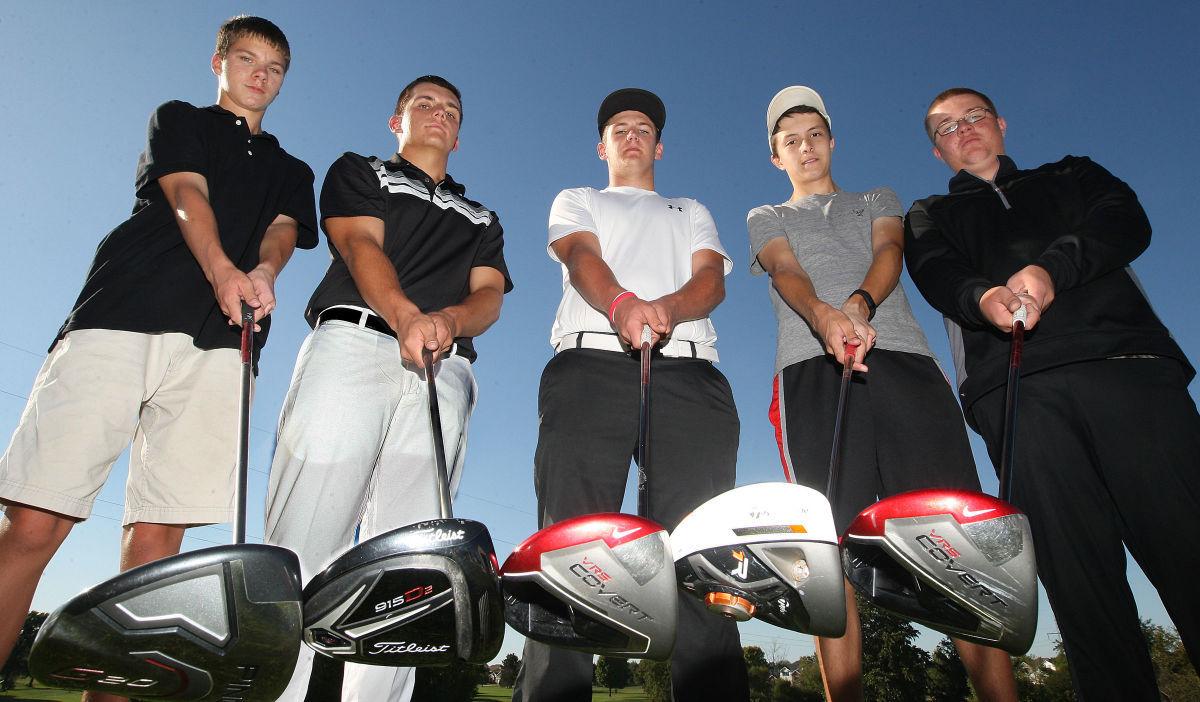 Dylan Ground walked away from Prairie Vista Golf Course last year wondering what could have been.
The Argenta-Oreana junior was happy for his LSA teammate Hunter York, who won the Class 1A state title and became the first Decatur player ever to do so. But as Ground put his clubs away he was looking for some personal redemption.
For the first time, the LSA/Argenta co-op had made state as a team. But after the excitement of making it to Bloomington, the rest of the team starting counting the shots they should have had back after Saturday's round.
"Last year, all of the focus was on Hunter, obviously, and it should have been because he won state," Ground said, "but we have a lot of the same guys back and are scoring better than before.
"The thing is with state, no one performed all that well other than Hunter -- well, (Austin) Brown had a good second round -- so we'd like to get back and show what we have."
Besides Ground and Brown, both Argenta seniors, there's fellow Bomber Jaice Hill and a pair of Lions in junior Mitch Cremer and sophomore Dayton Pate. It's a group that has shown they can put together four solid rounds and can win multiple meets without York.
But, as Ground is quick to point out, that's not a huge change. Even if York's sectional round didn't count for the team score, LSA/Argenta still would have made it to state as a team.
Returning might be a bit trickier. Since they made state last year, LSA's multiplier kicks in, and the co-op with Argenta has the team playing in Class 2A. Never mind that they only have five golfers on the team.
The class bump means trips to an unfamiliar course in Effingham Country Club for regionals and possibly traveling two-and-a-half hours south to West Frankfort for a sectional.
But that will come in time. For now, they're able to show even with five golfers, they're still a team to be reckoned with, recently winning the LOVC Championship.
"It kinds of makes us stronger as a team, honestly," Ground said. "Because before, Hunter's going to go low and if we play well, that's good. But if not, he's there to fall back on."
"So we have more responsibility and we have to think -- if we have a bad shot, we have to get back on it," Brown added. "Every stroke counts, because it honestly does. Even if you're shooting 92, or shooting 77, every stroke matters."
Even though York is gone, there are pieces of his game that remain. Cremer remembers York's refusal to dwell on a poor shot. "He just never, or rarely, hit back-to-back bad shots."
That's exactly what Cremer wants to improve in his own game.
"I feel like there are some rounds where I started off really bad, and past years I would keep playing bad," he said. "But I feel more comfortable on the course, and I can finish up better and actually make something of a round instead of just giving up and not shooting."
That's crucial with having a five-man team when the top four scores are used. But LSA/Argenta's balance makes for a competitive and encouraging environment. Ground and Cremer shot the low score (73) at the LOVC Tournament, but Pate (34), Cremer (35) and Brown (37) led the way at a recent meet.
They all have different ways of reaching that low round. Ground's distance off the tee gives him a "20 to 30-yard advantage" according to Cremer, Pate's straight shot keeps him out of danger, Brown's putting and mental game is his anchor and Cremer's short game has vastly improved over the summer.
And they now have some valuable experience of playing in the state tournament, a different animal than what they play the rest of the year.
"It was nerve-wrecking," Pate said.
Coach Steve Spinner has tried to settle those as best as he can. He's taken the team to play different courses, and even the team home invite was at Red Tail Run instead of their home course of Hickory Point.
"Coach has told us the reason why we're not playing there is for the exact reason that we need to learn other places besides playing Hickory," Brown said. "We all know we're going to shoot good at Hickory, because we all know it like the back of our hand. So he actually made that a point to play it away."
That's in line with the plan a couple of weeks from now when they head south for regionals. They'll have to contend with the likes of Effingham, Mount Zion and Lawrenceville in Class 2A, but they're confident in their small team and hopeful for a redemption story at state.
"I think to myself, if I'm not at even or under par, I'm not too happy with myself," Ground said. "Because we are all so tight-knit and close, we all have to perform even higher."
Be the first to know
Get local news delivered to your inbox!