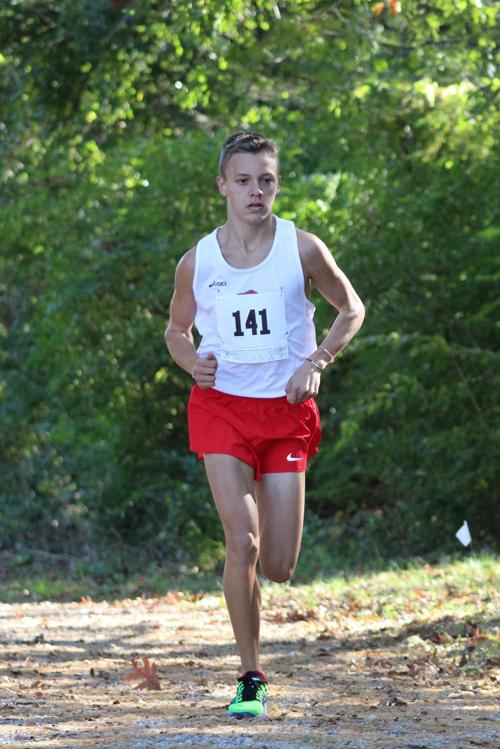 The area's best boys distance runner, Logan Hall, runs three miles in less than 15 minutes and one mile in four and a half -- state medal stuff.
It's nothing new. He placed third at the Class 1A State Boys Cross Country Meet in November and won every other meet he entered this fall except one, more than enough to make him the H&R Area Boys Runner of the Year.
Last spring, he collected state medals in the mile and two-mile races.
This summer, though, the Arthur-Lovington-Atwood-Hammond junior got really good at another long game. 
He'd never fiddled with a Rubik's Cube before being invited on a week-long trip to Colorado for high altitude training with Rams coach Kevin Kramer and several Shelbyville runners, who brought a few of the puzzles. 
Ever interested in picking up new challenges and in awe of how quickly Shelbyville senior Tyler Pasley could finish the puzzle, Hall bought a cube as soon as he got back home.
Hall, no longer a novice with the toy, now can finish matching up all the colors as quickly as 1 minute, 20 seconds.
"I just did it until midnight for a week straight during the summer because I just wanted to figure out how to do it," Hall said. "I'd just seen one (before) and I thought I'd never be able to do that."
With work, he's faster than all of the Shelbyville guys he traveled with -- that goes for the Rubik's cube and distance running.
He finished the three-mile state cross country course 35 seconds faster than Shelbyville's best, Pasley, at Detweiller Park in Peoria.
Hall's third-place finish there was up 17 spots from 20th his sophomore year.
A new trainer he has worked with during the past year, Justin Jones, has helped Hall trim his times significantly. Jones is a former Oakwood (2008) and Olivet Nazarene University (2012) runner and used to be the trainer for Oakwood's three-time state cross country champ Jon Davis.
Jones and Hall met at the conclusion of last season's state race.
"I was just standing with my mom and Justin, he was just staring at me," Hall said. "And my mom was like, 'Uh, that guy's kind of staring at you.'
"He approached me just to tell me I had a good race that day and I guess I just stuck out because I've always been known for being a shorter kid in my class, just a strength runner."
Hall is none of the 6-foot-2 Jones was listed at in college, but the two clicked right away in training.
"After the track season, we kind of discussed what was a possibility (in cross country) and we knew that a state championship could've been a possibility," Hall said. "I'm still happy with a third-place finish and where my time ended up."
He completed the course in 14:44, 21 seconds off the pace.
You have free articles remaining.
"My freshman year, my PR in the mile was 4:46, then last year I ran 4:26, and that's a 20-second jump in one year and that's pretty remarkable for a distance like a mile," Hall said, comparing times prior to Jones' training and with him. "In the two mile, I dropped over 25 seconds as well."
In training, Hall increased his usual mileage -- a big area, he said, that helped him gain on the competition.
He was also encouraged to represent ALAH alone in the Richard Spring Invitational, hosted by Peoria Notre Dame early in the season. In the only other meet besides state Hall didn't win this season, he placed 23rd -- against primarily 2A and 3A competition. It was at Detweiller Park, thus a scouting assignment more than anything.
It made a difference when Nov. 5 rolled around on the calendar.
"Just getting a feel for Detweiller before the actual state meet, to know where to make a move and where you're going to be hurting most," Hall said. "Just knowing the markers on the course and where you should make the moves is just really important strategically."
Getting to know Hall
Q: How'd you get into cross country?
A: At Arthur, we don't have it in junior high, so I was kind of set back from a bunch of schools that actually do have it in junior high. So, freshman year for me, you could say, was like seventh grade for a kid from Monticello or Shelbyville. 
I could say it was a little hard at first because I wasn't as good as I am now, but I knew, in the end, I'd come back to those guys.
Q: When you're not running, what do you do with your free time?
A: Sit around. Sitting around is just nice sometimes. Going to school events, like basketball games, because I just like to see how the teams are doing. I used to play basketball. Hanging out with friends. I like watching some Netflix at times, too.
Q: After a run, what's your go-to drink or snack to kind of get yourself going again?
A: For drink, I'd probably say chocolate milk. You can never go wrong with that. For a food, I wouldn't really call it a snack but I like Fazoli's fettuccine alfredo a lot.
Q: Is that to do some carbo-loading before or after races? 
A: I started it last year, but every time before state I get Fazoli's and I did this year as well. The day before. It's usually lunch or dinner. This year it was lunch.
Q: You're having a lot of cross country and track success, so have college athletics entered your view yet?
A: I was getting last year some letters from colleges you don't really hear of, small schools from states far away that try to pick you up. Now, I'm starting to get some bigger school letters coming in, so I'm really thinking it's a possibility.
A: I've gotten just recently in the past few weeks, mainly because of these postseason races -- Nike and Foot Locker races and the state meet. I got one from the University of Wisconsin and University of Nebraska. I also got one from Bradley (University), too.