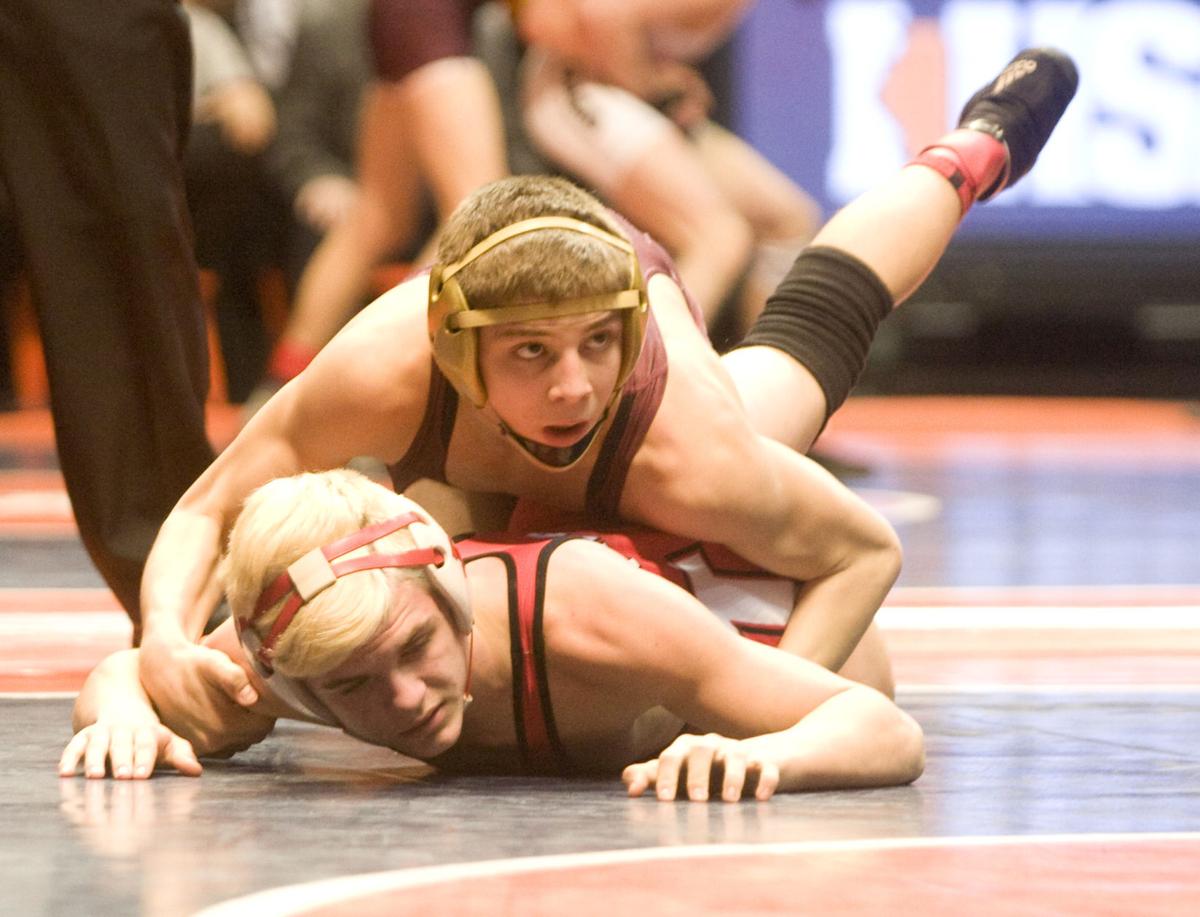 CLINTON -- There's a long list of names peering down on Clinton's wrestling practice every day.
Twenty-one different names in fact, painted on the wall of the Maroons' wrestling room. Each has at least one state medal to their name, and the group has collected 30 total, including seven individual state titles. Many of those helped make up five different team state dual titles.
It's a lot to, literally, look up to.
Most of those names, though, have been there for 15 years. For the last decade or so at Clinton, they've been trying to reach back up to those heights.
Matt Cooper's trying to lead them back there. Cooper, who is one of those 21 medalists thanks to a second and third place when he was in high school, is in his third season as head coach.
So far, he's on the right path.
The Maroon's record has been impeccable as they've eclipsed the 23 dual match record and suffered just one loss. It's thanks to a strong team throughout each weight class as Clinton fields several 30-win wrestlers, including former state qualifiers Logan Winter and Christian Reynolds.
It's been a couple years in the making after two winning seasons, but even this has been eye-opening.
"Honestly, it's a little more than what I was expecting," Reynolds said.
"Yeah, it makes it a lot more fun. Winning's always more fun. Bus rides are for sure a lot better."
It's coming with a young group, too. Winter's a senior, but the Maroons are laden with sophomores and juniors.
Cooper's been able to build his wrestlers up from the lower levels to where now he doesn't have to worry about the big stuff as much.
"We started with the basics a couple years ago. It's easier to expand because we have a good group of kids that know the basics now," Cooper said. "They had decent success in junior high, and they're willing to work at it and make it even better here."
Cooper was an assistant when Kye Reczek broke a six-year state medal drought in 2013, then was the head coach when Winter took fifth as a sophomore in 2015.
"It was nice to get the ball rolling," he said.
"It takes one or two guys to have some success -- Kye was a guy that didn't buy in all the way until his senior year. We always thought he had a chance to medal, and when he bought in completely, the sky was the limit."
You have free articles remaining.
That's what Cooper likes about his current team, how much they've bought in. The coach also points to Reynolds and Winter as positive influences as captains.
"I just try to make sure they're being respectable," Winter said. "That they're working hard and doing everything they can to listening to coaches -- that's the biggest thing. So if someone freaks out, I'm one of the first kids over there to make sure they're calm."
"When one guy works hard, the whole team feeds off of that," Reynolds added.
The Maroons can claim five wrestlers with 30 wins already -- Luke Shobe (160 pounds), Christian Reynolds (138) and Kolby (152) and Logan Winter (170). A fifth, Tyler Harris (120), is one win away, and Kyle Hammer (220) is having a breakout year as well.
It's not the easiest task building up a state power downstate.
Clinton's usually right on the border of where teams divide north and south for regionals and sectionals. And the Maroons usually head north to wrestle. That creates regionals like the Heyworth regional last year where a wrestler as talented as Winter missed out on advancing -- three wrestlers from that regional would go on to win at least two matches at state.
"That's kind of why we went to the Orion tournament," said Cooper, who also took his team to Princeton and Normal U-High. "I was looking at a couple of ones around here, and it was, I'd rather see some of the better competition and go up there."
It's a path the Maroons are willing to take. They want one that leads to putting that name up among Clinton's greats. And while they see the list of medalists every day in practice, it's more than just paint. Reynolds knows which ones have state titles and uses that as motivation.
"Some of the other guys like Fatheree, Byrd, Ryerson, I want to be where they were," he said.
He's already scanned the rest of the wall to see what else is possible.
"This year and next year, I'm hoping for dual team state," he said. "And then individually, for career wins I kind of figured it up and I'm pretty close. I can probably beat it. And takedowns in career, I can get that, too."
While there's plenty to look forward to in the next couple of seasons, this is shaping up to be a notable year for the Maroons. In his senior year, Winter's hitting all the right notes. On Friday, he wrestled up and beat Tolono Unity's Jake Frost, the top-ranked wrestler at 182 pounds by illinoismatmen.com.
Winter's been able to dominate by staying on his feet.
"I take kids down a lot and cut them off," Winter said. "I wrestle on feet the majority of the time. I did a lot of freestyle and Greco, so that helped a lot."
To make dual team state is a lofty, but attainable, goal. Clinton needs to win next week's regional title but the path won't be easy, with teams like Stanford Olympia and Prairie Central there as well.
Individually, Clinton has the chance to advance several to state. Those who make it through regionals will have the bonus of some familiarity while dealing with pressure-filled situations – Clinton hosts the sectional.
Cooper's hoping the Maroons can update the dual and individual portions of the wall by season's end.
"We want to put some over there and some on the individual side, too," Cooper said. "That's always been our goal for the last several years."