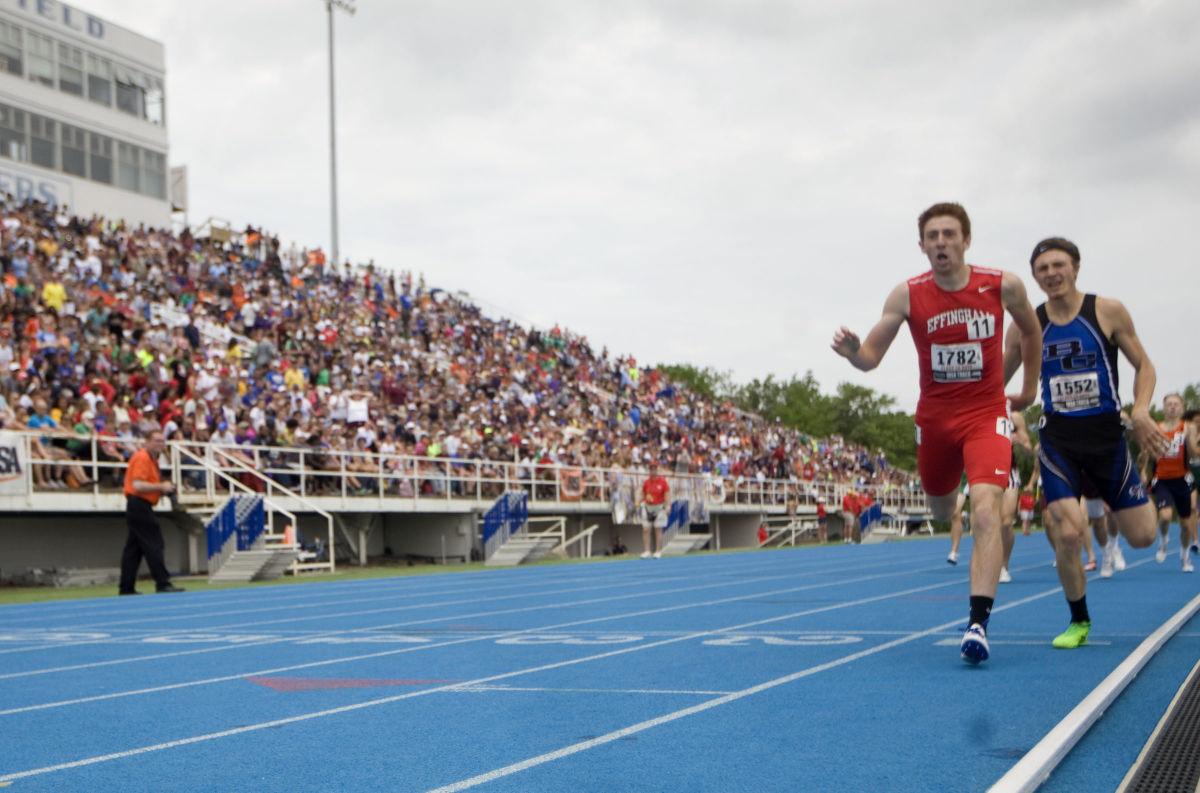 CHARLESTON – Effingham senior Sean Zerrusen wanted to tell a different story.
He wanted to be the school record holder in the 400-meter run and then chase a state title at the Class 2A State Finals in Charleston.
He didn't get his wishes, but did get something better on Saturday.
Entering the day with the fifth-fastest prelim time in the 800-meter race, Zerrusen held off Burlington Central's Nick Harvey to win the state championship.
"I won't get used to it," Zerrusen said of his new title.
A three-time qualifier for the state meet, he'd only ever gone to O'Brien Stadium to compete in the 800 – placing fourth last season.
But he often put the 800 in the back of his mind this season with grander plans for the 400, even after running around 1:57 at the Apollo Conference meet.
"I ran a 1:57 and they were like, 'And you don't want to run that?' " Zerrusen said. Then came sectionals, I said to my coach to put me in it. He threw me in it and I ended up here. I never imagined I'd be up there (on the podium)."
Zerrusen started near the back of the pack, out of the No. 11 spot, and was surprised how fast his competition came out of the blocks.
You have free articles remaining.
But he stuck to his game plan and, on the last lap, made up his mind to leave everything on the track to end his Effingham career.
He beat Burlington Central's Nick Harvey by 0.14, posting a finishing time of 1:55.38.
"I didn't figure it'd be him chasing me in the end," Harvey said. "He came up strong and took me on the side and I was, my legs, it's not like I saved any."
In winning, Zerrusen overcame his biggest crutch – his nerves.
He said he dreaded the race every step of the way this season.
"Every meet – 'Mom, can I go home? Mom, can I leave? Can we just go home?' " Zerrusen said. "My nerves killed me every time … and I just didn't like it."
Piling it on, he was worried about disappointing the people who drove to Charleston to support him on Saturday. He was scared he'd finish last.
But then he remembered Andrew Gardewine, the Effingham St. Anthony 800 runner who graduated last year.
Gardewine in 1A and Zerrusen in 2A give Effingham back-to-back state champions in the 800-meter race.
"I watched Andrew do it last year. I watched him finish," Zerrusen said. "That look in his face – the tiredness and excitement at the same time – I was like, I think I want to be there. I think I want to do that.
"Even as much as I dreaded doing it, I thought about it every time, even before this race. I thought about Andrew's face. It's something that stuck with me ever since."
 "My nerves killed me every time … and I just didn't like it."

Sean Zerrusen, on the 800-meter run