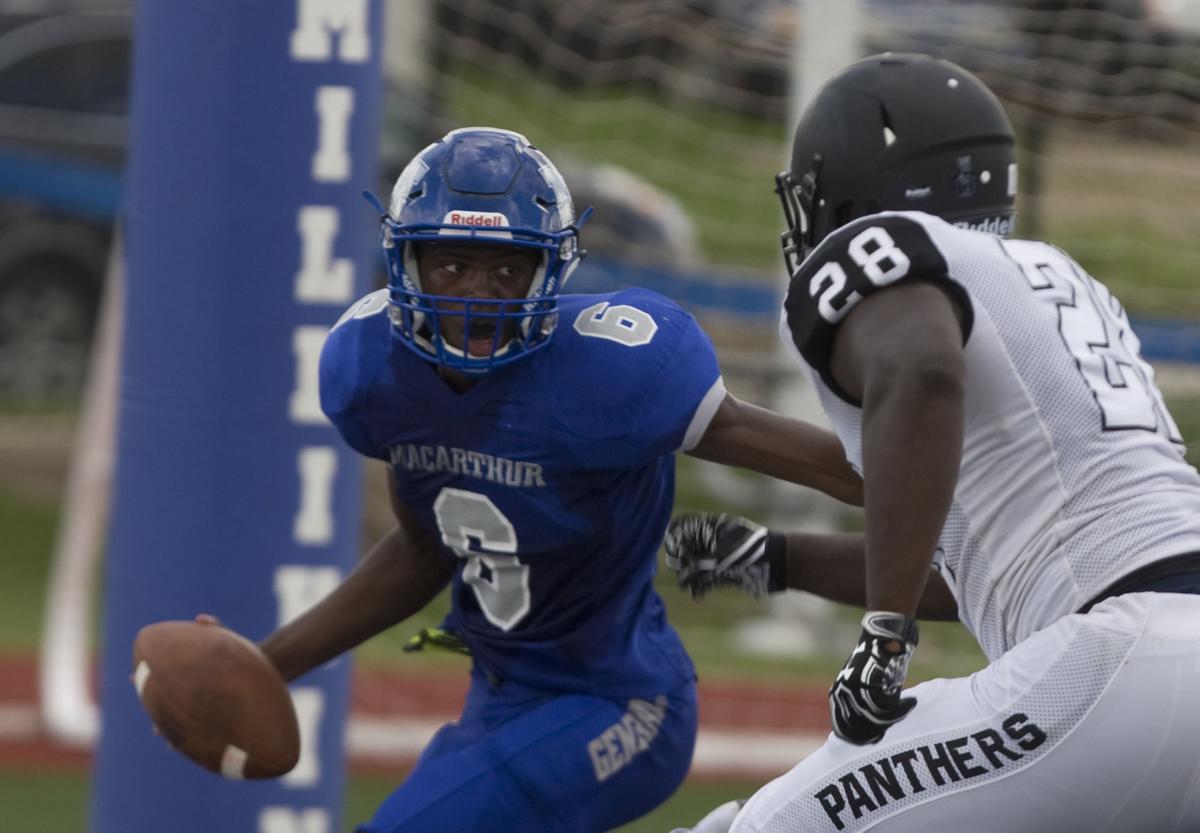 Coming into the high school, the hype around Amir Brummett was all about basketball.
On Thursday, the MacArthur junior showed just how versatile he was, committing to Northern Illinois' football program.
It was one in a spree of offers from colleges in the past couple of months, including Eastern Illinois, Southern Illinois and Illinois State. There was a visit to a Big Ten campus in Iowa, but Brummett didn't want to pass up the opportunity to play for the Huskies.
"Growing up, I wanted to go to college for basketball," he said. "I used to always think I'd go Kentucky or Duke. But I started to face reality, and that's when I started thinking to myself basketball's a hard sport and I won't get to where I want to get to go.
"I started taking football more seriously. Being 6-4 in football, it's a blessing. That's what drew me over."
Brummett's played quarterback for the Generals the past couple of years, but Northern is looking at him at wide receiver.
"He's a good enough athlete to pick it up during the (2018) summer," MacArthur coach Derek Spates said. "College coaches looked at his jumping ability, his athleticism and see him catching fades in the back corner of the end zone."
Brummett was caught off guard when Northern coaches suggested wideout.
"I was surprised, because I've never played receiver a day in my life before," he said. "I guess it's because I'm tall and long."
Brummett said the three-hour trip to DeKalb was a selling point as well.
"It's close to home and it felt like home," he said. "I feel like I can succeed physically on the field and in the classroom. Their coaches care, they'll be on top of us and our grades."
It's been a whirlwind the past couple of months where all four offers rolled in, and Brummett's mother, Shemaiah, has just been holding on.
"I'm just shocked. I'm very proud," she said. "I knew this time was coming, but it came so soon."
Brummett follows Devan Ingram, a '14 MacArthur graduate who also played for Northern.
Spates said he plans on keeping his quarterback taking snaps next fall, and continues to see the progression in his game. He pointed to former players like Ingram who have returned to Decatur to help motivate high schoolers to pursue college dreams on the football field in a basketball dominated city.
"We want our guys to go on. They see older players and their older brothers doing it," he said.
Throughout the process, Amir's twin brother Armon has picked up the same scholarships. But while they look alike and can do many of the same things, it's not a guarantee they'll do everything the same.
"We're two completely different people," Amir said. "My mom tells us all the time he's day and I'm night."
"I'm happy for Amir and his family," Spates said. "He's put in hard work over the years, even though he started out as a basketball player ... he saw football could be his ticket."
Northern Illinois, a Division I school in the Mid-American Conference, went 5-7 last season. The Huskies are coached by Rod Carey.
Be the first to know
Get local news delivered to your inbox!