MACON — Layne Kircher's schedule is busier than most high school students.
Meridian's premier guard usually practices before and after school and then spends the rest of his time with his girlfriend Taylor Largent and their baby girl Eden.
It's really something to behold.
"I'm very impressed because it sounds like he has a pretty stressful life," Meridian teammate Cameron Getz said. "But he handles it very well because he's always talking about how he's up at night with Eden and then he's at the school every morning shooting the ball at the gym. It's amazing how he's able to do that."
Kircher typically wakes up at 5 a.m. for a shootaround at the gym with his step-dad Dustin Clark and then restarts practice after class at 2:45 p.m. He finally reunites with his 1-year-old after 5 p.m. before doing it all over again the next day.
Largent, who studies at Richland Community College, is just as busy.
It's exhausting for sure, but motivation is never hard to find.
"Usually I'm always tired," Kircher said. "I know that to get to the next level that's what it takes. When you don't like doing it or you're not motivated, I just got to tell myself that. I just got to look at a picture of Eden and Taylor and that reminds me why I'm going and why I'm here in the first place."
The senior standout intends to play college basketball close to home.
He's received an offer from Lincoln Land Community College in Springfield and other interested schools include Division II University of Illinois-Springfield and Division III programs Millikin University and Monmouth College.
His family is his inspiration and a whole lot more.
Before most games, Kircher runs up to them in the front row and gives them all a kiss on a cheek.
"For good luck, I guess," he said.
He also does it because he couldn't manage without Largent and his family's constant support — grandmothers, mothers and all.
"My girlfriend Taylor is amazing," Kircher said. "She does a lot for us like figuring out where the baby stays. Her grandma and my grandma, they watch the baby every day. If they can't, her mom and my mom will watch her.
"That gives me time to focus on basketball and what I'm doing and gives her time to focus on school and what she's doing."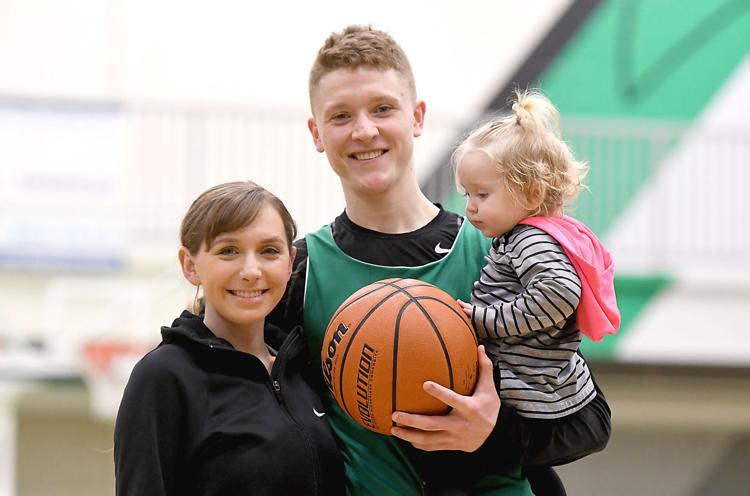 When Eden arrived on Dec. 2, 2015, Kircher only had to make a small adjustment for basketball. He simply moved his individual routine with Clark, who's also the freshman coach at Meridian, to the morning hours and that kept him on course for a spectacular senior year.
Kircher's generated unbelievable numbers this season and currently leads the area with 25.2 points and six rebounds per game. Last year, he averaged 11.7 points and 4.2 rebounds per game.
Kircher's extensive arsenal turned him into a defensive nightmare.
He made his biggest strides behind the arc.
You have free articles remaining.
During the past summer, he tallied up 500 practice shots each morning and traveled with the Illinois Irish, an AAU team based out of Peoria.
"We worked on getting a little bit more elevation," Kircher said. "I knew I was going to have to be able to shoot over people this year — that and just mechanics, focusing on doing the same thing every time."
It's complemented his size.
At 6-foot-3 and 175 pounds, Kircher can easily charge to the hoop and post up in the paint.
"The thing that makes him hard to guard is he can score in a variety of ways," Meridian coach Jay Driscoll said of his three-year starter. "They have a tough time shutting him down because he can score off the dribble, shoot the 3 and he's also good in transition. That makes him tough to guard."
Driscoll has built a playbook that exploits all of his strengths.
He designed plays specifically for Kircher and additionally moved him out of the point guard position to relieve some of the pressure.
Getz shoulders that responsibility and has performed admirably. He's averaged 14.1 points per game — second on the team.
"Last year, I was the point guard and had the ball quite a bit," Kircher said. "Him (Getz) stepping up and being able to bring the ball up the floor really takes the attention off of me, which really loosens it up for me so I can get my shots up."
It was a fairly new position for Getz, but the junior eased into it better than he expected.
"It was a pretty tough transition because I've been playing shooting guard for most of high school," Getz said. "I had to kind of learn how to dribble and take care of the ball. But having Layne with me makes it a lot easier because I can be a scorer and a passer with Layne by my side."
The results are hard to ignore.
Kircher nearly shattered Brock Snarski's school record of 42 points in a game twice this season. He first scored 39 points in an 86-75 loss to Argenta-Oreana on Dec. 16 and then a career-high 40 points in an 80-66 loss to Pana on Jan. 10.
"It's really fun when games are like that when Layne's going off," Getz said. "It's just really fun to be a part of and it's just kind of amazing to be a part of the game and have that moment with him."
Kircher had mixed feelings about the Pana game. He electrified the crowd — and a couple of college coaches — but still suffered another frustrating loss.
Meridian's record is 9-11 and he's looking for others to step up.
"We've got to have more than one or two guys in double digits," Kircher said. "We've gotten there a few times this year, but we haven't gotten there enough. I think it's more that we just need to get into a rhythm and get everybody going and we'll win our ball games."
It's easy to see why Driscoll speaks so highly of Kircher's character.
He treats the game ever so seriously — more now than ever with a family in tow.
"I've always taken the game serious," Kircher said. "It was never like a joke or anything. Now that I have that responsibility of being a dad and that I need to provide for Eden and my family someday, going out there and doing the best I can and giving the best performance that I can is important now.
"It's a lot more important I'd say."