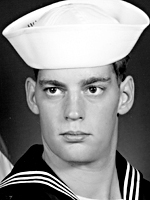 DECATUR — Colley E. Kitson, 45, of Decatur, passed away Tuesday, March 19, 2013, at Decatur Memorial Hospital.
Colley was born on April 30, 1967 in Decatur, the son of Carter and Jerriann Kitson. He was a Navy veteran and master chess player and teacher.
He is survived by his children: Hannah (Kitson) Emery, Michaela Kitson, Jason Kitson, Sarah Kitson, and Levi Kitson; mother, Jerriann Kitson; Uncle Bud and Aunt Ann Price, and Uncle Jim and Aunt Barb Kitson; girl friend, Bobbi Joe Purdue; good Navy buddy, Dave Madden; good friend and caregiver, Rodney Harrison; many nieces, nephews, other relatives and friends.
Colley was preceded in death by his father; twin brother, Jason, and grandparents: Carter (Ben) and Juanita E. Kitson, Sr.
Graveside services celebrating his life will be at 11 a.m., Saturday, March 23, 2013 at Calvary Cemetery, Decatur, with military rites by the Macon County Honor Guard and U.S. Navy personnel.
Colley was loved by so many and will be missed very much.
The Kitson family is being served by Moran & Goebel Funeral Home and Cremation Center, honored provider of Veterans Funeral Care, 2801 Monroe St, Decatur, IL. View the online obituary and send condolences to the family at www.moranandgoebel.com.
Obituary written by family members.