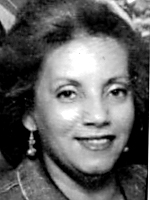 DECATUR — Dixie Smith, 62, of Decatur departed this life on October 1, 2013 at St. John's Hospital.
Dixie was born on May 15, 1951 in Perthshire, Mississippi the daughter of Roy and Addie Mae (Miller) Smith.
Dixie graduated from StephenDecaturHigh School in 1970 and IllinoisStateUniversity where she was a charter member of the Alpha Kappa Alpha Sorority chapter on campus. Following college, she was a model for Ebony Fashion Fair travelling from state to state. She worked as a teacher for over 20 years at various places. She was a member of the LifeChangersChurch. She loved to read and write and also watch Walker Texas Ranger and the Golden Girls. Her children and grandchildren were her pride and joy. She loved to spend time with them and loved preparing holiday meals.
She leaves to cherish her loving memories: her daughters, Camille (Deterious Cliff) and Jacquelyn Smith both of Decatur; brothers: Roy Smith, Jr. of Decatur, Early ( Linda) Smith of Clarksville, TN, Wayne Smith of Springfield, IL; sisters: Lottie Patoni of Nashville, TN, Linda (A.D. Sanders) Smith of Decatur, Brenda Taylor of Nashville, TN, 3 grandchildren, Khaliq Haley, Ayrionna and Alana Cliff, special loved ones, Monty McGee, Ray Taylor, David Mabon and the members of the North Jasper Street Church of Christ.
She was preceded in death by her parents, brother, Jimmy Smith.
Services celebrating her life will be held 12:00 Noon Friday, October 11, 2013 at LifeChangersChurch. Visitation one hour before service. Burial: GreenwoodCemetery. Professional Services entrusted to Walker Funeral Service and Chapel. www.walkerfs.com
Obituary written by family members.