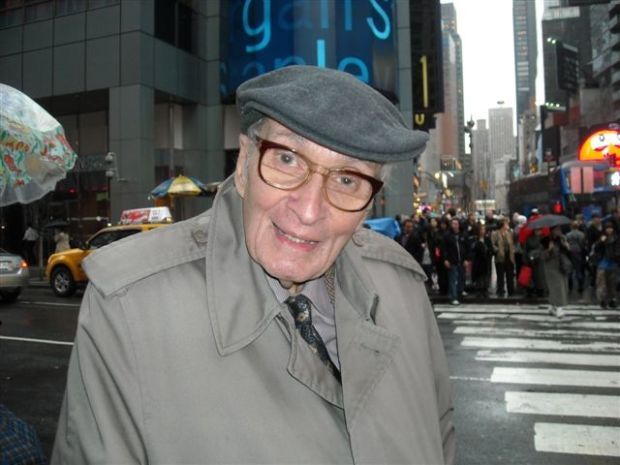 A website honoring the late John Balamos of Decatur and New York City has had more than 17,000 hits. The goal is to reach 20,000 hits by Tuesday, Nov. 19, the 86th anniversary of his birth.
From humble roots, Balamos wrote music from 1960-2009 — complete musicals, theatrical scores, children's theatre, Shakespearean pieces, Greek pieces, jazz. He wrote the soundtrack for "Hercules in New York," a satire film featuring Arnold Schwarzenegger in his film debut.
During his last 25 years Balamos was senior music director at the prestigious 92nd Street Y in New York City. He died Feb. 9, 2011, after a full day of work followed by dinner with family and friends, leaving a legacy as an accomplished pianist, music teacher, composer, beloved family member and friend.
The website, www.johnbalamos.com, was established with the hope of building a music foundation for the perpetuity of his work. Under the composer tab on the website are two music videos of early Balamos compositions directed and performed by Millikin University students.
In order to reach 20,000 hits, Georgia Greanias Casciato, a niece, is asking:
Send a note to friends with the link.
Push out to church groups, arts communities and social groups.
Revisit the site yourself
When you send the link, ask your recipients to also forward to their lists.
John Balamos had a passion for music and life. "I work long hours every day and love it — retirement is dumb," Balamos emphasized in a Herald & Review article. "I can't imagine doing nothing. As a rule, artists don't retire. Art is everything."
Balamos composed numerous choral works and New York productions. He received Rockefeller and Jim Kaplan grants that recognized his teaching innovations and creativity. At the time of his death, Balamos was working on "Drum Taps," a dramatic adaptation of the Civil War based on a play by Joseph Scott Kierland.
"John had a way of encouraging people to reach their potential whether in music or in life," praised his brother, Dino Balamos of Decatur. "John had an extraordinary impact on our organization and our multiple generations of students," said Jo Frances Brown, director of the 60+ program at the 92nd Street Y.
Bess Greanias, Balamos's sister, remembered his earliest request for a piano. "It was the post-depression era and our father told him the family couldn't afford a piano. The next day a piano was mysteriously delivered to our home."
Balamos trained in the classics and had a passion for Johann Sebastian Bach. He studied with Elizabeth Travis at Millikin University and at Indiana University. His early compositions integrated Eastern/Greek Orthodoxy and Byzantine music.
He believed in living life to its fullest every step of the journey.
* Shakespeare's As You Like It
* Shakespeare's Twelfth Night
* Gyrant The Terrible Tyrant
* Ballad of Fangless McRattle