DECATUR — Tonya Hardison, 57, is a client at Macon Resources Inc. with ideas and plans she wants to talk about.
Although the nonprofit agency, which provides services to children and adults with disabilities, offers her and her friends various opportunities to learn and grow, those with special needs often have difficulty sharing their feelings.
Hardison and other clients at MRI attend the weekly meetings to learn communication skills and have fun. Speech Club provides a lively atmosphere, with crafts, speakers and activities. The projects spark thoughts and discussions, giving them subjects to share with each other.
"We didn't want it to be the pressure of a speech class," said Kelsie Wujek, executive assistant at MRI. "We take the fun approach, but we are still seeing them develop their communication skills."
Wujek began facilitating the Speech Club 18 months ago. She wanted to create a place the clients felt comfortable sharing what they were feeling or excited about.
"If they don't want to share anything, they don't have to," she said. "But we want them to know we're here to listen if and when they're inspired to share."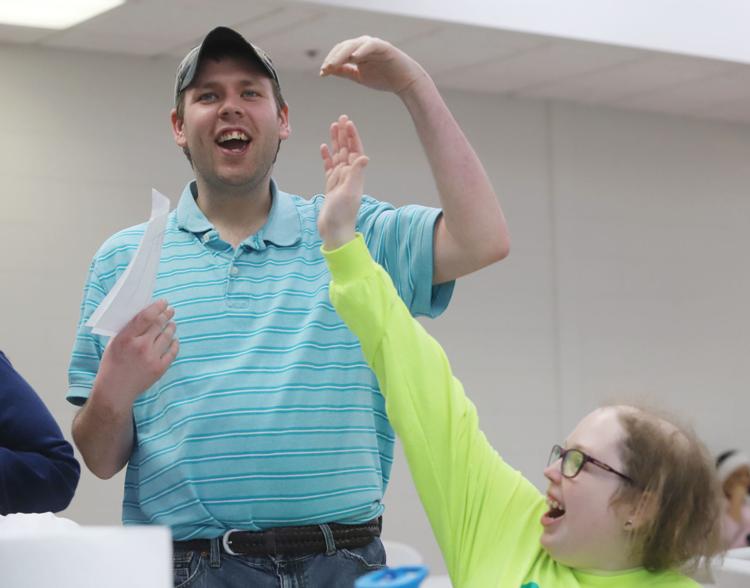 When the club began, the numbers were small, with only five participants. "Since the word has been spreading, and with all the excitement, we probably have 15 to 20 who come each week," Wujek said.
The program was created to provide MRI clients with public speaking experiences. President and CEO Amy Bliefnick often represents the special needs agency at public events. Wujek said the staff wanted clients to join her. "We had a couple who were really interested," Wujek said.
Karl Nave, 40, joined the program because the club allowed him to voice his opinions. "Maybe I would gain other ideas that would be helpful for other people, too," he said.
Nave has been invited to speak at events, as well as on the radio and on television. He said many of his speaking opportunities address some of the problems he has experienced. "Like obstacles that might come their way, too," he said. "It has been a benefit, not only for me, but for other people."
The Speech Club has given Nave the confidence to try other creative activities, which includes writing his own stories. "I write mysteries," he said.
Organizers of the club also have learned clients simply want someone to hear what they have to say. Public speaking skills were not the most important lesson in the club.
"We started offering activities because, for some of them, it's hard to open up and share," Wujek said. "So the activities make it easier to share."
Wujek has witnessed club members blossom and gain confidence to speak to others. "Some are wanting to share, even if they don't stand up and do the whole speech thing," she said.
During the latest meeting, participants were encouraged to design an outfit for their upcoming prom event, Night to Shine. Speech Club members spoke about their excitement and plans for the evening.
"It gets their wheels spinning," Wujek said. "They are more willing to share."
Organizers have invited other community members to speak during the meetings. Club members ask questions and discuss the subject. Speakers relate their topic to the weekly theme, such as weather or dream jobs.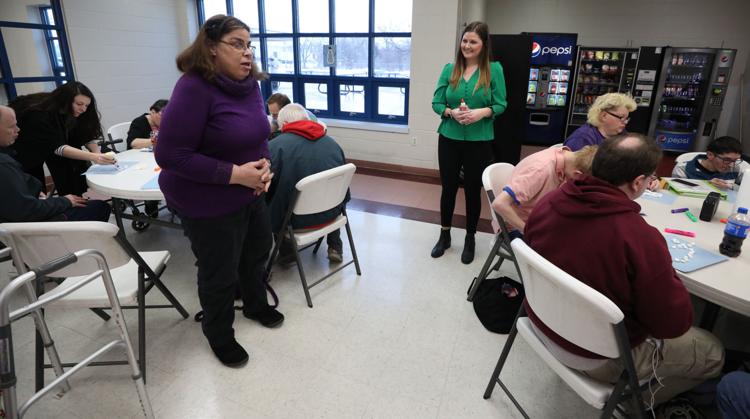 Wujek talked Angie Belue, 51, into joining the program. "Ever since I've been in Speech Club, I've enjoyed it," she said. "I get to meet new people and socialize."
During the latest meeting, Belue sat with her friend, Dorothy Reed, 52, while they drew prom dress designs. The majority of the meeting was spent talking about expectations for prom and their dresses. Reed said she was almost ready. "My dress is going to be black and blue," she said.