DECATUR — Bob and Kathy Cain Thompson loved Christmastime. Their holidays together were full of decorations and holiday spirit. 
"She would even take the pictures down and wrapped them up like presents," said Darla Hinton, Kathy's daughter from a previous marriage. 
Kathy's love for the holidays almost disappeared. Her partner of more than 15 years died Sept. 24 from pancreatic cancer, one month after he was diagnosed. He was 77. 
As the holidays approached, her family made the plans for their mother, inviting her to their homes. She didn't want to celebrate or decorate their Decatur house.
One simple meeting softened her feelings about the holidays.
A few weeks before Christmas, she attended a bereavement support group at the Cancer Care Center of Decatur for the first time. A woman in the group wanted to honor her late mother during the holidays by hanging a pair of her earrings from a small Christmas tree.
The idea was all she needed to rediscover her holiday spirit.
"Ding, ding, ding — my brain started working finally," she said. "I knew exactly what I was going to do with the tree."
The next morning, she began decorating the tree she had stored away. She said she didn't fuss with where to place items.
"If the lights didn't work, then they didn't work," she said.
The decorations are memories from his life. Pieces from his childhood. His holiday ties drape down the sides among his eyeglasses, tie clips, name tags, cuff links, watches, cutlery, a tape measure, pocket watch, woodworking projects and tools.
"It is all stuff he collected," she said. "This was Bob."
There are pieces she added, too. 
"I thought it needed a few angels," she said.
Surrounding the area are larger items that wouldn't fit on the 6-foot tree. His shoes, along with more tools, radios and flowers have been added as Christmas decorations.
Every part of the tree is a conversation piece about a man's life.
You have free articles remaining.
He was a founding member of Central Illinois Christians in Mission, which helps those in need with furniture and households goods, and touched many lives through his volunteerism. They met while working at Habitat for Humanity in 1999.
She said her husband lived a full life, even while experiencing back pains associated with his cancer. He traveled and continued to volunteer.
"He wasn't a complainer," she said.
Kathy's daughter, Diane Montgomery, said her mother was just as active.
"She had a wonderful life with this man," Montgomery said. "I had never seen my mom so happy."
The family tried to be supportive of their mother while she grieved, but they also had to deal with their loss.
"I saw the tree and that was it," Montgomery said, tearing up. "So I can understand why it was good for her. And it was helpful for me."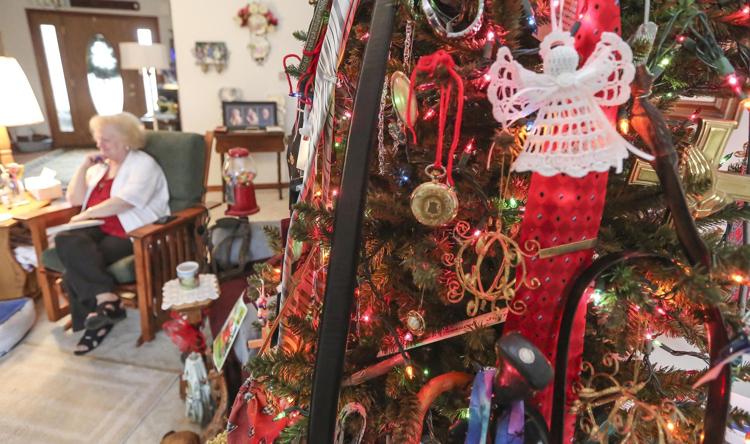 Decorating the tree took only a day.
"Once she gets going, she's gone," Montgomery said about her mother. "She is a ball of fire when she's got her mind set on something."
Hinton said she had faith her mother would enjoy the holidays again.
"She has that strength in her," she said. "I didn't think she would do this, but I knew she would do something."
Kathy now quotes her motto: "You have more regret about what you didn't do than what you did do," she said. "So now I'm just doing it."
The holidays remain difficult, but the tree has been a source of comfort. It not only brings back great memories, it also allows her husband to be present during the holidays.
"It is more comforting to be able to talk about him," Montgomery said. "Most people want to avoid the subject."
"Talking about your spouse is one of the best things you can do," Kathy said.