WORSHIP
All are welcome: Decatur faithful say church shootings must not close hearts
Faithful say recent church shootings must not close hearts
DECATUR — The unlocked double doors swing open easily — an inviting, comforting sign that all are welcome at St. James Catholic Church for a recent morning Mass. The smiling face of the priest leading services from the altar makes the visit all the more serene.
"I'm crying right now thinking of it," the Rev. Wayne Dunning of Faith Fellowship Missionary Baptist Church said about the Texas shooting. "I can't imagine somebody coming in faith and spraying us down, and we're so vulnerable. But it's happening around our nation."
The haunting massacre in the small town of Sutherland Springs southeast of San Antonio has renewed soul-searching and conversations regarding safety in what had long been considered a sacred place, before a series of violent acts erupted in recent years at places of worship.  
Many in attendance at St. James on Wednesday morning said life requires they cleave to their faith all the more going forward. Or as Matthew 22:39 puts it, "Love your neighbor as yourself," a nearly universal sign of humanity, compassion, caring, civilization itself.
John Schilawski, a member of Sts. James and Patrick Parish, said the latest church shooting did not deter his daily morning Mass ritual. Instead it only increased his faith.
"The man that shot the people, that badness will be a source of good," he said. "It will unite people. It brings people to their knees."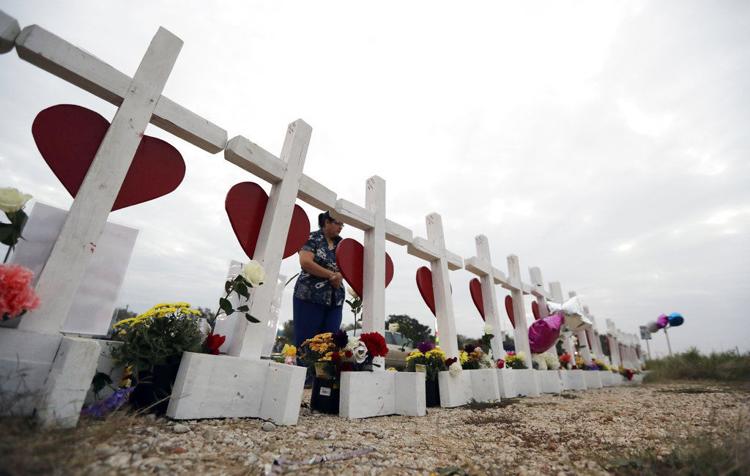 But in this new environment, security is a challenge in a welcoming house of God that is nevertheless a place on Earth, with all the troubles that entails. There usually are no metal detectors. There are no guards. But there now are sometimes notes of caution. 
"We are a church that is always welcoming," said Pastor Matt Samuels, of gtChurch in Decatur.  "We have to do what the Bible says. Be gentle as doves. But if you see something strange, contact security or staff."
It's an unsettling message borne out of a series of attacks similar to the Texas rampage, from seven dead at Wedgewood Baptist Church in Texas in 1999 and six killed at a Sikh temple in Oak Creek, Wisconsin, to the nine lives lost at Emanuel AME Church in Charleston, South Carolina, in 2015. Three were shot at the Jewish Community Center of Greater Kansas City in Overland Park in 2014. 
Three years earlier, in Maryville, Illinois, near Edwardsville, the Rev. Fred Winters was fatally shot while he delivered Sunday services at First Baptist Church. The gunman, Terry Joe Sedlacek, had enough ammunition to kill up to 30 people, law enforcement said. He was found not guilty by reason of insanity in 2015. It's unclear what prompted the shooting. 
The Maryville church coincidentally shares the name as the Texas one where Devin Patrick Kelley, wearing black, stormed in and opened fired this month, in what is the deadliest mass shooting in state history.
Gunfire rang out for several minutes. Some were methodically killed at point-blank range, police have said.
The ages of the dead range from 1 to 77. Eight killed are from the same family. Kelley was found with a self-inflicted gunshot wound. 
Vice President Mike Pence at a prayer vigil Wednesday in Sutherland Springs said, "we mourn with those who mourn, and we grieve with those who grieve, but we do not grieve like those who have no hope. Because our faith gives us hope, and heroes give us hope."
'You have to change the people'
The same Sunday as the Texas shooting, a man gunned down his ex-wife and her new boyfriend in the parking lot of St. Alphonsus Church in Fresno, California. On Sept. 24, a gunman killed one and injured several others at Burnette Chapel Church of Christ in Antioch, Tennessee. 
More than 91 people have been killed in at least 22 church-related incidents since 1999, with at least eight shooters then killing themselves also. With three deadly shootings in 2017, this has been the deadliest year for killings at U.S. churches. 
Dunning is concerned such tragedies will keep faithful away. "I can see people say, 'I'm going to stay right here at home and watch a televangelist on TV instead of fellowshipping with the saints.' I can see that. TV is exciting, but I'd rather be there in person, and be a participant instead of an observer," Dunning said. "Church is still a place where we need each other, to get some sort of respite from the world and be among people who are common-minded."
The Rev. Eric Trickey, senior pastor at St. Paul's Lutheran Church, said he and his staff are committed to making the church safe for everyone.
"While at the same time realizing that, because of sin and evil in the world, terror and tragedy will continue to touch us all, driving believers deeper into the arms of Christ, our hope of life beyond death." 
This weekend I hope places of worship all across America will be filled to overflowing. I hope that Americans of every background & belief will send a chorus of prayers from their hearts into the heart of heaven for these families, for #SutherlandSprings community & for this land pic.twitter.com/n7Z1voJEHb

— Vice President Pence (@VP) November 9, 2017
Tragedies like the shooting deaths in Texas are symptoms of deeper problems in society, said Ted Smith, the pastor of Mound Chapel Church of God. Addressing the symptoms won't fix what's really wrong.
"The problem stems, obviously from a pastor's standpoint, that we've gotten away from God (as a society)," he said.
Smith reminds his congregation they are called to invite others in, not qualify people whether they're worthy.
Social media hurts relationship-building skills, he said, and people will say things online they wouldn't dream of saying in person. It's coarsened interactions even in person, and people are less respectful, less kind and more willing to push the envelope.
"You can't regulate people in a society," he said. "You have to change the people. You can't just make laws."
No matter how horrific the situation, ministers often advise their congregations to pray not only for themselves but for those who have caused the pain.
"We are called to pray for our enemies," said Father Steven Arisman, pastor of Our Lady of Holy Spirit in Mount Zion. "And to pray for those who are suffering."
Remaining vigilant
As a retired deputy police chief, Ed Smith keeps his eyes and ears open while his is sitting in his pew either at St. James or St. Patrick.
"Be aware of what is around you and your circumstances," he said. "And don't be a victim."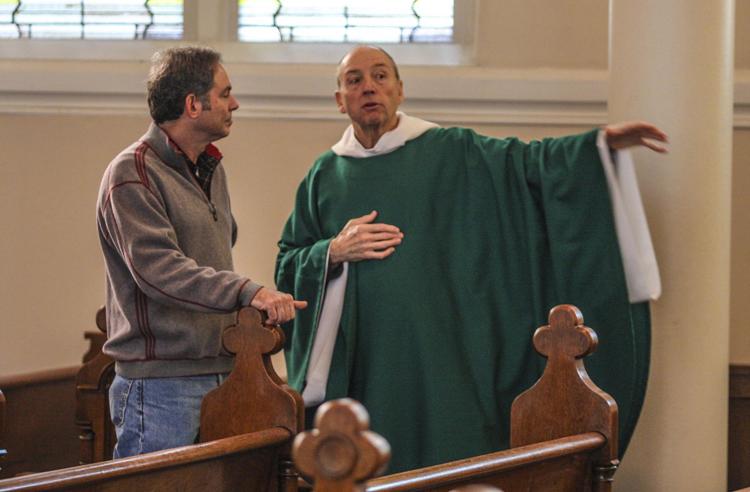 He also believes people can not let the tragedies change them. "That's what these people want, to change people's perspective," he said. "They want to make us afraid."
The tragedy in Texas didn't stop Schilawski and others from attending Mass during the week. They feel the sanctuary is a place where they can give these and other troubles to God. They also know the church is no safer than any public place.
"It could happen on a bike path, or a school, or a restaurant," Schilawski said.
The Rev. John Burnette, pastor of Sts. James and Patrick Parish, reaffirms one of the pillars of the church.
"God gives us the gift of human freedom," Burnette said. "We as Christians, when bad things happen, we hand it over to Him."
The freedom people are given is not only used for evil but also for good. Burnette encourages his congregation not to hate those who do wrong and cause pain.
"It is all our choice," he said. "We are not robots. We can chose good and bad," he said.
Whenever tragedies happen, many churches see an increase in attendance. Samuels has addressed these events in past sermons. He also stresses God's gift of free will.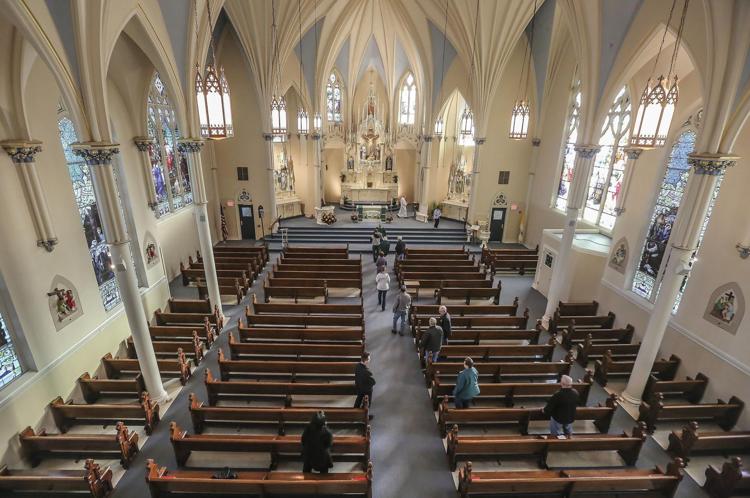 "He didn't cause it, but He is ready to heal and comfort through us," Samuels said. "God's going to sort that out. Our job is simply to build relationships, that's where it really starts. We have to be able to develop that relationship before someone would want to come in" to the church community.
"I hope that Americans of every background and belief will send a chorus of prayers from their hearts into the heart of heaven for these families, for this community, and for this land — to pray for those we lost and those they left behind; to pray for the injured and those who tended their wounds, even as we speak; to pray for the good congregation of the First Baptist Church, that they would soon fill that sanctuary with the sounds of praise and worship again; and to pray for all the good people of Sutherland Springs and of this special state of Texas," he said. 
Bill Hanes regularly attends Wednesday morning Mass at St. James Church. The services are open to anyone, although he feels he is diligent about watching his surroundings, he has come to accept what his world has become.
"This is going to be part of our lives," Hanes said. "But as Christians, we shouldn't be afraid to die."