DECATUR – Moving to another country, where the language and culture are completely different from yours, is a daunting prospect, unless you are certain God is calling you to do it.
The Anderson family – Chadwick, Sarah, and their four daughters Addison, 12; Sophie, 11; Ruby, 9; and Phoebe, 7 – are moving to Gyor, Hungary, in April.
"We received an email from a Free Methodist World Missions leader that asked us to consider full-time missionary work in Hungary," Sarah Anderson said. "Our Hungarian Free Methodist leaders had been praying for a missionary family to come and serve in Gyor and at that time, the director of global church advocacy asked them what that family would look like. Our director said that the missionary couple began describing the gifts and heart of our family."
The Andersons were content serving full-time ministry in Decatur, she said, and had not even entertained the idea of a mission until then. During their 16 years in ministry, they'd had several experiences overseas and with mission trips, but not full-time, living in another country.
This won't be their first experience with another country and culture, however. Their youngest daughter was born in the Democratic Republic of Congo, and getting her home to the United States was a four-year ordeal.
"About 10 months into the process, she was legally ours," Chadwick Anderson said. "We adopted her in 2012, then the government shut down international adoptions because the president at the time was trying to remain in power. They told us you can either move to Congo with the family or adopt somebody else."
Phoebe was their child, Chadwick Anderson said, and they weren't about to leave her there. Friends who lived in the country let them stay with them for a while, but the Andersons couldn't move to that country, and it wasn't until March 2016 that they were able to bring her home. She grew six inches the first year, and speaks English as if it were her first language, he said. Her three sisters learned to speak French while they were waiting for her to come home, so they could communicate, and he has no doubt that all four girls will learn Hungarian, too.
Chadwick just finished a master's in divinity degree and Sarah, a former teacher at Muffley School in Decatur who is now a stay-at-home mom, has a degree in education. They've done intensive training for their mission.
"Beyond the professional and academic preparation, we believe God has used our entire lives up to this point to prepare us for the opportunities we've been made aware of, and the ones we will discover along the way," Sarah Anderson said. "The four-year struggle to bring our youngest daughter home from the Democratic Republic of Congo shaped our family with a global heart with an unknown tomorrow."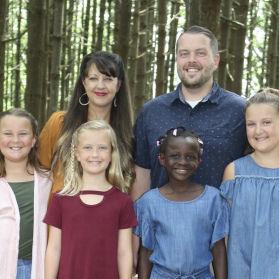 In Hungary, Chadwick will serve an English congregation that meets in a Lutheran nursing home, and work with Hungarian leaders to serve communities in Gyor with Bible studies, small groups or in whatever direction God leads them. Sarah homeschools their four girls and will continue to do so in Hungary, and will volunteer in a state-run children's home as well as provide social opportunities for the Anderson girls to meet and befriend Hungarian children.
"We were nervous about what our girls' responses would be when we told them about our international move," Sarah said. "We expected lots of tears, anger and confusion. What we got instead were smiles, giggles and questions."
Phoebe was the only one who seemed uneasy, so Chadwick pulled her aside and asked her to tell him what she was thinking.
"She looked at me with big, childlike eyes and said, 'Dad, I'm going to miss our couch,'" he said. "To her, it's symbolic of comfort and a place that feels like home, so I said, 'What if I promise you that wherever we move, we'll get a couch that we can sit on and be a family together?' It's the little things that matter to them."
The family home has already been sold and the Andersons are living with Sarah's parents until they leave in May. They've been visiting churches non-stop seeking funding for their mission, which they have to raise themselves, and are about 78 percent of the way there. They've made a two-year commitment to Hungary.
"If the work continues to be fruitful, we're just putting ourselves in the hands of God and the denomination we're there to serve," Chadwick said.
"Moving internationally is not cheap, as we can only take 18 checked bags with us," Sarah said. "When we get to Hungary, we will need to replace some things that we could not bring, specifically electronics and furniture. We will also need to purchase a vehicle, pay for our own health insurance, plane tickets, the list goes on. We are not daunted by the expense, however, as we trust completely that God has and is continuing to speak to the hearts of his people and support us financially."
Contact Valerie Wells at (217) 421-7982. Follow her on Twitter: @modgirlreporter