DECATUR — Pati Ramsey, of Decatur, never thought she would get to perform Hajj, a mandatory religious pilgrimage to Mecca, Saudi Arabia. But Ramsey and two Forsyth residents boarded a flight Wednesday to complete one of the five pillars of Islam.
"It's kind of still a little bit surreal it's still going to happen for me," Ramsey said.
Adult Muslims are required to make the journey at least once in their lives if they have the financial and physical ability. Millions come together each year to complete rituals, worship God and cleanse their sins. 
Ramsey grew up in the Catholic church, but converted to Islam about eight years ago. Farah Mahmood and her 19-year-old son Daanish Mahmood, both of Forsyth, will be going with Ramsey to Mecca. Farah's mother Surriya Sabir and brother Kameron Sabir flew in from Edmonton, Alberta, Canada to join the group.
Ramsey and the Mahmoods worship at the Greater Decatur Islamic Center, also known as Masjid Wali Hasan, in the 1600 block of Huston Drive in Decatur. Farah Mahmood said the people who attend are ethnically diverse; there is not one face of Islam.
Ramsey hopes the journey will bring her closer to God. "I'm hoping to see an even bigger picture of Islam, rather than what I just see in my own community," she said.
Farah Mahmood completed the pilgrimage 15 years ago. The Hajj, which takes place on specific days and begins Aug. 9 this year, is a commemoration of the trials faced by the prophet Ibrahim. It is the second-largest annual gathering in the Islamic world, after the Arba'een Pilgrimage in Karbala, Iraq. 
The group will also visit Medina, the city of the Prophet of Muhammad, for two or three days. Muhammad is buried here next to his companion, with an open grave for Jesus' return.
"We believe he was replaced and lifted. He will come back and fight the anti-Christ, and he will be buried there," Farah Mahmood said.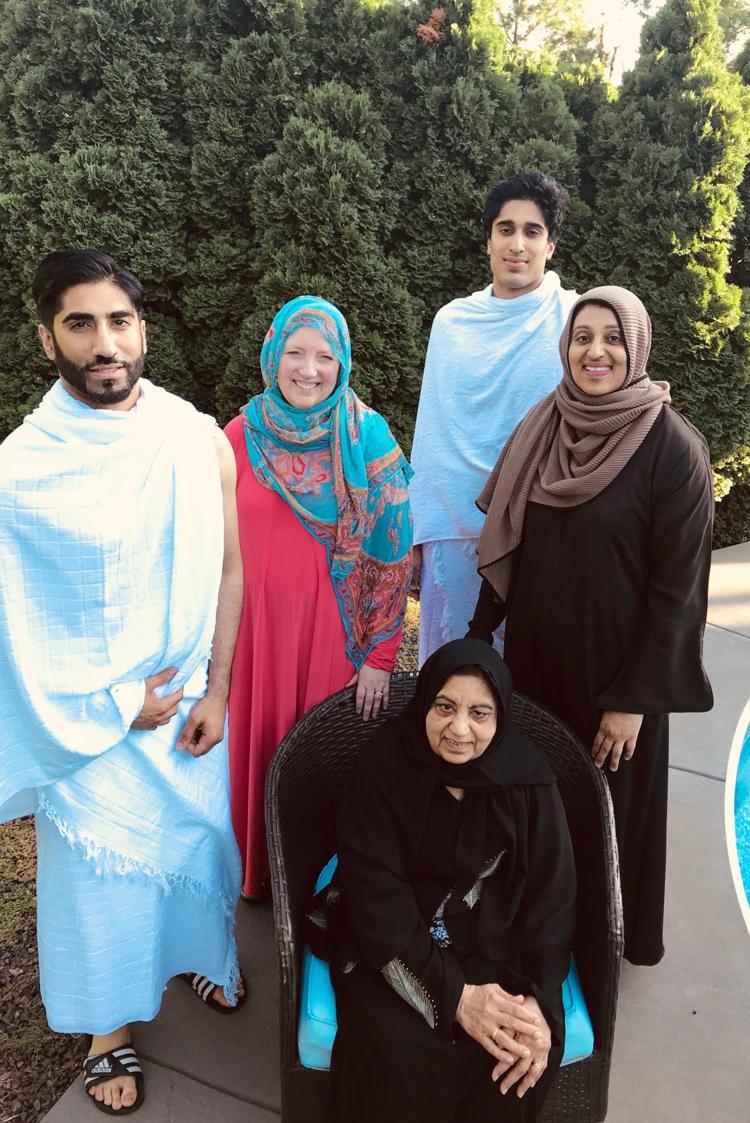 Her group will go to Mecca to perform Umrah, a nonmandatory pilgrimage that can be done at any time of the year, including before and after the Hajj. 
You have free articles remaining.
While performing the religious activity, men wear two unstitched white sheets. For the women, "we just wear whatever is comfortable, it just has to be covering up to our wrists, ankles and hair," she said. "You cannot cover the face when you do Umrah or Hajj."
Part of the ritual involves walking counter-clockwise seven times around the Kaaba, or the House of God, Farah Mahmood said. In the Kaaba, a black stone is encased. Muslims believe this was brought from heaven and darkened from humans' sins. The black stone serves as a starting point, and a way to know how many laps have been completed, she said.
Pilgrims also travel between the hills of Al-Safa and Al-Marwah, as it is believed Ibrahim's wife Hagar ran between these hills while searching for water. 
Farah Mahmood said her family and Ramsey will each cut a bit of their hair and say prayers. 
As part of the journey, Farah Mahmood said the group will go to the Plains of Arafah, where they will spend the day praying for forgiveness. The group will go around the House of God, between the hills of Safa and Marwah, and go into the camps in Mina, about 10 minutes away, she said.
During the time in the camp, people participating will not be able to cut their nails, pluck any hair nor kill any insects or animals, unless great harm is a risk. People performing will also not be able to use scented soaps, shampoos or wear makeup.
Farah Mahmood's group will stay at these camps for three or four days. There are three pillars that represent when the devil came to Ibrahim when he was asked to sacrifice his son, she said. He threw stones at these three pillars, so the group will recreate this.
The other days in Mina are full of prayer, she said.
"It's a complete spiritual journey," Farah Mahmood said. "You're going to be in the state when you meet God."
She said being able to participate in performing the Hajj is an invitation from God. It's an opportunity for your sins to be forgiven and wiped clean.
"There are around three million people from all different countries, all different languages," Farah Mahmood said. "You don't understand what people are saying sometimes, you don't know their customs, but we're all doing the same thing at the same time. We're praying in the same language; we're facing the same direction. We're all there asking for forgiveness, asking to be better people."