DECATUR — Ask anyone about highlights of Decatur Celebration, and the variety of new and interesting foods always rates a mention.
Deep-fried cheesecake, Dole Whip soft-serve and a pumpkin funnel cake were just a few of the favorites from past years.
For those lured to the festival by their taste buds, this year promises more compelling, and tasty, experiences. 
Just like others walking through the festival, Decatur Celebration director Lori Sturgill is excited to try out new food vendors. 
"I'm a food snob, but all of the foods are good," she said. 
Each year, festival organizers search far and wide to find distinctive, delicious foods for the festival. Decatur Celebration event manager Shelley York reviews and schedules food vendors for the weekend.
"I'm so excited that we have local brick and mortar restaurants coming to the party," she said.
York already has a couple of anticipated foods. Like Sturgill, the brisket burnt ends and smoked ribs vendor is on her list of stops.
The fans of certain foods return year after year. Where else can you get alligator-on-a-stick, river chips or shrimp kabobs all in one place? Other new favorites include pulled pork nachos, fish tacos and fried candy bars, all of which have gained fame among Celebration crowds.
Shortly after the Celebration opening, the Herald & Review will tour the Celebration grounds with hand-selected taste testers sampling the new foods. The results of their findings will be featured in Saturday's edition.
- Served up by the St. Louis-based Truck Norris food truck, Totchos are crispy tots covered in pull pork smothered in Code 3 barbecue sauce, white queso, lettuce, grilled corn, sour cream and candied jalapenos.
- Ready for the sweets? Fresh baked cookies are used to make ice cream sandwiches. Gramma Nana's Kitchen will also serve edible cookie dough.
- Wok Fired Soba Noodles will be served from Island Noodles booth from Toledo, Ohio. The meal consists of soba noodles with vegetables cooked in ginger and garlic sauce. Customers can go vegan style or add teriyaki chicken.
- Do turkeys have ribs? Find out at the Sacks Food booth. Customers will receive two smoked and grilled turkey ribs with special barbecue sauce served over fries.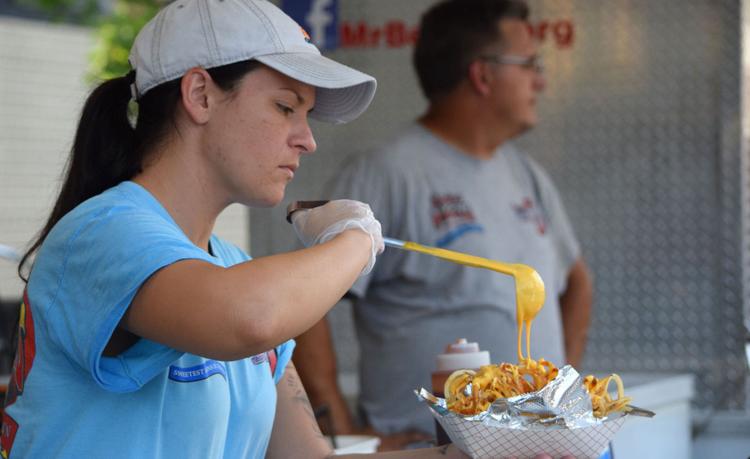 - Decatur's own The Wharf will be serving sliced, hand-breaded deep-fried mushrooms with ranch or cocktail sauce.
- For the hot days, organizers invited Venice Gelato serving fresh-made gelato. Flavors include cookies and creme, vanilla, butter pecan, chocolate, strawberry cheesecake, and peanut butter and chocolate.
- Another Decatur original joining the fun will be Solsa with one of their signature dishes.
- Hawaiian Snow will be serving gourmet shaved ice with more than 200 flavors.