This toasted bison salami sandwich with a garlic and dill cream cheese makes for a flavorful and easy-cooking entrée for a hot summer's day. Nicholas Skajewski, owner and executive chef at Skajewski Catering in Sioux Falls, South Dakota, uses tart sourdough bread to enhance the flavors. 
If bison salami isn't available, this sandwich still shines with any traditional salami.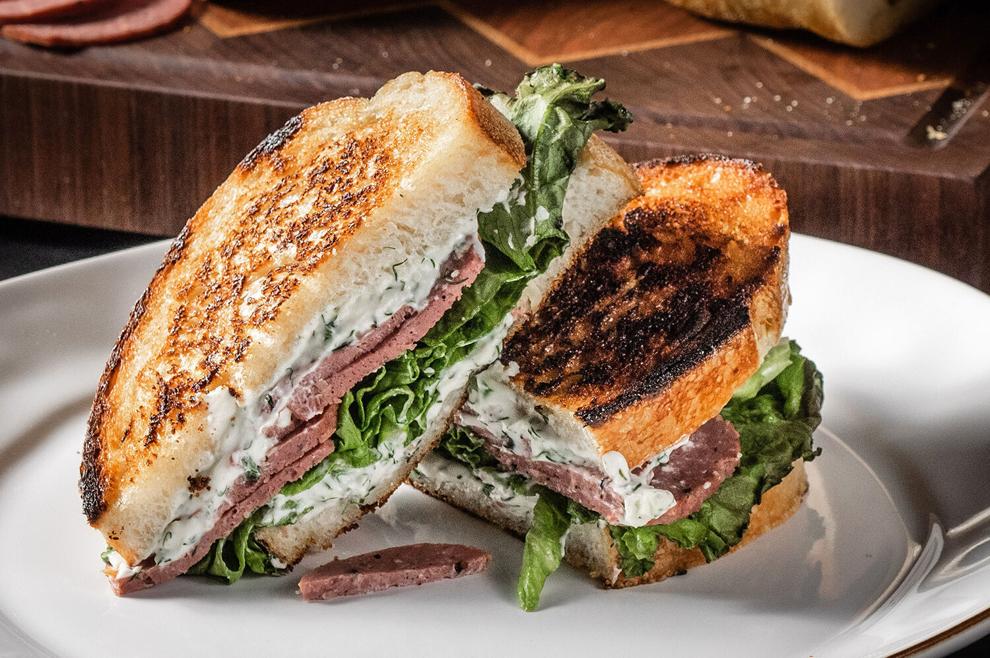 ---
Bison Salami Sandwiches with Dill Cream Cheese
1 package (8 oz) cream cheese, softened
2 garlic cloves, crushed with press or minced
¼ cup chopped green onions
1 Tbsp chopped fresh dill fronds
freshly ground black pepper, to taste
salt, to taste
1 oval or round loaf sourdough bread (about 1 pound), ends removed and loaf cut into 8 (¾-inch-thick) slices
1 package (8 oz) bison salami, thinly sliced
4 large green leaf lettuce leaves
1 Tbsp unsalted butter
1 Tbsp vegetable or canola oil
In medium bowl, stir together cream cheese, garlic, green onions, dill and pepper and salt to taste until well combined.
Spread cream cheese mixture evenly on 1 side of slices of bread. Arrange salami evenly over cream cheese mixture on 4 slices of bread; top with lettuce. Place remaining 4 slices of bread, cream cheese mixture-side down, over lettuce. 
Preheat large skillet over medium-low heat. Add butter and oil and heat until butter melts, swirling pan to combine. Place sandwiches in skillet and cook 6 to 7 minutes, turning once halfway through cooking, or until browned on both sides. Cut sandwich in half to serve.