Indianapolis-based chef Neal Brown brings us this traditional Oaxacan street food, Tlayuda. It's essentially a Mexican-style pizza with refried beans, sausage and fresh toppings layered onto a tortilla shell base.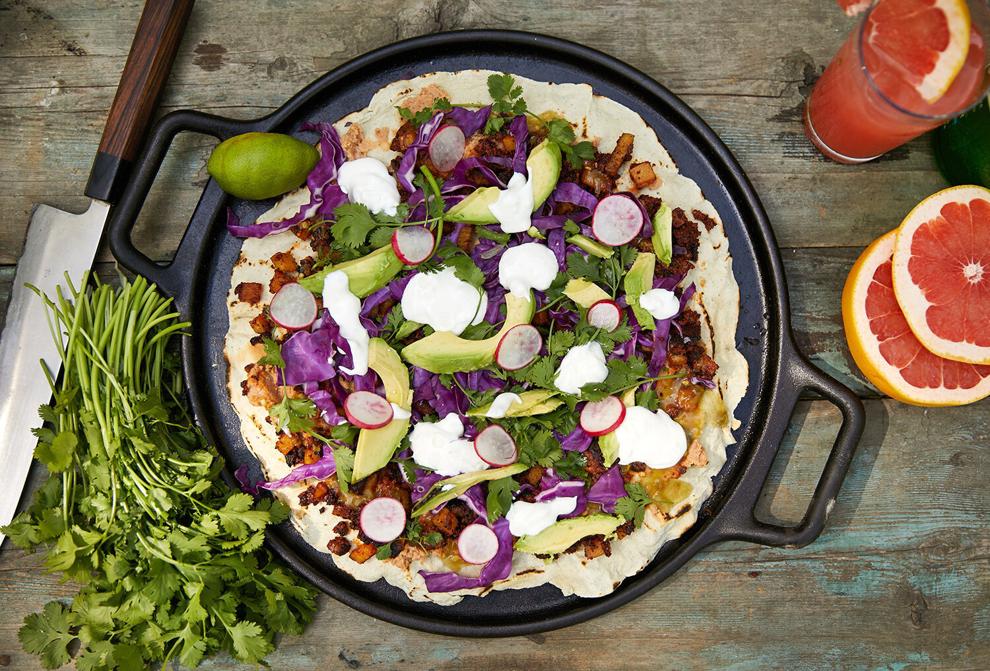 ---
Tlayuda
8 oz dry black beans, or 2 cans (about 15 oz each) black beans, drained with some reserved liquid
2 Tbsp lard or schmaltz, divided
1 garlic clove, coarsely chopped
¼ cup diced onion
2 Tbsp coarsely chopped fresh cilantro leaves
salt, to taste
2 cups all-purpose flour, plus more for dusting
1 Tbsp lard or schmaltz
1 tsp baking powder
1 tsp kosher salt
salt
1 large russet or sweet potato (about 8 oz)
1 Tbsp vegetable or canola oil
2 garlic cloves, minced
½ cup diced onion
1 lb fresh chorizo sausage, casings removed, if necessary
1 tsp apple cider vinegar
½ cup salsa, preferably tomatillo salsa
1 cup thinly sliced red or green cabbage
2 ripe avocados, peeled, pitted and thinly sliced
fresh cilantro sprigs
thinly sliced radishes
½ cup crema or sour cream
Prepare Frijoles Refritos: Prepare beans as label directs or until very tender. Drain beans, reserving some cooking liquid. In large skillet, melt 1½ tablespoons lard over medium heat. Add garlic, onion and beans with some reserved bean cooking liquid and simmer until onions are soft, stirring occasionally. Add bean mixture and cilantro to blender with lid partially uncovered to allow steam to escape; puree until smooth, adding remaining lard as it blends. Add salt to taste. Cover to keep warm.
Prepare Tortillas: In large bowl, add all ingredients and 1 cup water. With hand, mix ingredients until well combined and ingredients are moist, incorporating lard into small pieces while blending it into flour and adding more water, 1 tablespoon at a time, until dough forms. Press dough together to form a ball. Dough should feel semidry with some resistance. A little residue of dough will stick to hands, but the ball should hold its shape. If you push your thumb into dough, it should leave an imprint while still appearing slightly dry, more similar to a pie crust dough than a supple yeast dough. Cover dough with plastic wrap; let stand at room temperature 10 minutes to rest.
Divide dough into 4 balls. Place sheet of parchment paper on work surface; sprinkle lightly with flour. Place 1 ball of dough on parchment, then sprinkle dough with flour; place second piece of parchment paper on top of ball. With rolling pin, roll ball into 12-inch round, about ⅛-inch thick, lifting parchment to dust with additional flour, if necessary. Transfer tortilla to cookie sheet. Repeat with remaining balls of dough.
Preheat large cast iron skillet or griddle over medium heat. Cook tortillas until bubbles form and they begin to char slightly and turn golden, carefully turning with tongs halfway through cooking. Tortillas should be thin and crispy, and they may appear wrinkled. Transfer tortillas to same cookie sheet as they are done; set aside, uncovered.
Prepare Papas con Chorizo: Heat medium saucepan of lightly salted water to boiling. Meanwhile, peel potato and cut into ½-inch cubes. Boil potatoes until tender; drain well. In large skillet, heat oil over medium heat; add garlic and onion and cook 2 to 3 minutes or until tender, stirring frequently. Add chorizo and cook until browned, breaking up chorizo into small pieces with side of spoon. Add potatoes and vinegar. Reduce heat to low and cook until any liquid evaporates.
Assemble tlayuda: Spread frijoles evenly over tortillas, then sprinkle evenly with papas con chorizo. Top with salsa, cabbage, avocado, cilantro, radishes and crema.