DECATUR — The University Corner Store and Auto Service lot might be an unexpected place for authentic Mexican tortas or tacos al pastor. But that's exactly where Guadalajara Taco Truck has found a niche.
The white, stainless-steel-lined vehicle emits a light easily seen by the hungry coming and going to bars along Oakland Avenue and West Main Street during evening hours. Millikin University provides lunchtime foot traffic.
"The taste is different. We give other options with toppings and spices," said owner Val Fuentes. "We make it more of a homemade taste."
The enterprise by Fuentes, whose family is behind several area Mexican eateries, is one of 10 or so Decatur-area food trucks that have seasonally turned asphalt lots and street curbs into temporary hosts of movable feasts and outdoor dining. Some stay in the same spot. Some require Facebook for tracking.
Through open windows, they serve tenderloins, burgers, gyros and tacos on paper plates and in foil-wrapped packages. Others have staked a corner in ice cream and desserts.
The menus vary, but what many have in common are distinct challenges in establishing viable businesses on wheels, while capitalizing heavily on social media, the "foodie" movement and people willing to travel a bit further for a unique meal.
There are strong supporters.
"It is the best tacos in town," said Colleen Dickerson, 48, a fan of Burrito Truck, a bright yellow vehicle parked on East Pershing Road that has developed a cult-like following.
Like many of these businesses, it features a straightforward menu with several items. Everything is under $8.
"I like to eat outside," Dickerson said. "I freeze in our office, so this is nice."
The vehicle is a true mobile kitchen, one of two main types of food trucks. Others are more like trailers seen at carnivals, like The Tornado Truck on North Oakland Avenue near West Grand Avenue, which specializes in lemon shake-ups, funnel cake fries and Hawaiian ice.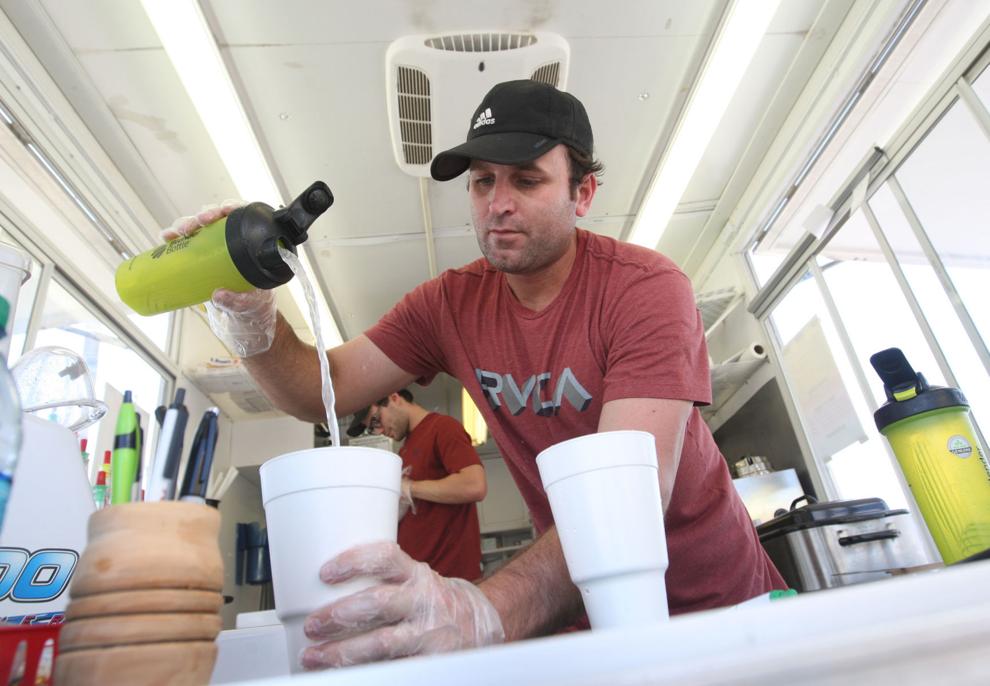 Clint Brumleve, who owns the business with Neil Malcolm, tested the food truck waters for two months last summer.
"This year we have really been hitting it hard, and it has been fantastic," Brumleve said.
The duo focused on the timing, speed, quality, freshness and cleanliness. "We wanted to create the most entertaining and freshest cook-to-order food," Brumleve said.
Christina Roberts, 23, is a fan. A restaurant server, she knows what goes on behind the scenes and recently stopped by lunch.
"He explained to me how they make the Tornado Potato and the Italian beef sandwich," Roberts said. "He explained where the meat comes from, how it was processed, everything. That is perfection."
A $2.7 billion business 
In Decatur, the grandads of the food truck trend are Gyro King on Pershing Road and Jumbo Tenderloin on Grand Street, which often have lines of customers waiting no matter the weather.
Nationally, the movement took off a decade or so ago, but the pedigree dates back much further, to when lunch wagons were a staple of construction sites and posted outside factories.
Some restaurant owners also utilize the vehicles to test concepts, literally creating a movable menu. Others see them as a more affordable option before opening a brick and mortar location. Terri Chance ran a Mister Softee truck before opening a location in Nelson Park, for example. The Door 4 Brewing Co. Food Truck created a location on West Cerro Gordo Street.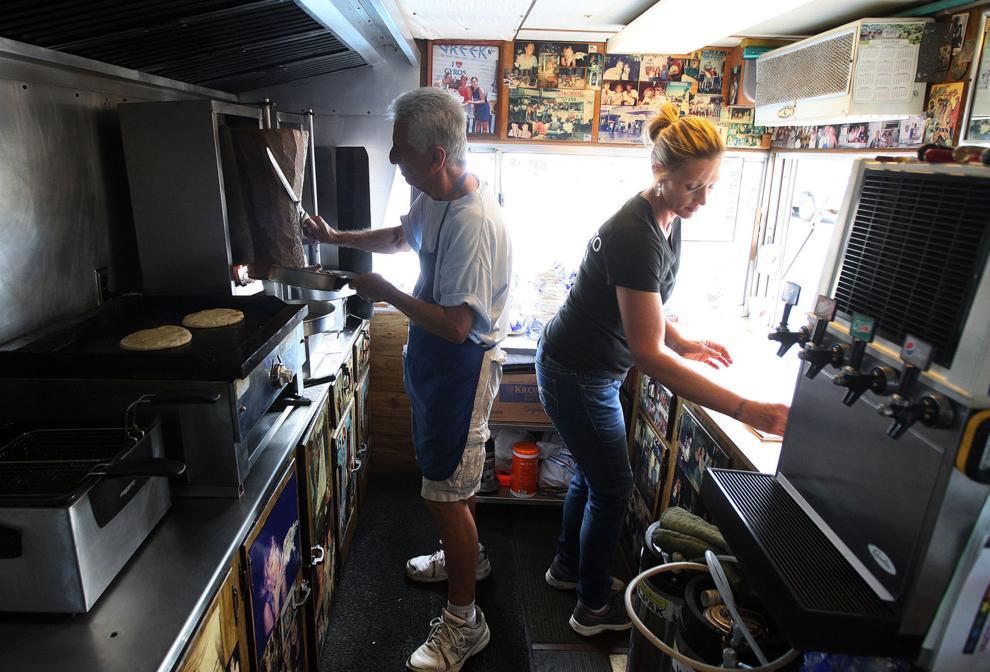 Food trucks have also become popular in Springfield, Champaign and Bloomington. 
Yet along the way, operators also have run into various zoning restrictions across the country. In Chicago, rules forbid trucks within 200 feet of a business that serves food. Mobile food vendors also have to be equipped with a GPS device that the city can monitor, for health inspection reasons.
The owner of a cupcake food truck is suing the city, a case that has made it to the Illinois Supreme Court.
In Macon County, the trucks are treated just like restaurants and have to be inspected every two years. Sanitation, health and small business permits are required, as well as a temporary structure permits.
That rules vary wildly based on location is one of the big challenges of the business, said Matt Geller, president of the National Food Truck Association, based in Los Angeles. The regulations include the distance between the mobile truck and an established restaurant, where an operator can park during and after operating times and where operators can dump the waste water.
The other issue is the cost of a truck. Geller said the start-up cost averages $100,000. "It is about the operator's ability to get it up and running," he said.
There are also costs for insurance, permits, fuel and maintenance, before getting to payroll, food and marketing. Add it up and the website mobile-cuisine.com estimates a start-up can be upwards of $250,000 all in.
Still, Christopher Chiligiris, owner of Zorba's Greek Delights, said the overhead cost is considerably lower than one in a building. "It is something that people want to do, but they don't want to invest in an entire restaurant," he said.
Having grown up in the Lincoln Lounge in downtown Decatur, Chiligiris understands his way around a kitchen. "When I was 13, my dad made me go down to the Lincoln and make gyros," he said. "It is something I've done my entire life."
For his truck, his domain is a parking lot of Woody's Bar on West South Side Drive – a key location near a tavern without too many food options.
"There's not much on this side of town," Chiligiris said.
'That's why we're on wheels'
A background in food is a common thread among the owners.
Brumleve and Malcolm worked in the restaurant business for most of their adult lives before opening The Tornado Truck. "We always knew the little things we wanted to correct and the things people always wanted," he said.
With their new venture, "It's kind of like going to a carnival every day," he said.
Alan Richardson had been a chef for 20 years. "But it isn't rewarding to work for someone else," he said.
Richardson created D-Dirty Burger with his fiancé Michelle Hanson. When they first parked their truck in Decatur two years ago, it was at the Sundown Lounge on 22nd Street.
They make gourmet burgers and other foods prepared on an open wood fire grill, including their homemade cheese and cauliflower steak.
The couple formed a fan base, so they ventured out. Throughout most of the summer, they can be found at local festivals and events. The plan is to return to a parking lot in Decatur sometime after the fairs end for the season.
The freedom to move is critical. "That's why we are on wheels," Richardson said.
Back at the Guadalajara Taco Truck, Fuentes said she's filling a void and serving a need.
"We've had customers come from the other side of town, and others that walk from the neighborhood," Fuentes said. "We get a little bit of everybody."
---
PHOTOS: Food trucks of Decatur
Contact Donnette Beckett at (217) 421-6983. Follow her on Twitter: @donnettebHR