DECATUR — Paul Maisel's Sol Bistro kitchen in downtown Decatur produces a dizzying number of corn salsa salads, shrimp tacos and queso mac during a busy lunch or dinner service. But even more intricate than what's on the plates are what's adorning the arms briskly doing all that dicing, mixing and searing: tattoos — and lots of them.
Maisel's right forearm reveals elaborate, colorful designs of a woman's face, a spider web, a rose and a fearsome dragon etched into skin. The other arm is the same.
"We're back-of-the-house guys," he said. "We don't usually deal with the public."
Maisel is part of a trend of culinary professionals who have opted to proudly tell their stories through tattoos, a reflection of an industry that tends to attract people who resist the status quo and like to show their personalities. In this high-stress environment, where a passion for food often spills over into a passion for self-expression, the chef-as-canvas is a running theme.
"Everything you do is considered an art," said Nick Cox, chef at Bizou in downtown Decatur, a few doors down North Main Street from Sol Bistro. "They still want to express themselves. If we can't do it on a plate, they will do the next best thing."
Said Cox: "It is easy to say this is what I do, even when I'm not at work."
While those in various fields and backgrounds get inked, it seems those in the kitchen — and maybe foodies in general — have a particular fondness for body art. Flip on Food Network or an episode of "Top Chef," and it's likely you'll find plenty of examples. 
The tattoo trend has grown in the past several years. Cox said he noticed his peers showing them off while he was working in St. Louis restaurants more than 10 years ago.
"A lot of the chefs were wanting to do tattoos that were visible," he said. "So they would do tattoos from the elbow down."
DECATUR — At noontime Thursday, vehicles lined downtown Decatur streets and filed into lots nearest the most popular shops and restaurants. So…
"In this business," he said, "it is best not to ask what they do for a living."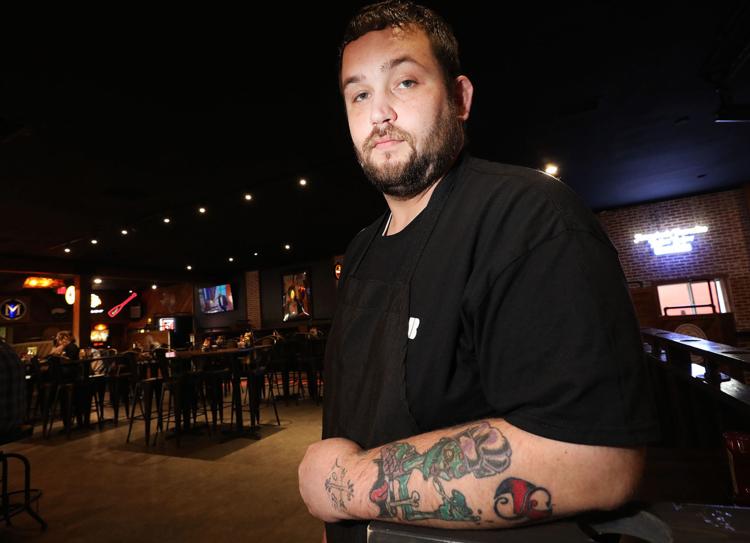 "It's this idea of, 'If I tattoo my neck, if I tattoo my knuckles, I can't just walk away from this and start selling cars or just go work in a business or put on a suit or sit in a cubicle," he told the magazine Mother Jones. "This is going to be my life."
Maisel, for example, said it's a very visible sign of commitment. "It ensures I remain self-employed," he said. "There is no going back."
'I have a lobster. I don't know if that counts.'
Maisel, who came here from Austin about 10 years ago, accumulated his artwork throughout his life. "My first cooking job, all the guys in the kitchen were kind of like derelicts," he said. "I felt right at home."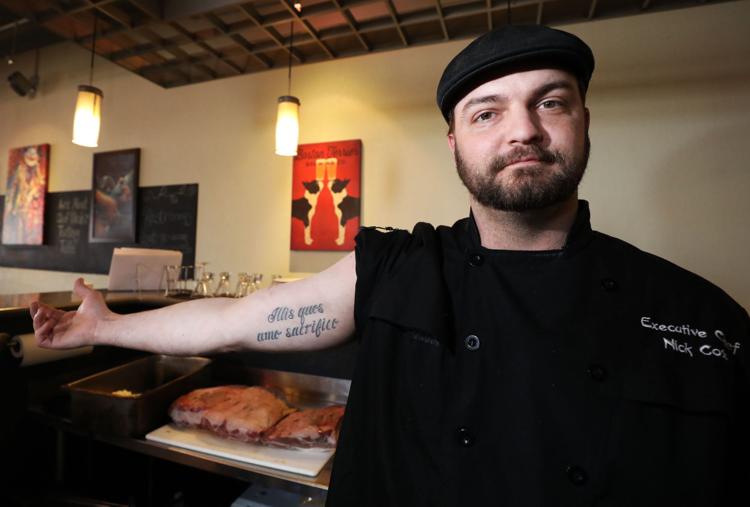 Lock, Stock & Barrel chef Jeff Leesman, 29, said the kitchen is an environment where someone with a rough background could apply and make a living. "I got a lot of recognition in kitchens," Leesman said. "I didn't get a lot of recognition anywhere else."
Scars from burns and cuts are par for the course. The tattoos often cover the job's battle wounds. "Tattoos don't hurt us as much," Leesman said.
He said there's a clear connection between the art of the food and the art of the ink. 
"There is a huge art to cooking," he said. "You eat with your eyes first."
Leesman has a tattoo of a zombie chef prominently displayed on his left forearm.
"I've been a big zombie fan my whole life," he said. "And I'm a chef."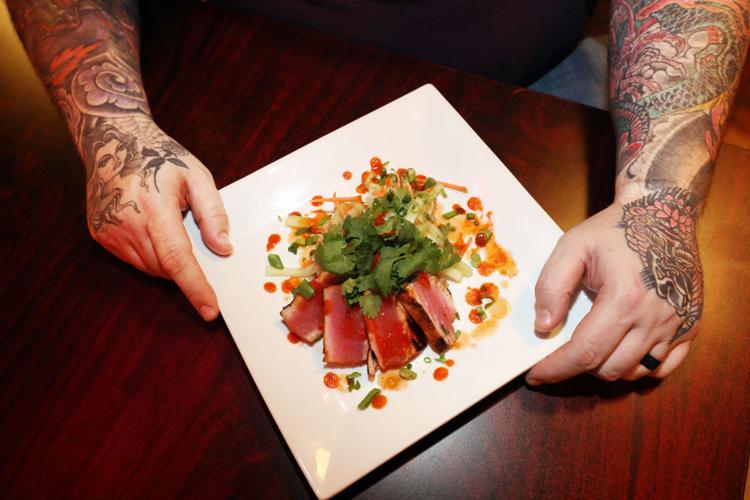 He's not shy about displaying his permanent art. He is often found in the dining room of Lock, Stock & Barrel greeting customers. The tattoos are rarely a topic of discussion.
Still, the other factor is that many chefs work behind closed doors. 
Maisel, 40, admits his hand and neck tattoos are not appropriate for other careers. "They are called them 'job stoppers,'" he said. "There might be more tolerance now, but it is still frowned upon."
Unlike some chefs, Cox, 35, can be easily seen while preparing food at Bizou. The kitchen area is open for the customers. He wears the traditional chef's coat, so his tattoos on his upper arm and back are not visible. "I do tattoos for me," he said. "I don't show people unless I want to."
Cox has "For those I love I sacrifice" written in Latin on his right bicep. It reminds him to keep going for those he cares about, even when he is worn out from his job.
He also got a tattoo on his back while he was in college. "I know exactly what it looks like," he said. "It is probably 15 years old, and I can still feel all the lines."
Maisel's tattoos also are expressions of his experiences and struggles, including divorce and children. He has visited tattoo businesses during significant times in his life. "It's almost like therapy," he said.
Most of the upper half of his body is covered, but Maisel does not have one devoted to his career. "I have a lobster," he said. "I don't know if that counts."
'My mom worries about me all the time'
Tattoos on Ray Durbin, 49, include a map of Illinois and the Decatur ZIP code 62521 his neck and "PUNK ROCK" spelled across his knuckles.
"I've just always been into tattoos," he said. "My mom worries about me all the time."
"I tend to lean towards more of a little bit of heat in most of my cooking," he said later. "I've always been a rebel."
His tattoos reflect his lifetime of experiences — a favorite movie, bands he was in, and women. He quotes a popular David Allan Coe song "If That Ain't Country" for getting his body art.
"The old man was covered with tattoos and scars," he said. "He got some in prison and others in bars."
The chefs said it's hard to stop getting body art. Cox's technique is to wait one year after he thinks of an idea for a new tattoo.
"One year of thinking about it is better than the rest of my life with something I shouldn't have got," he said.
Leesman said the artwork is akin to a permanent scrapbook.
"When I'm older and I don't have the greatest memory," he said, "I can look back (at a tattoo) and remember that time in my life."
Durbin, the R Bar & Grill chef, said that while he can't draw, he can create something visually attractive as a chef. "But the tattoos let me transport some art from the plate to my body," he said.
Said Durbin later: "They all mean something to me. I like to think of myself as a warrior."
---
The chef tattoos of Decatur