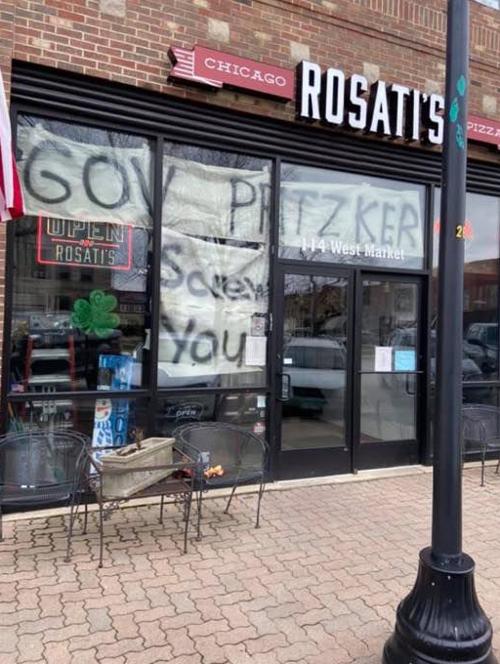 A letter from Rosati's head office displayed on a Facebook page, which the Warrenville-based company confirmed to the Herald & Review on Monday was genuine, slammed Taylorville franchisee Peggy Brandon for her "juvenile approach."
It added: "Because this franchisee does not hold our same values, we have terminated their franchise."
Brandon, who could hot be reached for comment Monday, had harshly criticized the decision to shutter restaurants and bars from close of business Monday through March 30 to stop the spread of coronavirus. Drive-through and curbside pickup options remain, but Brandon had said Sunday that losing dine-in business at her 150-seat restaurant would be disastrous.
Brandon said 20 employees would be left without a paycheck in an overreaction to a disease that has yet to produce a single case in Christian County. "And yet he (Pritzker) wants me and my servers to go without income for two weeks. Is the government going to pay us? Hell no, they're not. Pritzker is a (expletive expletive). He needs to go."
The letter from Rosati's said it had been "made aware of the shocking display by an individual at the Taylorville location." It added: "Their disagreement with the Governor's position in no way represents our position.
"In fact, we fully stand with the Illinois Restaurant Association and the Governor in this decision. While the rest of our locations are working hard to implement new safety measures to improve the industry and provide a safer world for our customers and employees, this one individual selfishly took this juvenile approach."
Mark Schmidt, Rosati's vice president for marketing, did not immediately return a call seeking comment Monday.
---
A look at the latest on the coronavirus outbreak and what's happening in Central Illinois.
Contact Tony Reid at (217) 421-7977. Follow him on Twitter: @TonyJReid
Concerned about COVID-19?
Sign up now to get the most recent coronavirus headlines and other important local and national news sent to your email inbox daily.