For him, it's a gleaming white Corvette Stingray equipped with custom-fitted gull wing doors that open up, like a bird's wings, instead of swinging to and fro in the more familiar, and boring, horizontal plane.
For her, it's the quiet satisfaction of whispering around in a ragtop E350 Mercedes convertible, one of the more elegant statements in the field of Germanic engineering prowess.
The toys are fun, and a great way to unwind for a husband and wife who share an enduring love of automobiles, as well as for each other. But even in the Garden of Eden there was a serpent, and what keeps them up at night are the visions they see in life's rearview mirror: images of people not as lucky as them, people falling behind in the great road race of life, images of the poor, the homeless and the hungry.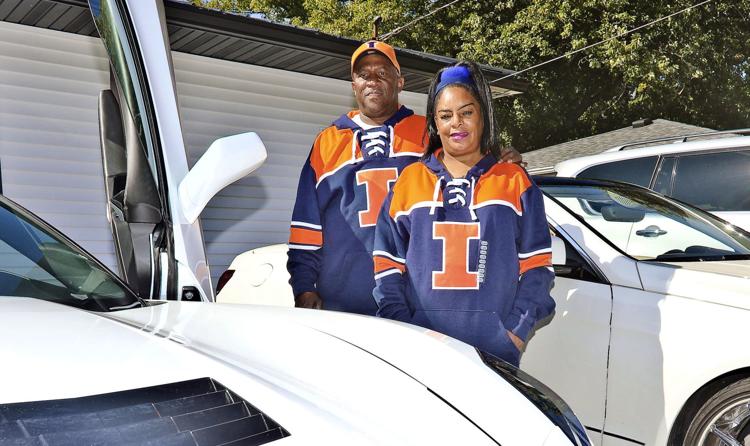 The Barbees can't fix all of society's ills, but the former restaurateurs do know how to feed people. So they frequently jump into their gleaming rides and head off to cater free feeding events like their Easter Dinner for the Homeless, or the Homeless Block Party, second week in August, and the Thanksgiving Dinner for the Homeless. All events are catered in or outside the Water Street Mission in downtown Decatur.
They keep a lot of it funded with, what else, but car shows — he now has three of them a year — and sponsorship and donations also manage to pay for a Christmas toy drive for needy families. Typical price tag for that one is north of $5,000 and the Barbees had been keeping all these charity outreach events going for the best part of 18 years, dipping into their own pockets in years when funds came up short.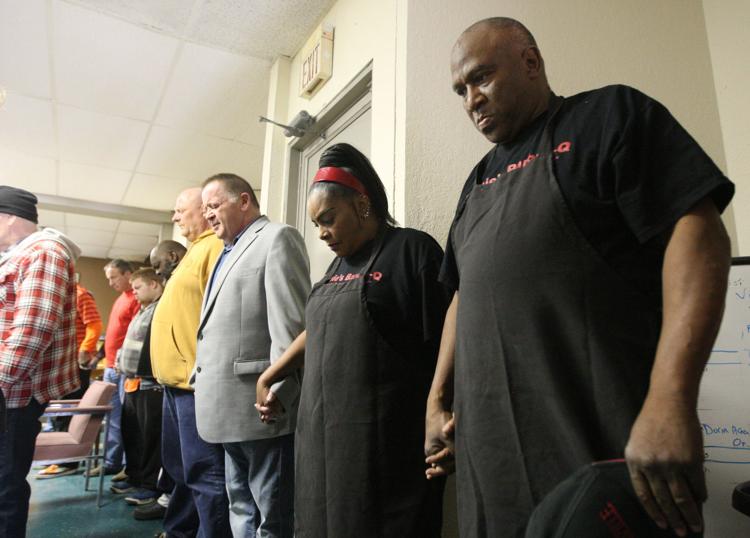 But why keep rolling down a needy road that has no end? Vinnie Barbee said he can't shake those rear view mirror images of people for whom poverty and need is an everyday, relentless reality. "I remember meeting a homeless woman and it turned out she had been at school with me," said Barbee, 59. "She was so smart, way smarter than me, but somewhere along the line someone had dealt her a bad card in her deck, and she couldn't get out of it. I've seen what poverty and homelessness can do, and it can tap anybody — you, me, no matter what color you are, or who you are."
Debra Barbee, 58, nods her head in agreement. "No matter how much money you might have today, you might not have that tomorrow," she added. "We don't forget that."
'We're gonna try' 
High school sweethearts, they had grown up in Decatur and were no strangers, as kids, to seeing other families who weren't living the American Dream. But they got a real up-close look at how sudden and widespread suffering can be in the days when they were both forklift drivers at the doomed Decatur Bridgestone/Firestone Inc. tire plant. It ran out of road and closed just before Christmas 2001, laying off 1,500 workers.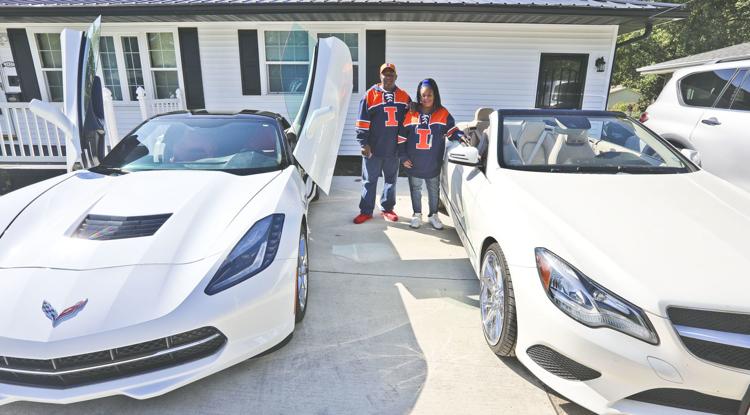 The Barbees, blessed with a killer barbecue recipe passed on through Vinnie Barbee's family and Debra Barbee's ability to whip up mouth-watering side dishes like baked beans, coleslaw, potato salad and cheesy potatoes, had a plan B. Having seen the Firestone writing on the tire wall, they had already opened their first restaurant in Decatur in August of 2001, followed by a second in Mount Zion in 2002 and a third in Decatur later that same year.
The Barbees would switch around restaurant locations over the years until they wound up with a final eating establishment in the Hickory Point Mall which they closed in March 2012. They could have kept going because business was fast and strong but the Barbees not so much. "We were there from 8:30 a.m. until 10 p.m. seven days a week," recalled Vinnie Barbee.
You have free articles remaining.
"And we were falling apart: my knees were gone, my hip gone, my feet gone, and both of us were in wheelchairs at one point. We could have kept going but it was time, we'd done well, and we didn't need it now."
These days he's retired and loves cars and playing dominoes. She's still active on the professional food front, working as a dietary aid at Imboden Creek Living Center, and both state firmly they have absolutely no intention of giving up their feeding of the needy.
Confronted by the basic question that they can't go on forever, both Barbees answer in unison: "We're gonna try." And Vinnie Barbee adds: "Look, we've prospered. You know, we used to give away food to promote our restaurants and it worked: we'd spend $500 and get back $5,000 back in orders. But that was also part of what opened our eyes to how much need was really out there, and now we can't stop."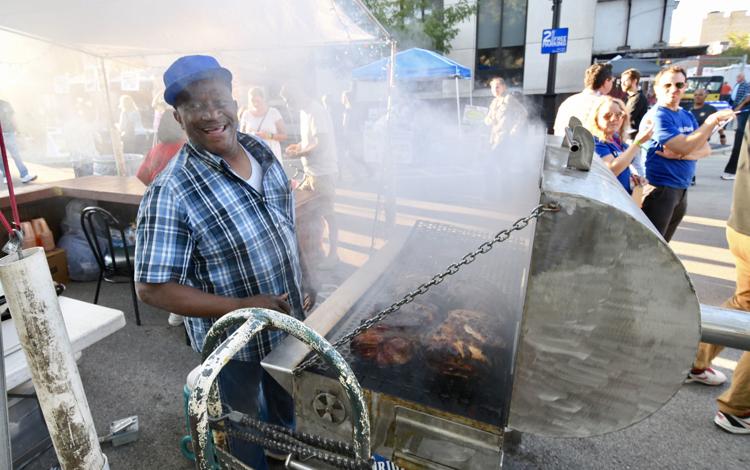 It helps to have picked up some trusty helpers along the way, and the Barbees have a regular volunteer crew who show up to assist them cater their major homeless feeding events. Bill Deetz, 60, has known Vinnie Barbee since their grade school days and has been part of the help crew for about 10 years.
"Vinnie and I had parents who brought us up in the church and said 'Hey, if somebody needs a hand, then help them," said Deetz. "I think that idea has always kind of been in the back of Vinnie's mind, and the same for his wife. They've both had a good life, and they want to give back. And with Vinnie, there is no hidden side to him, he's very down to earth, and he makes helping others fun."
'Wouldn't that be something?'
Candice Murray, 48, is another long-term Barbees food helper. She first met Vinnie when he catered some birthdays for her son 14 years ago and found herself a willing recruit as the first couple of food turned from business to the business of helping others for free. "Vinnie's heart is in the right place where other people's hearts aren't always in the right places," said Murray.
"And I believe you should help others because you just never know when you might be standing on the other side of that serving table, needing help yourself."
Brian Conerty is the manager of the Water Street Mission which uses religious principles to guide its assistance programs and finds a fine example of Christian charity in the Barbees: "What a great blessing it is to have such people who want to give back but who don't ask for anything themselves," said Conerty, 54. "They have a love for this community, a faithfulness to it."
So the Barbees roll on, looking to feed and help as many people as they can with the resources they have. But if Decatur is looking for a long term plan to take on the deeper issue of homelessness and not just hunger, it could do a lot worse than have a mass buying campaign to purchase Powerball or Mega Millions lottery tickets and funnel them to the Barbees.
"I've always said this is my town, Decatur, I was born and raised here and hope to die here and if I won that lottery there would not be no homeless in Decatur," Vinnie Barbee said. "I'd tear down all that dilapidated housing in town and put people to work building new affordable housing.
"Now, wouldn't that be something?"
---
PHOTOS: Vinnie Barbee and Debra Barbee
Contact Tony Reid at (217) 421-7977. Follow him on Twitter: @TonyJReid
"They've both had a good life, and they want to give back."

— Bill Deetz, about community supporters Vinnie and Debra Barbee