DECATUR — Woody Scott was a fastpitch softball pitcher in Williamsport, Pa. He had a son, David.
David watched his father pitch. "I want to do that," David decided. Woody said: "I'll teach you."
One of the first steps was tying David's left hand behind his back, forcing him to throw right-handed and increasing the velocity. David progressed rapidly.
David was confident. He vowed to become a member of a national champion softball team by the time he was 25 years old. He also vowed to be elected to the National Softball Hall of Fame.
He became a fireballing pitcher. In 1981 at age 24 he pitched the Decatur Archer Daniels Midland Co. team to the national championship in St. Joseph, Mo.
He became the most effective get-'em-out pitcher in world-class softball.
In 2005 he was elected to the Hall of Fame.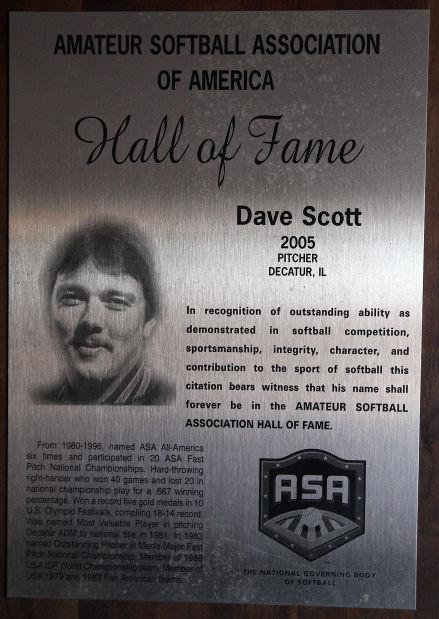 Now, with his pitching days ended, his goal is to succeed wonderfully well as international sales manager for Noble Diagnostics of Brookfield, Wis., a drug testing company providing physicians and medical professionals with safety programs for their patrons.
"I expect to work mainly out of the country," Scott explains, "China, Europe, Mexico. I have the experience, the know-how, the contacts.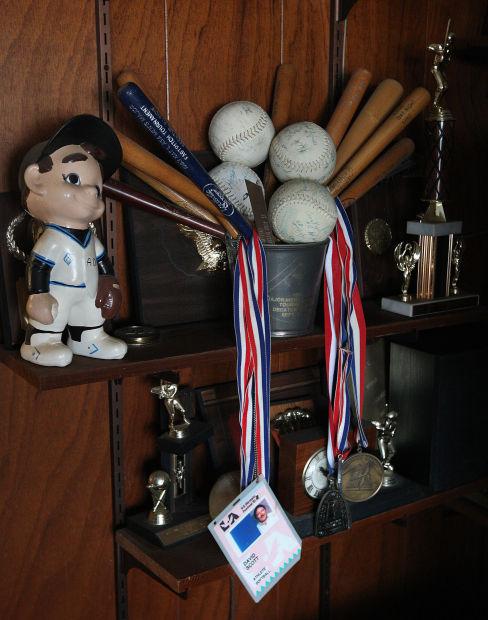 "Qualifications: More than 31 years in Fortune 100 agbusiness implementing employee assistance, work-life, wellness, fitness, occupational health and drug testing program as corporate wellness director for ADM, 1990-2012, and consultant to medical services and drug testing companies.
"Developed and installed drug free workplace, drug testing and violence prevention policies and prevention.
"Trained thousands of managers, supervisors, and union representatives on a worldwide basis on issues related to workplace intervention for impaired workers."
Impressive qualifications and there are more on his resume.
He has always had that commanding presence.
Between 1979 and 1996, Scott won 595 games for ADM and its successor, the Decatur Pride. His fastball was once timed at 108 miles an hour.
While in the Air Force, he once pitched a game left-handed in Texas. Yes, he won. He also pitched a perfect game, striking out all 21 batters. In 1979 he was pitching for six teams, including San Antonio, Houston, Mexico City and Fort Worth, Texas. He was selected for the US. U.S. Pan American Games team and pitched a no-hitter against Puerto Rico.
Scott recalls that Larry Royer, scouting for ADM talent, saw him pitch in Memphis and immediately began pursuing him.
"I was planning to join the Clearwater Bombers in Florida when I got out of the Air Force," Scott said. "Clearwater was the No. 1 team in softball at the time. Instead I wound up in Decatur and ADM after I was transferred to Chanute Air Force Base in Rantoul."
In 1980, ADM and Scott finished seventh in the national tournament. Then came the glory years, Scott won 54 games in the championship 1981 season, one of three times he topped 50 victories.
Scott and Brent Stevenson pitched ADM to the 1984 International Softball Congress championship. In 1988 he was a member of the U.S. national team that won the International Softball Federation world championship .He was named an All-American player six times, won 40 games in national championship play, participated in 11 U.S. Olympic Festivals and was named U.S. Olympic sportsman of the year in 1982.
And later, he pitched the Decatur Legends over-40 team to national championships in 1991 and 2000.
As for Woody Scott, he kept pitching into his 70s.