DECATUR — With the help of two community partners, the Decatur Bicycle Club has embarked on a trek to help others. 
The goal: "To get bicycles into the hands of people who can make good use of them, but don't have the means to provide them for themselves," said Decatur Bicycle Club president Ralph Czerwinski.
"The bicycle club provides $250 for each bike to help with their expenses," Czerwinski said, noting the cost of labor is donated. "They also provide, with each bicycle, a package consisting of a helmet, lock and a light package."
Scott Magruder, Decatur Bicycle Shoppe co-owner, said the store already has an inventory of used bicycles. Depending on the condition of the bike, each can take approximately an hour to repair. The store is at 1230 E. Pershing Road.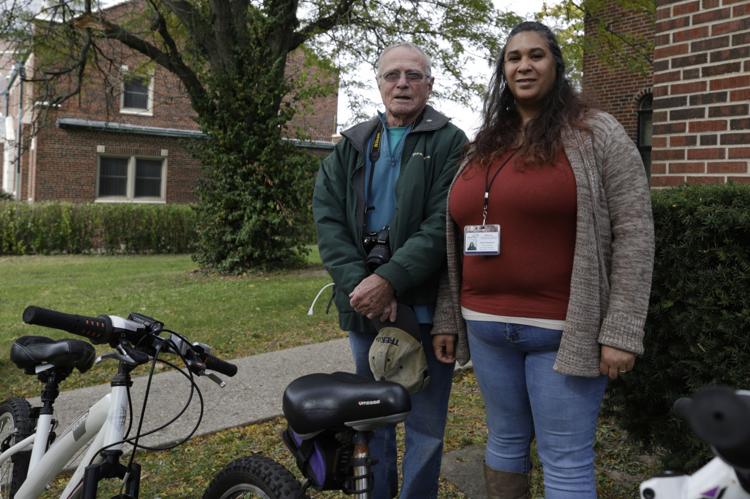 "They are good solid bikes that we'll get running properly," he said.
Magruder said agreeing to participate in the effort was an easy decision.
"Dave just asked," he said, referring to the donation program's organizer Dave Carpenter. "It seemed like a good program."
They decided to focus on used mountain bikes.
"They are heavier built, with a heavier frame, heavier tires, because of the people that are going to be riding on them," Carpenter said. "They are going to be riding on the streets."
Since the bike club has gained a reputation about their bike donations, Magruder said they have received several bikes in a short time.
"But the more bikes we get, the more we can get out there," Magruder said.
Homeward Bound Director Darsonya Switzer and her staff assists the community by providing housing and services to those who are homeless. The agency has a job training program called the Employability Program. The clients gain skills through the program, but still need to get to and from work.
"Some of those individuals have the means and the abilities, but some don't," Switzer said.
Dove Inc. staff member Deanna Robinson often hears the bike requests from the clients.
"They are asking when are the bikes ready," she said, adding the clients know the bikes will give them the independence needed to travel to home, work and appointments.
Recipients receive safety training before they are allowed to ride their new bikes. They also learn how to care for and maintain the bikes.
"Just like if you have a car, you have to take care of your bike." Robinson said.
The Homeward Bound partnership was formed only six months ago. In that time, they have provided three bikes.
Bicycling is important to members of the club. They are often found encouraging others to take up the activity. Along with the health benefits, member say bicycling lowers traffic congestion.
For Czerwinski and other members, the bike donations are just another positive effect.
"We are actually helping somebody in need," he said. "The charitable side is a big sell for us, too."
The funds for the bikes come from Amish Country Tour the group sponsors in September near Arthur, attracting as many as 700 riders some years.
"This year we had a 93-year-old gentleman ride with his 85-year-old wife," said vice president Rick Scholl.
Others riders came from areas of the Midwest and as far away as Australia. "So we've had people from all over," Scholl said. "People are familiar with us because of the ride."
Each year the Decatur Bicycle Club donates funds or provides support to an agency related to biking.
"We try to keep it as much relate to bicycling as we can," Czerwinski said. "Because that's what we're all about."
Contact Donnette Beckett at (217) 421-6983. Follow her on Twitter: @donnettebHR
Build your health & fitness knowledge
Sign up here to get the latest health & fitness updates in your inbox every week!