AMERICAN HEART MONTH | A DONATION STORY
Decatur infant's heart transplant underscores importance of organ donation
DECATUR — Looking at Giannah Wilkins now, you'd never know what a shaky start she had.
The 15-month-old Decatur girl has big brown eyes and is learning to walk, happily toddling across the rug to her 16-year-old sister's waiting arms.
It's a long road from her beginnings, along a path that's taken her and those who love her through many emotional ups and downs — and taught an important lesson about being an organ donor. It's an important story this American Heart Month. 
DECATUR — Professional actors have a table read of a new script to get a feel for it before beginning rehearsals, and so do the students at De…
When she was still weeks from being born, her mother, Katrina Gramigna, received devastating news: Giannah's heart was failing, and she was unlikely to survive. The hospital even gave Gramigna a teddy bear that holds a recording of the baby's heartbeat, so she could have that to remember her by.
"When we found out while she was pregnant, they sent us to Springfield, but while we were on our way, they called and told us to go to" St. Louis Children's Hospital, said Jenai Thompson, Gramigna's mother. 
The only option at that point was to give Gramigna medication for congestive heart failure, in the hopes that it would penetrate the placenta and help Giannah, without harming her mom, whose heart is perfectly healthy. It worked, and Giannah was born at 39 weeks.
"We had to go to the hospital for tests every week," Thompson said. "It helped (Giannah) enough to keep her going. Once she was separate from my daughter, we didn't know what was going to happen. Two weeks before she was born, we had to relocate to St. Louis so we would be there in case anything happened before they delivered her."
DECATUR — Brutal temperatures Wednesday sent animal control wardens out to check on pets who could have been in danger, and one man was arrest…
She had to be intubated soon after birth to help her breathe, and received medication for her heart. She was placed on the transplant list, but a donor heart for such a small patient is rare. She received one at 7 weeks of age, on Dec. 17, 2017.
Whether to contact a recipient family is up to the donor family, and Gramigna said she has not had any communication from them, and respects their wish to remain anonymous. Donors are told the age and sex of recipients, but further contact is at their discretion.
"I wanted to see if they wanted to reach out," she said. "I will probably sit down and write to them."
"I'm just so thankful to them," said Neveah Carter, 16, Gramigna's eldest child. She knows that her sister's transplant means another family lost their baby and that makes her sad, she added, but she's grateful that they turned their tragedy into a blessing for Giannah.
According to the U.S. Department of Health and Human Services' Organ Procurement and Transplantation Network, U.S. doctors performed more than 3,100 heart transplants last year as of December. 
One of the most well-known figures to receive a heart transplant in years was United Airlines CEO Oscar Munoz, who in 2016 underwent surgery following a series of cardiac problems. In December, he and other recipients talked about their experiences at Northwestern Memorial Hospital, which had the most heart transplants ever at an Illinois hospital in one year.
"Three years ago, around Christmas, I was here and I was given a gift of, in essence, life," he said, adding later, "I don't think I'll ever ever get tired of telling this story and, more importantly, I'll never get tired of thanking folks."
In Illinois, 215 people were waiting for heart transplants as of December.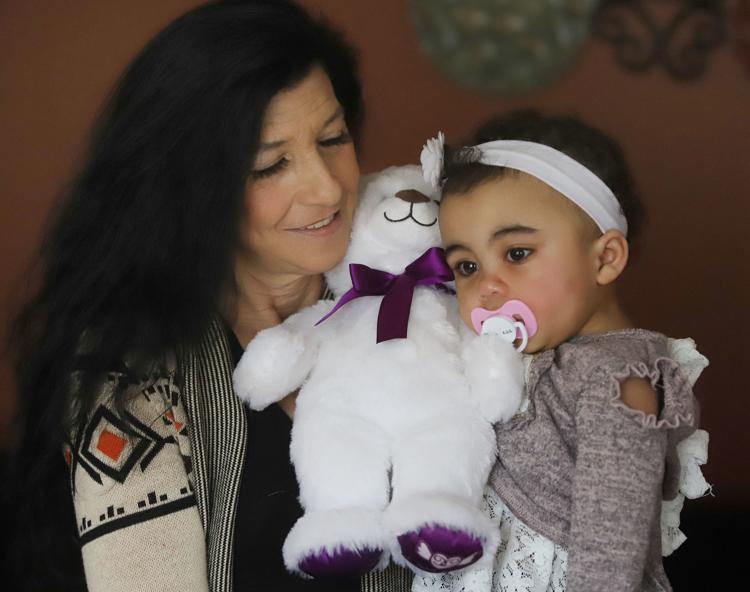 On an average day, 22 people around the country die while waiting for a transplant, and the only way to change that is to increase the supply of donated organs, said Jeff Orlowski, president and CEO of LifeShare Oklahoma, a nonprofit. Relatively few people can be organ donors.
"Some of it's technical, and some of it's people," he said.
Gramigna said her family's message is to show appreciation for those who give the ultimate gift. 
"We just want people to know how important organ donation is," she said. 
Giannah will have to take anti-rejection drugs for the rest of her life, and will most likely need another transplant by the time she's 20, Gramigna said. Her heart will grow with her, but with her compromised immune system due to the drugs, this heart won't last forever.
She can't attend day care, either, so Thompson watches her while Gramigna works, and Giannah's siblings – which includes Antonio Carter, 14; Jaxson Carter, 7; and Nico Wilkins, 5 – have to be very careful about keeping current on vaccinations and flu shots. Giannah came down with RSV (respiratory syncytial virus) last year and had to spend some time in the hospital. That can be a serious illness, but even a cold is a threat to her, so if a family member gets sick, he or she needs to keep their distance from her until they're well.
She is fed through a tube in her stomach because her gag reflex is oversensitive, but Gramigna said she will eventually be able to eat and drink normally. She should also be able to attend school when she's old enough.
The family was told that she might experience developmental delays, but so far, that hasn't been the case. She's learning to walk and is trying to talk and is otherwise learning just as other children her age do, Thompson said.
"If it weren't for organ donation," Gramigna said, "my daughter wouldn't be here."
The Chicago Tribune and The Oklahoman contributed to this report. 
Contact Valerie Wells at (217) 421-7982. Follow her on Twitter: @modgirlreporter