MOUNT ZION — It is never too late to take up exercise.
At 99 years old, Janey Walker is a prime example.
Shortly after she moved into The Glenwood Supported Living facility in Mount Zion four years ago, Walker started an exercise routine of walking at least a mile every day and participating in Stretch and Flex, the facility's workout class.
"They exercise your arms and then your legs," she said. "And I walk up and down the halls."
"She also walks down there (to the dining room) everyday for breakfast and back, then everyday for lunch and back, and for supper and back," said her son Jim Walker. "Then in between."
Her family measured the route their mother takes everyday, which equals a mile. "It feels like it at least," she said.
Starting up an exercise routine late in life is no excuse for being a slacker. In just a few years, the senior citizen has already acquired a reputation. 
"They call her Speedy," said son-in-law Gene Stoner.
Janey Walker recently celebrated her 99th birthday. Guests at her birthday party included all three children as well as her grandchildren, great-grandchildren and great-great-grandchildren.
"We have five generations, three times," said her granddaughter Deanna Hill.
Although she is known for her exercise around the facility, she has a reputation for a gentle spirit.
"She is one of the kindest people on earth," Sheryl Walker said. "Her hairdresser calls her Royalty."
The Glenwood staff agree. Administrator Lenda Johnson has watched Janey Walker walk by her office throughout the day. "She is as sweet as the day is long," she said. "I've never seen her or heard her when she is upset about anything."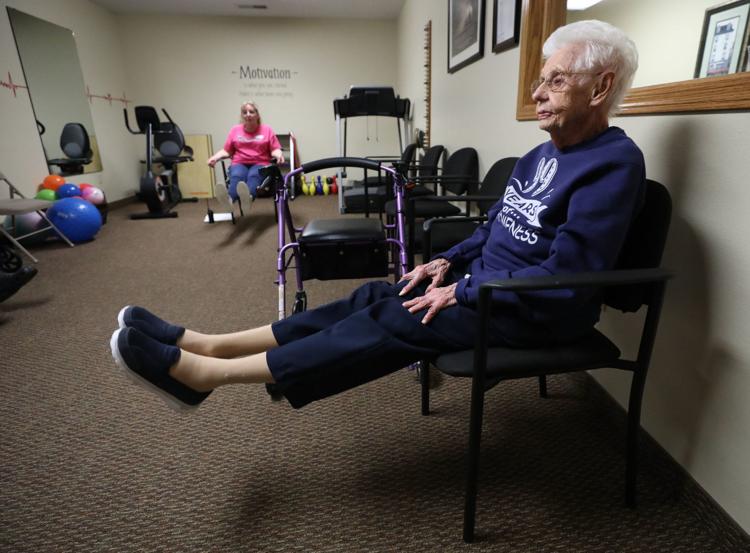 Before Janey Walker moved to The Glenwoods, she lived in a Decatur home with several flights of steps. She said that was the extent of her exercise. "She lived in a tri-level house. Wherever you go you've got to go up and down steps," Jim Walker said.
"I also worked in the garden," Walker said.
When she is resting in her apartment, Janey Walker will listen to audio books her children bring during their visits. She isn't picky about what they choose. "I like any kind," she said. "But it seems like most of them end up murdering somebody."
Janey Walker also takes shopping trips with her family. "She still walks through Walmart," said her daughter-in-law Sheryl Walker.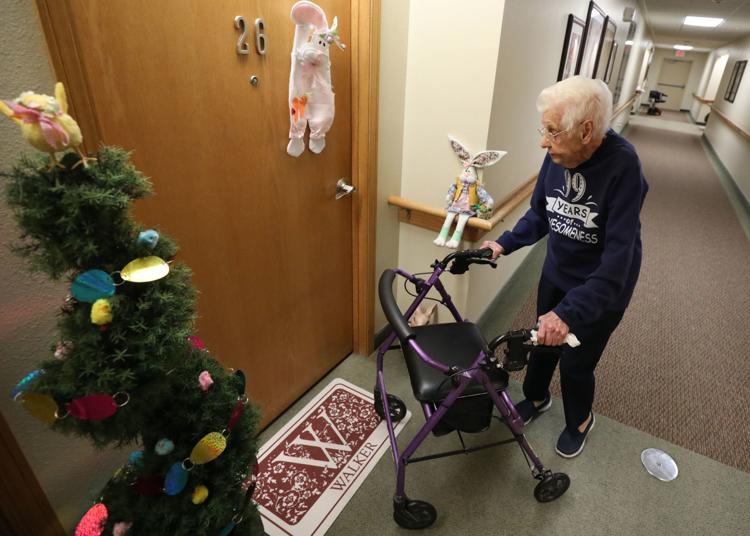 The exercises must be doing some good. The only medication she is prescribed is for her eyes.
According to her family, her exercise routine is the only healthy part of her life. Her eating habits are nothing to brag about. Or can she?
Her favorite restaurants are Krekel's and Monical's Pizza. She often has a stash of chips and candy hidden in the seat of her walker. Her presents often consist of saltwater taffy, specialty caramels and chocolate creations. The Glenwood staff offers healthy meals. "But whether you eat them or not, that's up to you," Jim Walker said.
Janey Walker instead orders hot dogs, chicken strips and other less healthy options. "But breakfast is her favorite meal," Johnson said. "She wouldn't miss breakfast if her life depended on it."
"But that's the secret for living long," said Carolyn Stoner about her mother.
The daily exercise class offered by The Glenwood staff encourages the residents to participate in various movements, such as sit-down jumping jacks and marching in place.  
"It's regular exercises, only you're sitting down," Janey Walker said. "They say it's good for me."
The facility offers other activities including bingo and a puzzle club. None is an interest to Janey Walker. "I can't see the puzzles," she said.
"And she says bingo is for old people," Hill said.