DECATUR — Jan Wade knitted about 30 little red hats in one month.
"I had nothing better to do," she said. "Can't go outside, so I might as well knit these hats."
Each hat has been laundered and sealed in a bag with information about Congenital Heart Defects, the leading birth defect in children, according to AHA.
For the past three months, the AHA has been accepting handmade red stocking caps for the national campaign. Several knitters were from Decatur, like Wade.
"These have come from all over Illinois," said Karen Gedrose, director of development for the AHA. "We've had about 3,000 hats delivered."
The AHA delivered the little hats to all Central Illinois hospitals that deliver babies.
The hats were made in various sizes, from preemies to newborns. "There was a couple of very large ones too," Gedrose said.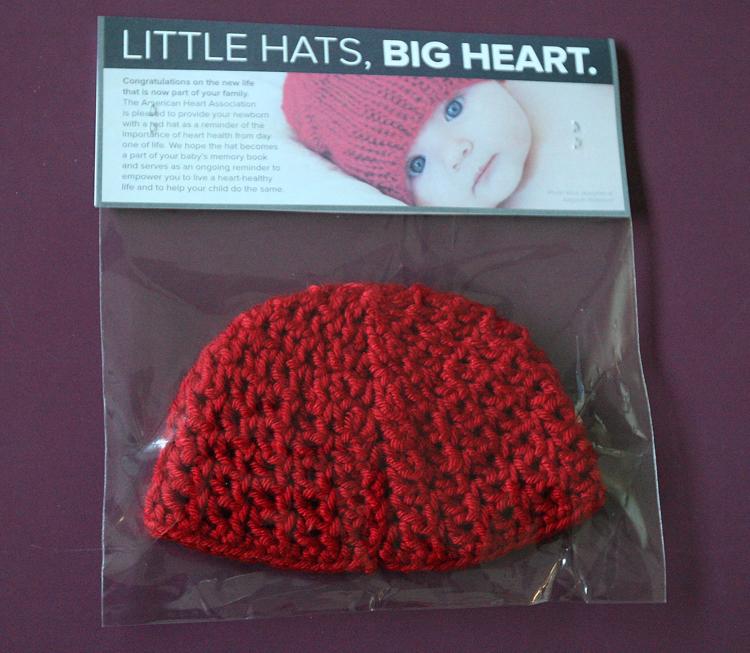 Since the hats are all individually made, they each have their own look. Some have pom-poms or other embellishments. Some are knitted while others are crocheted. And red yarn comes in various shades. The AHA offered the knitters a recommended pattern, but were instructed to use only cotton yarn. The rules were listed on heart.org/littlehatsbighearts.
Although CHD is the number one birth defect in babies, the AHA and local hospitals also want to promote heart health awareness in the entire family.
"Babies need their parents around too," Gedrose said.
Hesse and her staff at DMH discuss all healthy options connected to heart health, including the benefits of breastfeeding. "It helps prevent cardiac disease for the mom," Hesse said.
Other health benefits that start shortly after birth include skin to skin contact within a few minutes after birth.
"It helps with bonding. It helps with breastfeeding and regulating body temperatures," Hesse said. "It helps to adjust to life outside the uterus."
The hospitals celebrate holidays with the newborns. Some of the festivities include health information. "(The little hat) is a fun way of doing that," Hesse said.
Wade was surprised by the amount of red hats St. Mary's received for the February distribution. With the hospital delivering an average of 50 babies a month, they shouldn't run out.
"We should have them until December," she said.