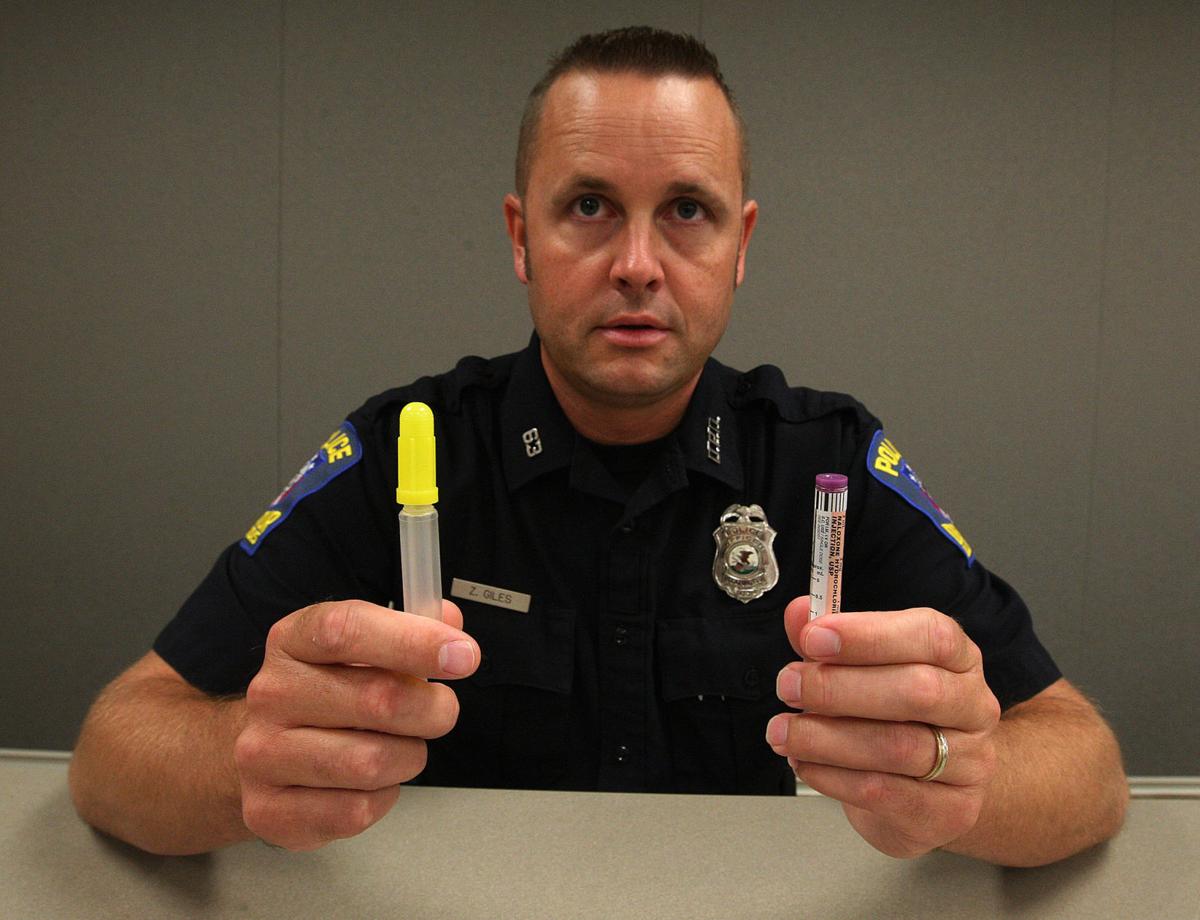 DECATUR — Macon County first responders and addiction specialists say they are ready for the potential spread of a deadly synthetic painkiller called fentanyl that has caused an uptick in fatal drug overdoses across the country. 
The drug is often used as a filler for heroin, and single batches spiked with it can lead to a rash of overdoses within a few days of each other. Even minimal exposure to fentanyl could seriously harm or kill a person who absorbs it through the skin, presenting extra danger for first responders and law enforcement.
"That's the danger of it," said Bruce Angleman, a drug rehab therapist for Heritage Behavioral Health Center, which provides addiction and mental health services in Decatur. "People OD on the spot with it. It's not something that comes on over time."
A federal investigation seized 27 kilograms of pure fentanyl in June in the St. Louis area, according to prosecutors. Last month, prosecutors in New York said a man was indicted in connection with the seizure of 18 kilograms. Two people died in Springfield earlier this year after overdosing on heroin and carfentanil, a grade of fentanyl primarily used as a horse tranquilizer.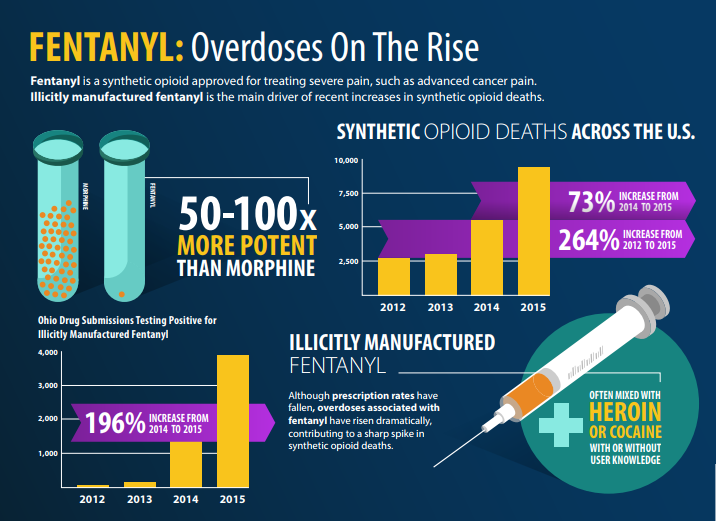 "My suspicion is it's probably more than what we realize," he said.
An increasing number of people in Macon County have died of opioid overdoses over the past four years, according to the Illinois Department of Public Health. Six deaths were reported in 2013, and 14 were reported in 2016. 
"It's like someone throwing a rock into a pond," said Mike Burkham, vice president of the Decatur Ambulance Service. "The ripples go out and affect so many people in the community. It's getting to be an epidemic. We're not winning, and it's not getting better. It's getting worse."
The drug naloxone, better known by the brand name Narcan, is widely used to reverse the effects of an opioid overdose. Because fentanyl is so powerful, one dose of the antidote may not be enough, said Chuck Kerwin, a social worker and addiction counselor at HSHS St. Mary's Hospital.
"It may take two or three shots," he said.
A more potent high
In 2015, the CDC reported that the number of overdose deaths jumped 73 percent from the year before, and cited fentanyl as a major catalyst for the spike.
"(Fentanyl) makes it more potent and it makes it cheaper," Angleman said. "They don't have to deal with the peasant farmer, the poppies in the field and converting it. It's ready to go. It cuts a lot out of their production cost."
He said lot of heroin users aren't prepared for that kind of potency.  
If the concentration of fentanyl in heroin is too high, Burkham said, the person who took it could die before medical personnel have a chance to administer Narcan.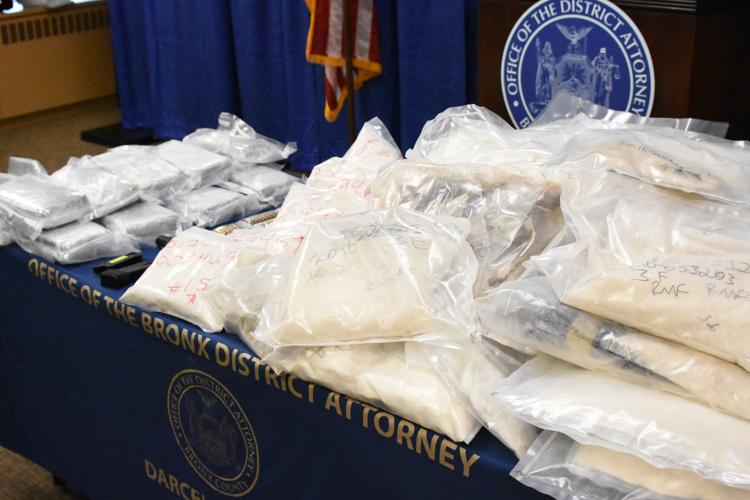 "If you get enough of that opioid in your body, your brain just isn't going to know how to breathe," he said, describing a fentanyl overdose. "There will be nothing telling you to take a breath."
In some cases, heroin users may be unaware that the drug they've taken was laced with fentanyl. "People get what they think is just heroin, but it's also got fentanyl in it," Deputy Police Chief David Dickerson said. "They don't know what they've got, and that's what's scary." 
Others are interested in fentanyl precisely because of the risks, Kerwin said. 
"If they hear about someone having some stuff that caused some overdoses, they think it's good stuff and they're going to try and find it," he said. "It's the opposite of what you'd think it'd be, but a lot of them have such a high tolerance, they're looking for the strongest stuff out there, even if someone else OD'd on it."
Extra precautions
The U.S. Drug Enforcement Administration says fentanyl has been coming into the country from Mexican drug cartels in recent years. The drug is manufactured illicitly in Mexico with precursors obtained from China, and then smuggled into the United States, said Amy Roderick, the DEA's spokeswoman in San Diego.
The agency published a 19-page briefing guide for first responders with instructions about how to identify the potential presence of fentanyl at a scene and protect themselves from accidentally ingesting the drug. 
You have free articles remaining.
Clusters of overdoses within 48 to 72 hours of each other could signal the presence of fentanyl in the area, according to the guide. 
The DEA also made an informational video for law enforcement officers, in which Acting Administrator Chuck Rosenberg stressed that exposure to an amount as small as a few grains of sand can be lethal.
"It can be absorbed into the bloodstream through your skin, through mucous membranes, or even accidentally breathing tiny amounts of airborne powder," he said. 
Earlier this year, an Ohio police officer was rushed to the hospital after brushing fentanyl from his uniform and absorbing it through his skin. Police dogs are also at risk of overdosing on fentanyl just by sniffing it.
No Decatur law enforcement officials or first responders have been hospitalized because of fentanyl, but they are mindful of the potential threat whenever handling drug investigations.
"We are extra precautious when dealing with any situation," Dickerson said. "Safety is at the utmost importance."
Decatur police Detective Chad Ramey said investigators use special masks and gloves when in the vicinity of any drugs or potentially dangerous substances. The same goes for sheriff's deputies, according to Sgt. S.E. Flannery, the sheriff's office public information officer.
"It's similar to dealing with hazardous spills," he said. "We're trained to identify it, but we don't handle it."
Flannery and Ramey said special Illinois State Police response teams that are trained to clean up drug-related crime scenes do most of the heavy lifting in those situations.
As for Burkham and the emergency medical technicians, gloves are the only protective gear they wear when going into a scene. If they accidentally come into contact with fentanyl and absorb it, they would use the Narcan they carry to reverse the effects.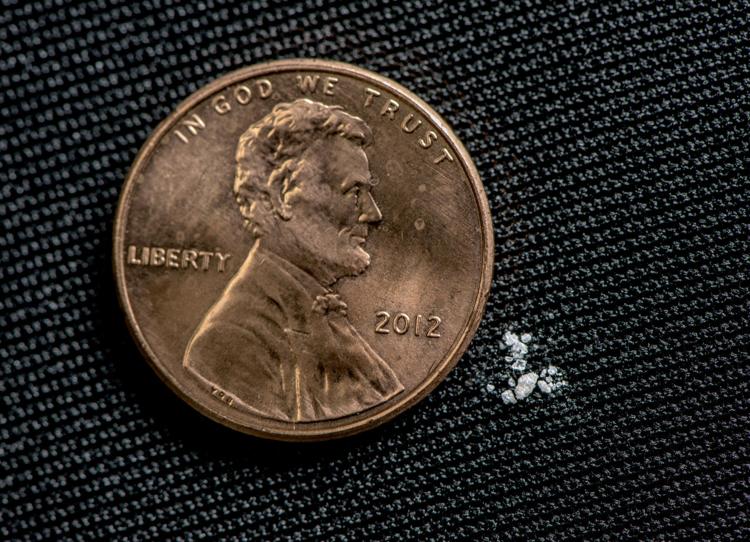 Flannery said he believes there will likely come a day when more people will come across fentanyl in Macon County, as much as he hopes the crisis would end before it reached here.
"It'll be pretty big news when it does," he said. 
Saving lives
The Decatur Fire Department and the Decatur Ambulance Service have used Narcan for years, but the police department and the sheriff's office have only been equipped with it relatively recently.
"I heard about these programs where people are learning how to administer Narcan, and I already knew how to do that," Burkham said. "I thought, 'I can train people do that,' so it became a goal to put more Narcan on the streets."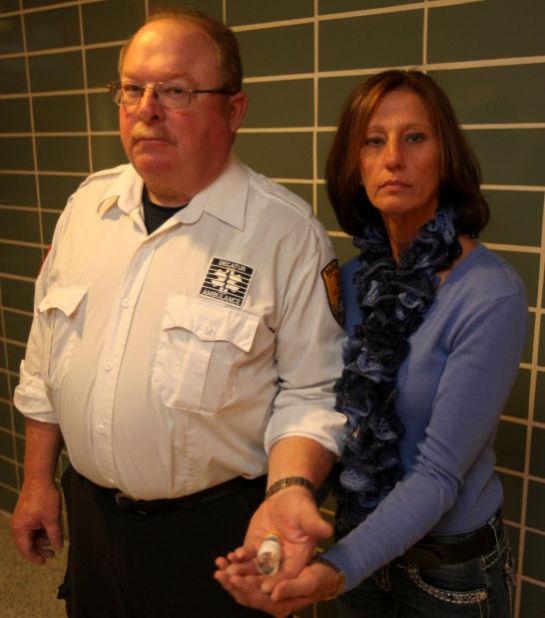 The event allows the Burkhams to spread the word about the seriousness of the nation's opioid crisis, but it also raises money to buy more Narcan and donate it to law enforcement.
"Now all of the police officers, all of the sheriff's deputies and even Millikin University police carry naloxone," Burkham said. "Even counselors and people who are actually addicted. We teach them all how to use it."
Burkham said the ambulance service typically uses Narcan three times a week for overdoses. The police department and the sheriff's office have only used it once in the field, but have dispensaries ready in case of emergency situations.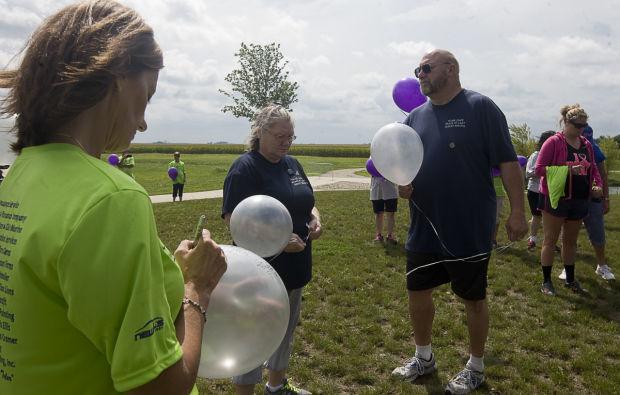 While he advocates for long-term treatment as the best way to combat the opioid crisis, Burkham said law enforcement and first responders are now equipped to save lives so that people can later get the help they need.
"We just want to keep people breathing for one more day," he said. "Hopefully, they'll make the right decisions afterward. A lot of the time, they don't, but sometimes they do."