CARLOCK — Have you ever walked through a prairie or along a wooded path, seen a plant, flower or bird and wondered what it was?
Would you like to go for a hike but don't want to go alone — or perhaps you want to learn more about an unfamiliar area first?
If the answer to any of those questions is "yes," you are in luck. Beginning in February, the ParkLands Foundation will be offering a monthly hike with a naturalist at different preserves within its system in McLean and Woodford counties.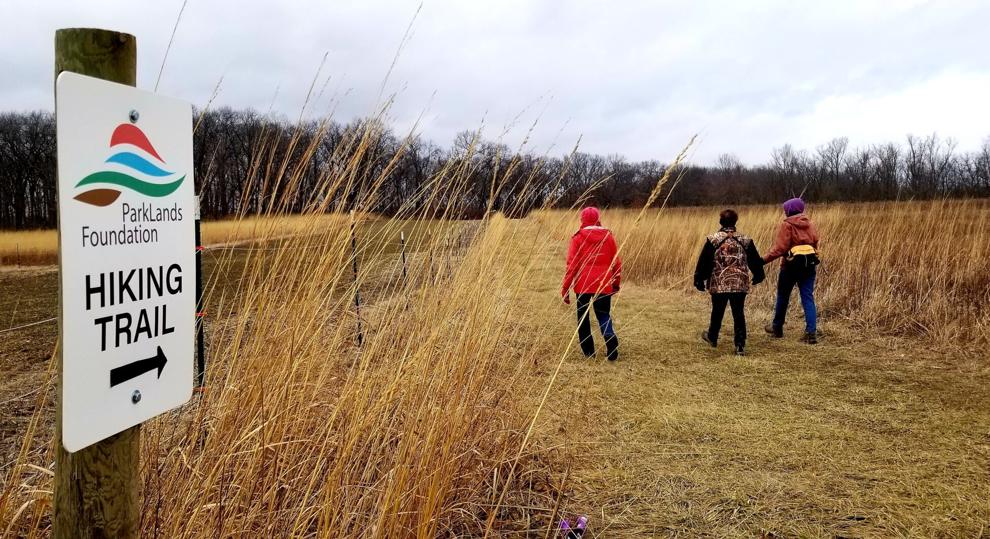 Erin Herbez, administrative director of the ParkLands Foundation, said the series came about after a member survey "found that most people are interested in learning about the natural features of our properties through guided hikes."
She added, "Our volunteer stewards are naturalists that are very familiar with these properties, as they spend many hours restoring them."
Mary Jo Adams, a volunteer steward who lives in rural Carlock, will be leading several of the hikes, including the first one, Feb. 5, at Chinquapin Bluffs Land and Water Reserve.
The monthly hikes will be timed to highlight features such as Virginia bluebells at the Merwin Preserve and coneflowers at the Ridgetop Preserve.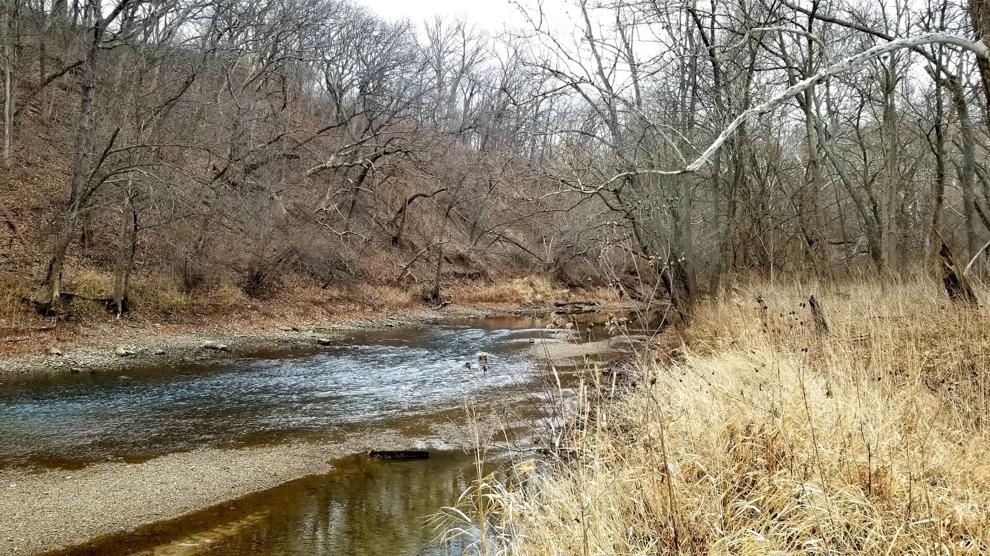 "I want people to become familiar with the preserves so that when they come out, … they've got a better idea of what they're likely to see, likely to find and some of the cool things about one place versus another," said Adams. "Each place is special in its own way."
Several things make Chinquapin special. At 765 acres, it is the largest preserve in the ParkLands system. Chinquapin also has a variety of habitats, including a dry hill prairie, sand prairie, marsh and woodland floodplain. Chinquapin has 2 miles of Mackinaw River frontage.
As we walked along the route of the Feb. 5 hike, Adams pointed out big bluestem and Indian grass growing in the restored prairie that was once pastureland. A buttonbush plant caught her eye and she retrieved some seeds to spread during our walk.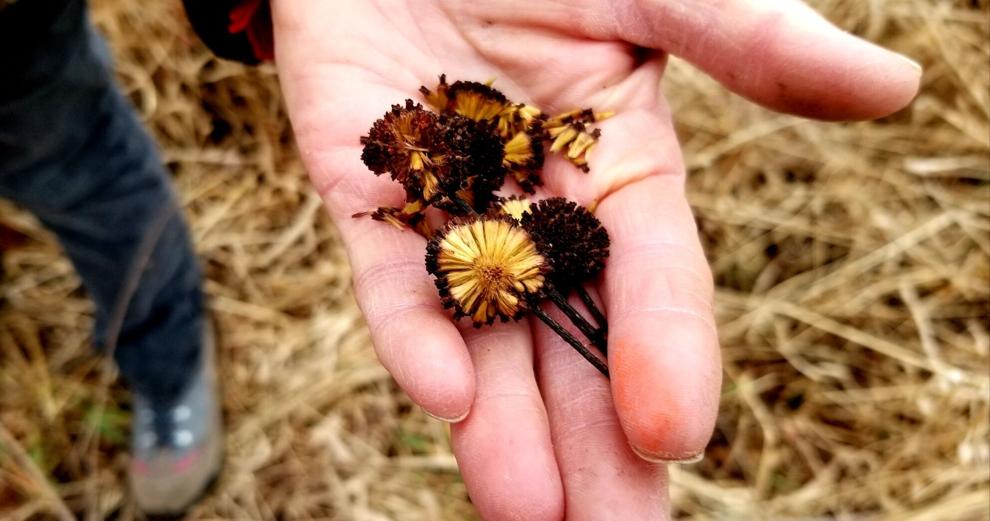 Two adult bald eagles — possibly a pair that nests nearby — soared over us, calling to one another. Later a red-tail hawk flew by.
We paused along at a special spot along the trail.
"This magnificent oak back here has got to be one of my favorite oaks in the whole area. It's, I'm sure, around 200 years old," said Adams. "It's just a magnificent mama oak. … It's just lived through a whole lot and it's still surviving."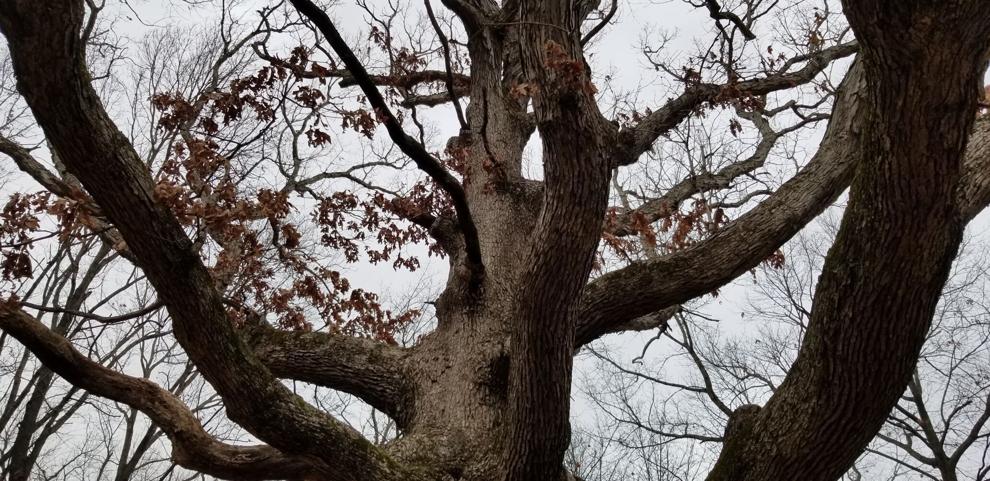 The tree is so large in circumference, it takes at least four adults to surround the trunk. The limbs spread out impressively.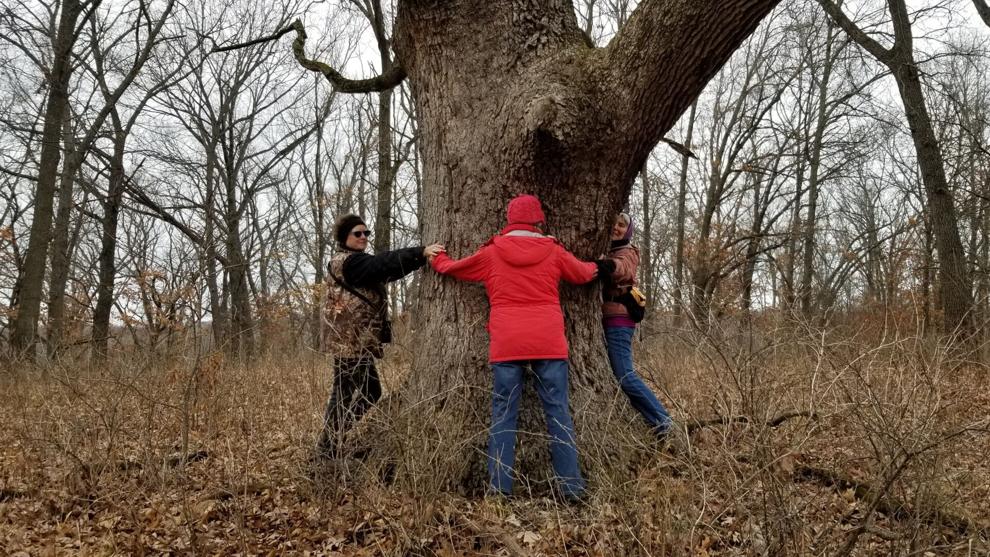 Peg Schickedanz of rural Bloomington, another ParkLands volunteer, said, "The thing that attracts me to ParkLands preserves the most is when you walk out on them it's like it was hundreds of years ago. You can see what it looked like to pioneers who came here, to Native Americans who lived here."
The foundation is a nonprofit, private land trust "that operates on memberships and donations, not typically state or federally funded, and we protect habitat to provide natural lands for the public to enjoy," explained Herbez.
"We also benefit from our volunteers," she said. These include occasional volunteers who help with special events and work days as well as volunteer stewards who work at specific preserves.
Hebez said she hopes people who participate in the hikes "will continue to visit the preserves throughout the year and experience the public benefit of natural areas that ParkLands provides."
The preserves are open to hiking, photography, nature study and cross-country skiing. Dogs and bicycles are not allowed.
11 cities that have the most public outdoor space
11 cities that have the most public outdoor space
#11. Portland, Oregon
#10. New York, New York
#9. Seattle, Washington
#8. Irvine, California
#7. San Francisco, California
#6. Chicago, Illinois
#5. Minneapolis, Minnesota
#4. Cincinnati, Ohio
#3. Arlington, Virginia
#2. St. Paul, Minnesota
#1. Washington D.C.