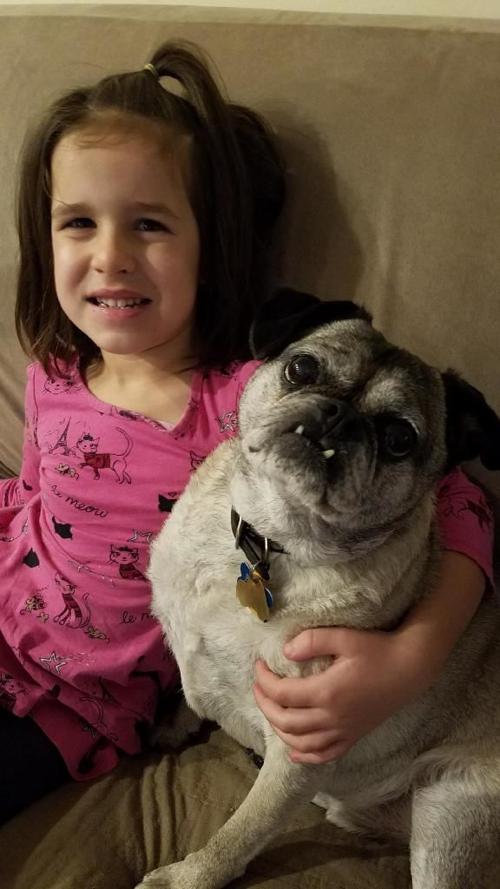 There's still an occasional reminder of the puppy Mo, all flailing limbs and high-pitched squeal-barking. 
Maybe it's when the baby slings carrots, pears and who-knows-what from the high chair.​ Even with terrible hearing these days, our elderly Mo can somehow decipher the goods splattering on the floor from 20 yards away, through the closed sliding-glass door and around the kitchen corner. (Maybe it's selective hearing loss.)
Open the door and he comes slipping across the wooden floor, looking like a cartoon character struggling to gain traction. Then it's sniff-sniff-sniff and the vacuum cleaner that is Mo goes into action. He pokes looking for morsels like a dentist inspecting for tooth decay. 
Mo's always been a good dog, ever since we got him from a rescue in 2007. A French bulldog-pug mix, he was born with a comically large underbite that left the front lower teeth exposed. All but the cuspids fell out long ago. 
He's loved despite his flaws.
We love him despite his shedding. So much shedding.
We love him despite his continued contempt for listening, love of barking at every creature that passes and persistence to always be first in line for everything.
You have free articles remaining.
Mabel is a rescue, too. She had vision problems and malformed feet from the beginning. She's almost blind now. We leave a light on so she can navigate the basement stairs. 
Mo seems to just barely tolerate Mabel, even after all this time. Same goes for weathering seven-plus years of children — years of "Let it Go" screamed at the TV, thrown toys and spit-covered pacifiers. 
Mo is 12 now. He struggles with stiff joints and had a tumor removed from his leg this year. 
His eyes twitch when he sleeps. I wonder what he's thinking about and whether he replays any moments of the past dozen years. 
My middle daughter, Caden, starts and ends every day with a Mo hug. He weasels his way into her bed before nighttime. He cons the girls into treats during playtime in the basement. An empty lap is an open invitation. 
He still rolls the dice and tries to lay on the couch, despite literally years of being shooed away. There's something heroic about him refusing to give up on his goal of having the top couch perch. Maybe it's that selective hearing. 
That's the thing about Mo: Despite the funny flaws, he brings joy to our life. 
My 7-year-old daughter Carly really, really wanted to see a Cubs game.
Chris Coates is the Central Illinois editor. Contact him at chris.coates@lee.net and follow him on Twitter at @ByChrisCoates.