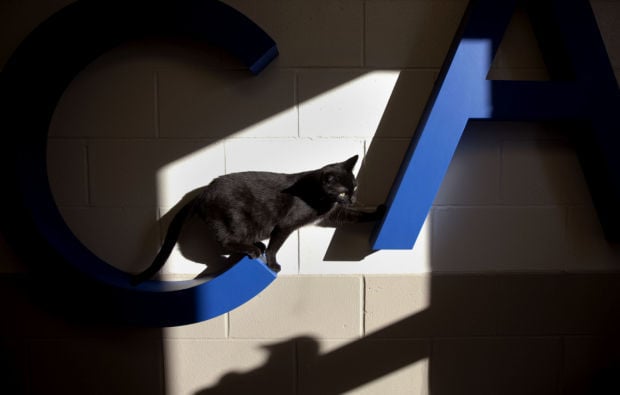 DECATUR — All cats need their own homes, even those who prefer to be in the great outdoors.
"A feral cat is not domesticated," said Brandi Hudson, adoption coordinator for the Macon County Animal Control and Care Center. "They hunt mice and prefer to live outside."
The center has had feral cats ready for adoption nearly every week.
"I always beg and plead for people to take a barn cat," Hudson said.
According to Hudson, feral cats have unique characteristics. "They don't meow at you, where you can talk to house cats and they talk back," she said.
You have free articles remaining.
The animal center staff can see the feral cats are unhappy staying in the shelter. Indoor environments with cuddly families is not the place for these special pets.
"Most of them came from an outdoor situation," Hudson said. "When they get back outdoors, they are just happier."
Although they are not social pets, feral cats have their jobs and can be beneficial to families and farms.
The cats are most at-home in barn situations or unincorporated parts of the city, such as an outdoor building, machine shed or any space in open areas. They live in any area where they can get rid of mice or other pests.
"But you do need to feed them and acclimate them to the surroundings," Hudson said. "Just feed them every day and treat them humanely."
Another benefit of adopting a barn cat is the cost. They are free from the Macon County Animal Control and Care Center. The staff provides many services for feral cat adoptions, such as spay and neuter procedures and vaccinations. The staff also tips the cat's ears to indicate it has been altered.
According to Hudson, the staff provides several services to make the cat's adoption as hassle-free as possible.
"After all, it's not their fault they are here," she said.
Contact Donnette Beckett at (217) 421-6983. Follow her on Twitter: @donnettebHR