Children, teens with limb loss discover friends, support at Camp No Limits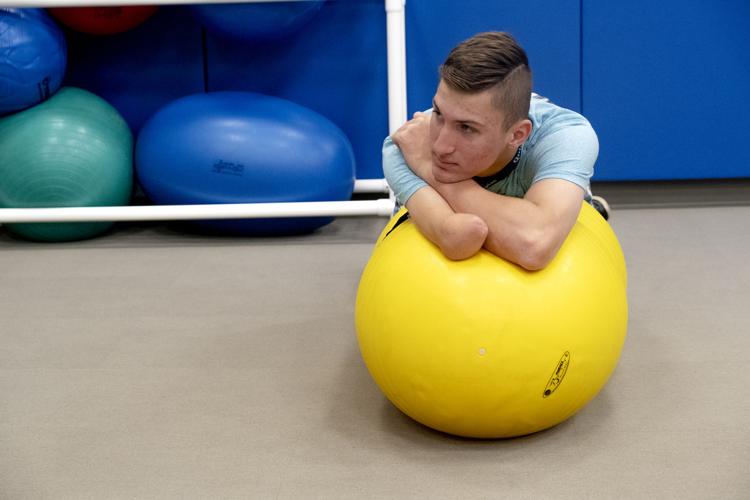 NORTH HAVEN, Conn. — Reese Buckley has no trouble keeping up with "four-limbers." That's amputee lingo, he said unabashedly, for able-bodied people.
His own leg was amputated when he was just two weeks old. It began with twin-to-twin transfusion syndrome in the womb — and a blood clot. This life is all Buckley knows, he said, pointing to his prosthesis.
"Instead of going to my heart, thankfully the clot went to just the back of my knee," Buckley, 18, said. "Instead of my life, it took a knee. I'm OK with that."
When he was 16 years old, he went to a camp in Ohio for children with limb differences. He'd never experienced anything like it before. It was exhilarating.
Recently he attended a similar overnight program, called Camp No Limits, at Quinnipiac University's North Haven and York Hill campuses in Connecticut. He was joined by about 30 participants, ages 2 through 18, who learned adaptive life skills from physical and occupational therapists and had access to a strong support system through five days filled with recreational activities.
"It's refreshing because you see other people struggling with the same issues that you do," Buckley said. "If I'm struggling with something at home, I've gained fellow amputee friends I can just text and ask how they deal with it."
Quinnipiac has hosted the camp since 2015, with nine other locations scattered across the country. This year marked the first "Prepping for our Future" option, drawing in teenagers looking to become more independent ahead of their college years.
One station featured a driving simulation, in which campers virtually cruised through city streets and navigated light traffic.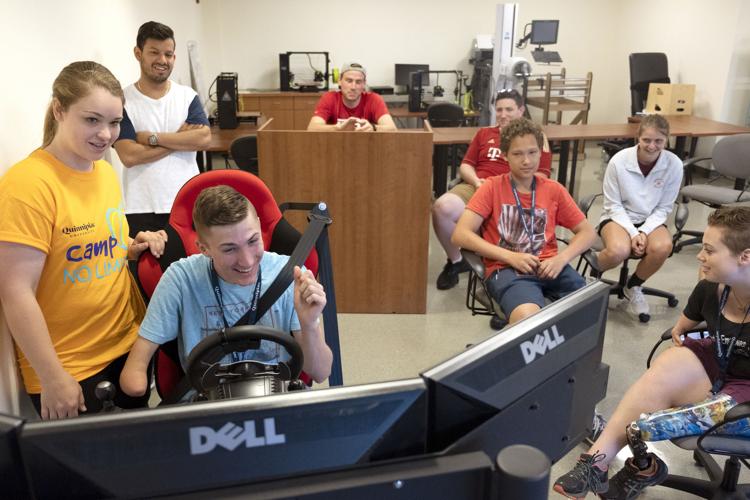 Nearby, a special steering wheel was on display, equipped with a spinner knob to provide better control for those driving with one hand.
"With enough time and effort, we can get them driving," said Brandon Lesch, an occupational therapist who's been with Camp No Limits for five years. "We're trying to lead them down that path that these amazing resources are out there."
Prior to camp, Lesch said, many participants — and even parents — think that driving is not possible. Lesch said it's all a matter of empowerment for these teenagers, who are oftentimes the only students in their school district with limb loss.
Izzy Cole, 13, said the simulation was fun, though she was docked a few points for not switching on turn signals. She giggled with her friend, Zyra Gorecki, about the mishap, along with a tricky real-life obstacle course they navigated with sideways jumps and hopscotch games.
"Camp is amazing because everyone here knows something similar to what you're going through," said Gorecki, who is a unilateral below-the-knee amputee. "You're not a freak with one arm or one leg. You're part of the pack."
Gorecki, 16, said she doesn't feel stigmatized, but Cole, who has a similar limb loss, has been bullied for the past few years.
"People don't really understand," said Cole, whose prosthesis is laminated with a photo of Jimi Hendrix. "(Campers) can really be themselves here."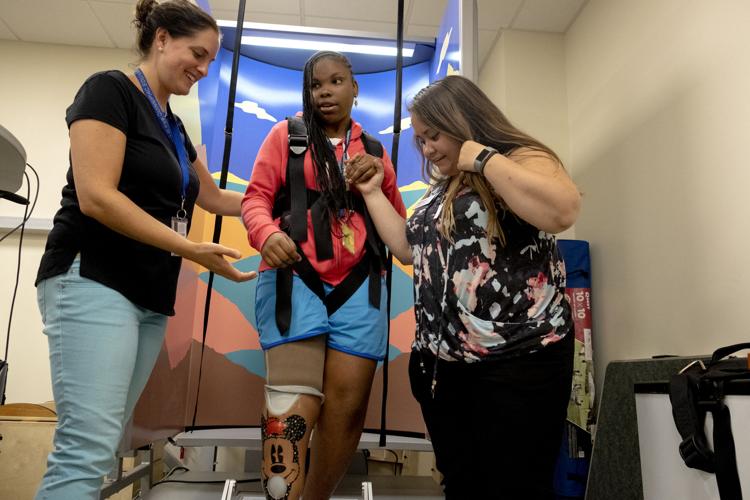 Justine Clifton, 28, said she wishes Camp No Limits existed when she was younger. As an above-the-knee amputee with upper-limb differences, Clifton used to sit on the sidelines and watch her able-bodied friends have fun.
She didn't trust her prosthesis. She thought people would laugh at her if she fell down.
By age 14, she was ready to come out of her shell. She learned about adaptive sports, testing out rock climbing first. Skiing, snowboarding and running came later.
"I started to step outside of my comfort zone a little more each day," said Clifton, an adult amputee mentor at the camp. "Now, I always want to try new things. I don't really get scared very easily anymore."
Fellow mentor Adrienne Damicis, 22, attended the early makings of Camp No Limits nearly 15 years ago. Damicis considers herself part of a tight-knit camp family, one that's mentored her through school and relationships.
"I always grew up being surrounded by amputees," Damicis, a below-the-knee amputee, said. "Looking back in high school, it did give me so much confidence."
Throughout the week, Damicis led support groups. They were to act as safe spaces, she said, for sharing common experiences and hurdles.
"You sometimes feel like you're isolated and you're the only one," Samantha Clift, a Quinnipiac student volunteer, said. "But you're not."