More women are becoming river raft guides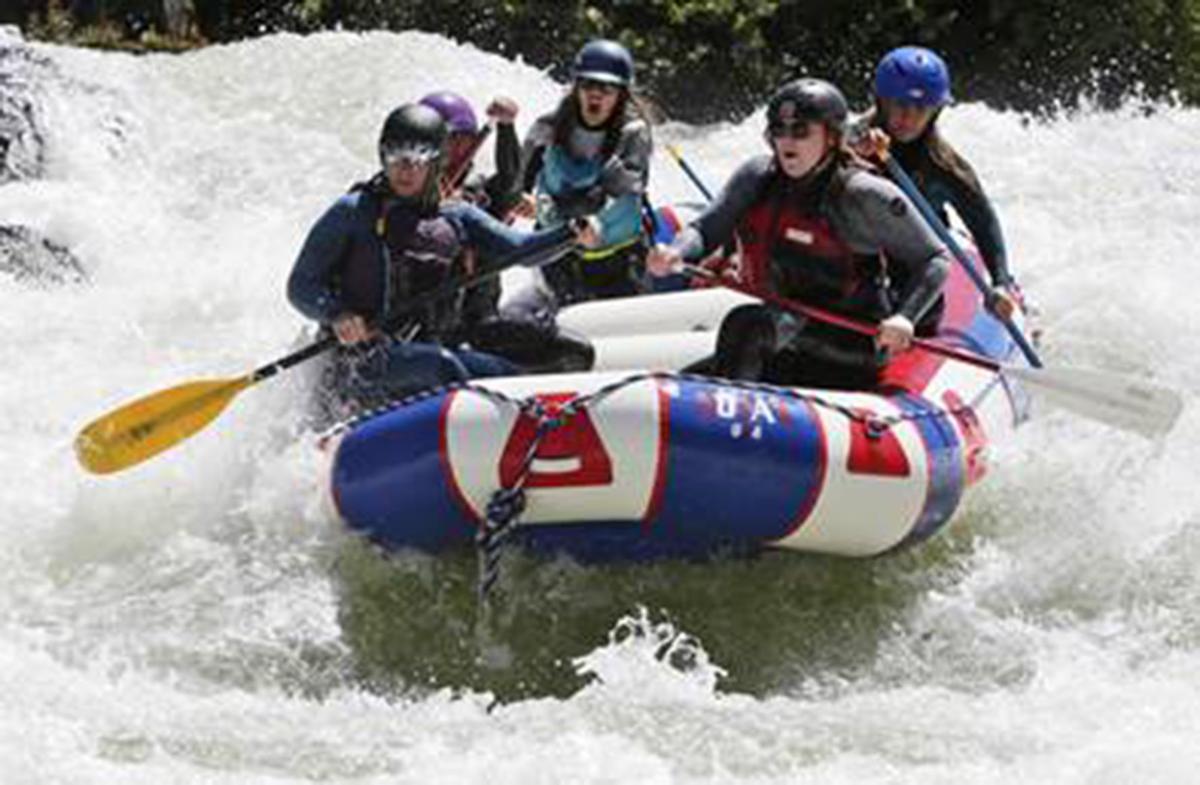 As the raft surged through the rapids, frothy white water sprayed the six paddlers. They each wore wetsuits, flotation devices and helmets as they paddled through the Big Eddy, a section of Oregon's Deschutes River that features Class III rapids.
"Forward paddle! Forward two!" the guide shouted from the stern, steering the raft's course with a paddle. Jen Kjellesvik's voice was loud, deep and calm.
That Kjellesvik and the six-person crew were women shouldn't surprise anyone, they said.
Women are increasingly drawn to male-dominated outdoors sports such as river rafting. And several women on this recent rafting trip have set goals greater than coursing through challenging river rapids at the beck and call of someone else. Women are acquiring the skills that will allow them to become professional raft guides themselves.
"I think women make better guides," Kjellesvik said. "We're not trying to out-muscle the river like some male guides. We're paying closer attention to the river, reading it better."
Kjellesvik, 43, has guided for 25 years. She owns and operates Adventure Fitness in Bend, Ore. She wants to change the notion that women can't be excellent river guides and began leading several female-centered rafting trips last month — so far, free of charge. She wants to help women invest in their rafting game and become professional guides who go on to work for rafting companies. Kjellesvik, certified by the American Canoe Association as an instructor, is considering making this word-of-mouth clinic a permanent one.
Melanie Feltmate, who has guided since 2014, heard of Kjellesvik through co-workers at the Colorado rafting company where she got her start. Kjellesvik had previously guided crews on the Arkansas River for the same company. When Feltmate told them she was moving to Bend, "They said, 'You have to meet this badass woman named Jen!' " Feltmate said.
Kjellesvik invited Feltmate to join this recent rafting trip with four additional women. They would run Big Eddy after a discussion on safety and technique. Throughout the day, Kjellesvik and Feltmate spoke about various rafting companies they'd worked for and rivers they had guided on, slipping in and out of jargon. They agreed that too many men, ranging from some raft company owners and managers to novice rafting clients, are taken aback by the idea of women guiding commercial rafts.
"Often you will get a crew (of customers) that, when they see that you're their guide, they make comments that they don't have faith in you," Feltmate said. "And that's strictly from the fact that you're a woman, regardless of how many years of experience you might have over the male guides. Unfortunately, sometimes people are biased."
A recurring point female guides make is that what some women lack in sheer paddling strength, they make up for with a heightened understanding of the river.
"I think females read the water differently than males read the water," Feltmate said. "Oftentimes we're not as strong as the men to turn and crank a boat. We have to make the water work for us."
Kjellesvik agrees. She currently guides for Bend-based RiverStone Adventures and Wet Planet Rafting and Kayaking in Washington. She also guides privately, an additional hustle that keeps her on the river a couple times a week, she said. Feltmate considers Kjellesvik a pillar in the local river guiding community.
"(As river guides) we're all transient because we're chasing the whitewater," Feltmate said of the migratory nature of summer guiding gigs. "It's so great that Jen is trying to create this strong female connection, this camaraderie. It's really a blessing."
After earning a university degree in biology, Feltmate felt restless. A female friend suggested they train to become commercial river guides.
"I said, 'That's stupid. Let's go,' " Feltmate said with a laugh.
Feltmate contacted a local Colorado guide company and explained her interest — and predicament.
"Learning how to guide the boat is no problem; that's my job to teach you," the guide told her, adding that he looks for three things in raft guides. The first is spatial awareness: knowing where nearby boats and people are. The second is good conversation skills with clients, Feltmate said. The third quality is an ability to guide the boat. The rafting company trained Feltmate alongside six other women on the Arkansas River.
"We'd tell each other all the time: 'You are a badass female; you have this!' " Feltmate recalled with a laugh. All seven passed their training and got hired by the company. Feltmate guided for four summers in Colorado and on the Rogue River in Oregon. When clients express shock or concern that their guide will be female, Feltmate uses sarcasm.
"I'll make a corny joke and say, 'Yeah, and today is my first day!' " she said, adding that other women, when their authority is questioned, quickly rattle off their accomplishments.
Feltmate and Kjellesvik talked about the importance of using a commanding voice on the water, especially through rapids. Finding one's natural, deeper voice and using it is a must.
"The important thing is to stay professional. Don't let the guys get under your skin," Feltmate said. "Make sure they have a good time. Hopefully, by time it's over, you'll have changed their minds, that there are no gender boundaries (on the river)."
Feltmate recently accepted a full-time job at Camp Fire Central Oregon, a nonprofit that offers outdoor learning programs for children and teens. This is the first summer in four years that she hasn't guided full time.
"I didn't know how much I would miss it," Feltmate said.
Guides are responsible for steering crews through serious danger that swirls in the rushing blue depths. Lifesaving techniques need to be practiced until the movements are seared into muscle memory. During Kjellesvik's recent rafting trip, the raft capsized several times, and the crew repeatedly fell into the river — on purpose. Kjellesvik wanted them to be comfortable falling in the river and quickly righting the 14-foot raft.
A guide is also responsible for pulling people in who can't do it themselves. Righting the raft requires using a flip line, or a long cord, and carabiner, which guides wear around the waist. Floating in the water, several women took turns scrambling onto the upside-down raft and clipping the cord to a loop on the raft's far edge. By standing on the opposite edge, a guide can flip the raft back over by pulling on the cord with her body weight and using the river's current to her advantage.
"Flipping a raft can be a bigger deal for women than men," Kjellesvik said. "When guys flip, they shrug it off, they think it's funny."
Women feel more pressure to measure up, she said.
"Sometimes you mess up, but what is more important is how you recover," Kjellesvik said. "Even the Jedi (guides) who have done this for 25 years are going to flip."
When pulling someone in, it's important to pull them by their personal flotation device and not an arm. Doing so could dislocate a shoulder, Kjellesvik said.
Lee Chapman, 30, took it all in. A guide-in-training at the time, Chapman has since passed her in-house certification to guide full time for Sun Country Tours on the Lower Deschutes and the McKenzie rivers.
"I did it! I'm checked off now!" Chapman said, adding that Kjellesvik's pop-up women's clinic was invaluable.
Sun Country shuttles as many six runs, with as many as six rafts, through the Big Eddy each day during summer. The company also leads runs through rapids on the North Umpqua and McKenzie rivers. Chapman is still training to lead runs on Big Eddy because it features a technical rapids section, but she is approved to guide runs through the lower Deschutes River, which features Class III rapids. Chapman has led groups that include grandparents and children.
"I'm learning to be more aware of my surroundings and learning to choose my paths more quickly," Chapman said.
Chapman feels a lot more in control and able to direct people with short commands. She laughs at mistakes as she rights them. During an on-river preamble before a run, one of Chapman's male clients fell into the water.
"For a moment, he thought he was going to be left behind," Chapman said, adding that she hadn't gotten to the part of the safety talk where she explained how to retrieve a swimmer.
"He pulled himself back in," Chapman said. "With adrenaline from the shock of unexpected cold water, he was very eager to get back in the boat."