DECATUR – Sara Bodzin began reading Richard Peck's books when she was in fourth grade.
Now a teacher at Durfee Magnet School, she won a classroom set of his books in her first year of teaching. On Thursday, she gave one of those books to a student on the last day of school, just before hearing of Peck's death on Wednesday at age 84. He is survived by his sister, Cheryl Peck of Springfield.
"This is so sad," Bodzin said.
His publisher, Penguin Young Readers, told The Associated Press, that he died after a battle with cancer. A private military burial is planned at Graceland Cemetery in Decatur. 
Peck was a Decatur native, product of Decatur public schools and served in the U.S. Army. An award-winning children's author who also wrote books for adults, he tackled themes like suicide, unwanted pregnancy and death, winning acclaim for his ability to do so with realism and emotional power. He told the School Library Journal, "As I'm typing, I'm trying to look out over the typewriting and see faces. I don't certainly want to write for myself, because I'm trying to write across a generation gap."
Richard W. Peck April 5, 1934 – May 23, 2018

Richard W. Peck, award-winning author of historical and contemporary children's books and young adult novels, died May 23, 2018, at his home in New York City after... https://t.co/LgYi1H4swn

— Richard Peck (@RichardPeckAuth) May 24, 2018
Peck attended the University of Exeter, DePauw University and did graduate work at Washington University in St. Louis before beginning a career as a teacher. He served as assistant director of the Council for Basic Education in Washington, D.C.; Union fellow to Jesus College, Oxford, England; and adjunct professor at Louisiana State University School of Library and Information Sciences; and was an Army veteran who served in Germany.
When he turned to writing full time, he won awards including the Newbery Medal, the National Humanities Medal, a National Book Award nomination, the Scott O'Dell Award for Historical Fiction, the Jeremiah Ludington Memorial Award and the ALAN Award. His books were widely used in schools, and he visited Decatur regularly to speak to students in Decatur classrooms and at the Decatur Public Library. Some of his books were set in Decatur and the area.
"I always read 'Long Way From Chicago' and 'A Year Down Yonder.' The kids loved the story," said Kristi Mullinix, another Decatur educator. "The last book my Mom and I read was 'On The Wings of Heroes.' We had so many great conversations about the book because it takes place in Decatur during World War II. He is a Decatur jewel."
Lois Hinz, a retired kindergarten teacher for the Lutheran School Association, said Peck's books were too advanced for her students, but she remembers his visits to the LSA and his friendship with the school's late art teacher, Gayle Sablotny.
"Very nice gentleman, easy to talk with," Hinz said. "I especially loved those two books set just outside Decatur."
In 2013, Peck visited Dennis School, where he was once a student, and discussed "On the Wings of Heroes" with them.
"He came through Dennis School, and I think that shows the students that you can go on and do anything," Principal Matt Andrews told the Herald & Review at the time.
Peck came by his love of the written word naturally. His mother, Virginia, celebrated her 100th birthday in 2006 with her book club and credited books with allowing her to continue "traveling" when her health and mobility prevented the activity she enjoyed into her 90s. Both her children were present for her party with her book club.
Marsha Spaulding, a member of that book club, became friends with Peck through her friendship with his mother. Whenever he came to town, he would have dinner with the group.
"He was so articulate but he really liked to hear other people's stories," Spaulding said. "That was his favorite thing when we would get together for dinner. He would make the rounds of the table and want to know all about each and every person there and hear lots of stories."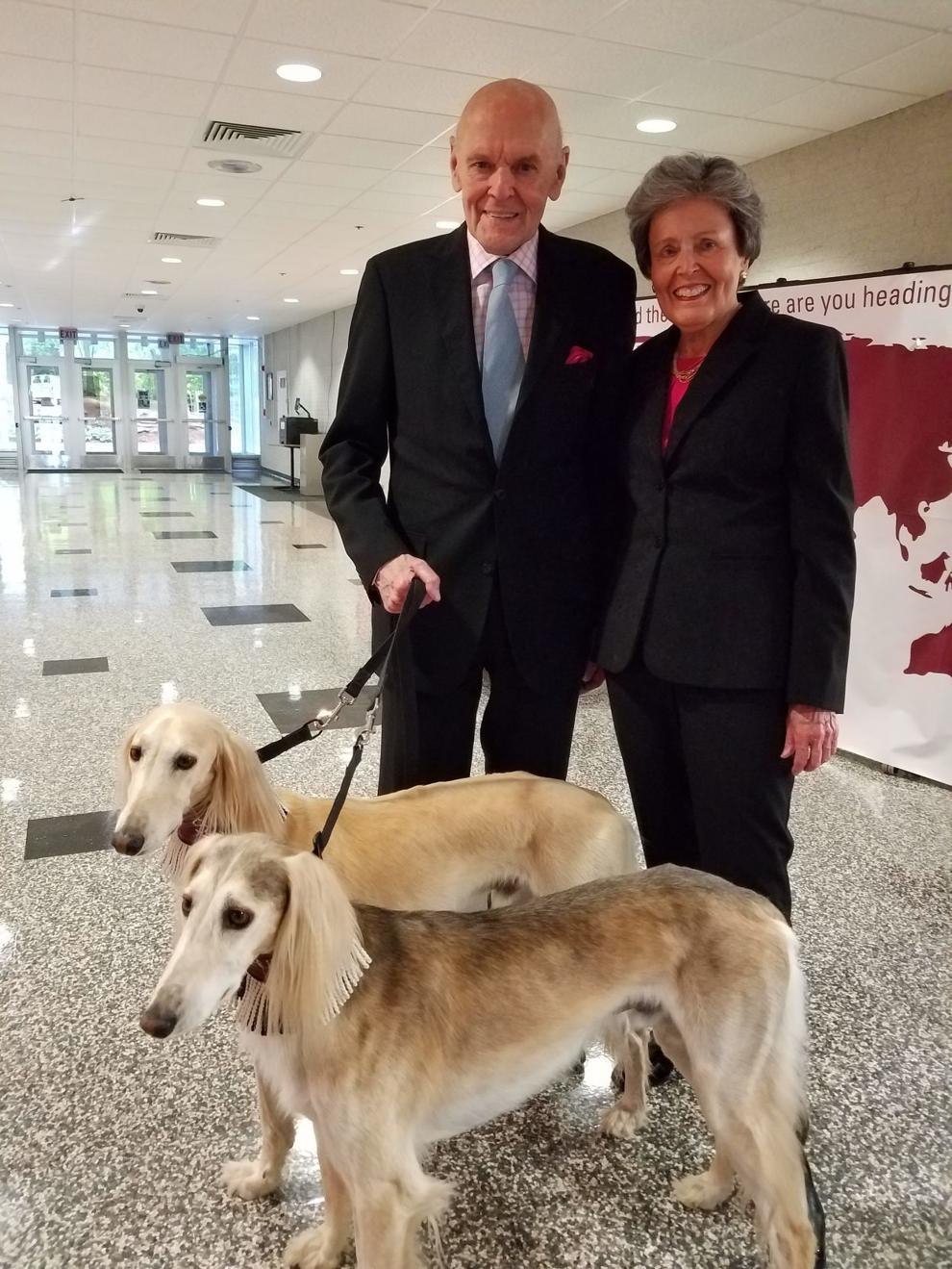 A funny memory she has is a visit he made to Jacksonville to give a talk. An interpreter for the deaf was there as he did a reading from one of his books, because the Illinois School for the Deaf is in Jacksonville and the students from that school had read the book. The portion he read was particularly humorous, and the interpreter was so animated as she signed that Peck finally stopped reading to laugh.
"She was really putting on a show," Spaulding said. "He was upstaged that time."
Cheryl Peck remembers their mother reading to them, and said that was where he got his love of words and language. 
"At 16, he made a trip to New York City alone and, in his own words, 'recognized it was the headquarters for later in life.'"
The author lived in New York for almost 50 years, though he never forgot his Midwestern roots, she said. 
"All of the settings in his books are real and most located in Illinois, which he considered fertile ground for developing his stories and creating his characters," she said. "He once said, 'Maybe that's what fiction is: what might be in settings that are.'" 
The siblings traveled together to England and made three trips to the White House to meet George and Laura Bush, who loved his books.
"At the end of his life, he told me that he had done everything that he wanted to do in his life," Cheryl Peck said. "I could not have asked for a better gift."
Contact Valerie Wells at (217) 421-7982. Follow her on Twitter: @modgirlreporter