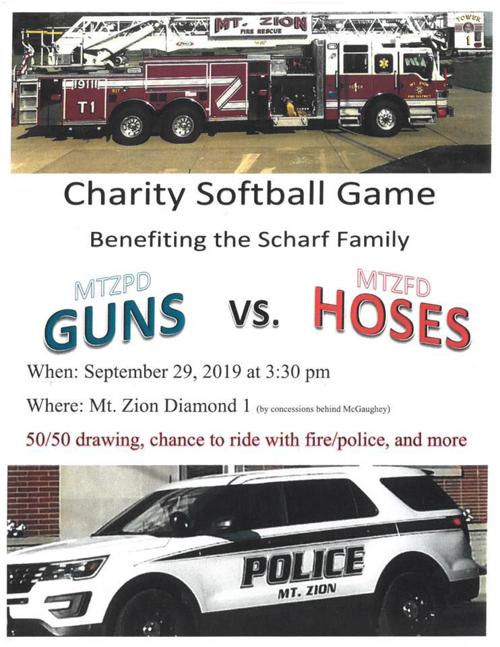 MOUNT ZION — Who are you rooting for?
The Mount Zion Fire Department and Police Department are hosting their first charity softball game, "Guns vs. Hoses," Sunday, Sept. 29, to benefit the Scharf family, of Mount Zion.
Three years ago, Jackson Scharf, was a healthy, athletic 9-year-old, when he had a brain hemorrhage as a result of an arteriovenous malformation —  a tangle of abnormal blood vessels connecting arteries and veins in the brain. He was airlifted to Springfield and later taken to St. Louis Children's Hospital, where surgery was performed to remove the AVM and he began rehabilitation.
Jackson is now in sixth grade and has been through 12 surgeries. Police Chief Adam Skundberg said the two Mount Zion departments teamed up to help with the Scharfs' medical expenses. The departments plan to continue this annually to assist someone or a group in the community.
"For people to think about us, to think about Jackson, it just humbles us," said Sandy Scharf, Jackson's mother.
She said their family is so thankful and grateful for the community's support.
"People really do have good hearts," Scharf said. 
Raffle tickets will be sold at the gate, and there will be two buckets for donations: one for the police department and one for the fire department, Skundberg said. Fans can decide which jar to put tickets in depending on who they believe will win.
Battalion chief Adam Havener said a ticket will be drawn from the winning team's bucket to choose winners for a ride in a police car and fire truck.
"We hope to benefit the needs of the community," he said. "We're hoping to continue this."
The game is at 3:30 p.m. Sunday, Sept. 29, at Mount Zion diamond one behind McGaughey Elementary School, 1320 W. Main St.
Contact Kennedy Nolen at (217) 421-6985. Follow her on Twitter: @KNolenWrites