DECATUR — Tattoo artist Frank Whittington sees all kinds of people at Oakwood Tattoo.
"It's impressive, the clientele we have coming through," Whittington said. "I've tattooed everyone from doctors to lawyers, teachers, pastors, factory workers."
Years ago, he said, he might have seen those same clients, but they'd have been anxious to place a tattoo where it wouldn't show while they were at work. Now, tattoos seem to have entered the mainstream.
"A lot of places have lightened up on the idea that it will affect their business or their clientele," he said.
With the advent of TV shows such as "Ink Master" and the greater number of professionals who have tattoos, the stigma that once surrounded body art has diminished. Still, not every industry is on board with tattooed employees, and placement is crucial, human resources experts say.
"I would say the more conservative the organization, the more important it is to cover them," said Ellen Hearn, who owns ERH Consulting in Mount Zion.
Hearn worked in human resources her entire career, and when she retired in 2008, began her consulting business to provide human resources and training for local small employers.
If the client base of a business is primarily older than 40, Hearn said, it's probably best to ask employees to cover tattoos. For those looking for a career in industries such as banking or law, if you want a tattoo, put it somewhere easily covered by professional clothing. That could change, though, and in some ways, already has, Hearn said.
The content is important, she said. Offensive, obscene or hate-based tattoos are going to be out of place in almost any industry.
"There's such a large population now who have tattoos, especially people below 30," Hearn said. "If an employer is facing recruiting challenges and doesn't find they have a volume of qualified candidates, many of them are rethinking their employment practices and becoming a little less conservative to make sure they're not passing by a good candidate just because of a tattoo."
"I think tattoos are beautiful," Fane said. "They tell a story, oftentimes. When people have ink, I ask about the story of the tattoo, especially if it's creative and unique."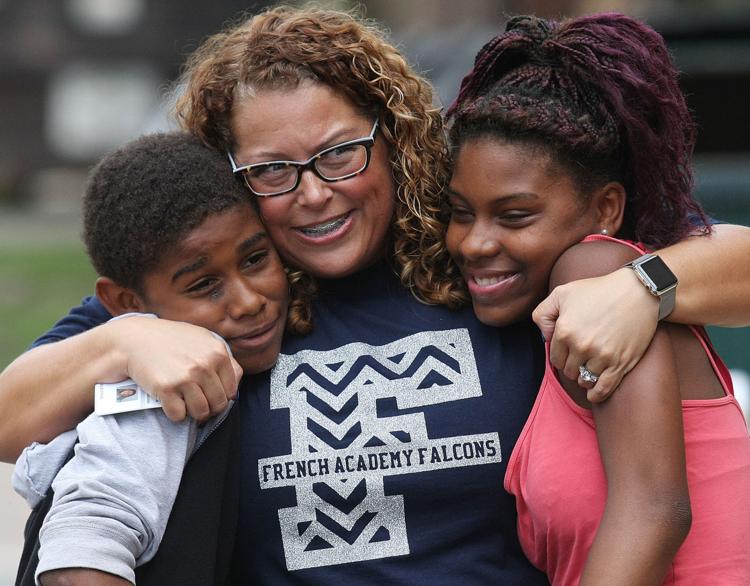 Several of the teachers at French have tattoos, though Fane doesn't have one herself, and she doesn't ask them to keep them covered at work.
She remembers when teachers had stricter dress codes and were required to wear a dress or skirt and pantyhose, while today, teachers wear leggings, jeans and slacks far more often than a dress.
"The thing is, professionalism comes from the person and it's not about the ink or the tattoo on your body," Fane said. "A tattoo is not going to change how professional someone is or how well someone treats a child, in my opinion."
A study three years ago by the International Journal of Innovative Research & Development said 86 percent of professionals between 21 and 35 said tattoos and piercings harm chances of landing a job. 
How many people have such body art? The data is murky. A Pew Research Center study estimated 38 percent of those 18-29 have at least one. One estimate puts the number of people inked in the U.S at 45 million. 
In Illinois, tattoo artists have to get inspections and a state license, which starts at $500. They also have to wear gloves and follow various sterilizing rules.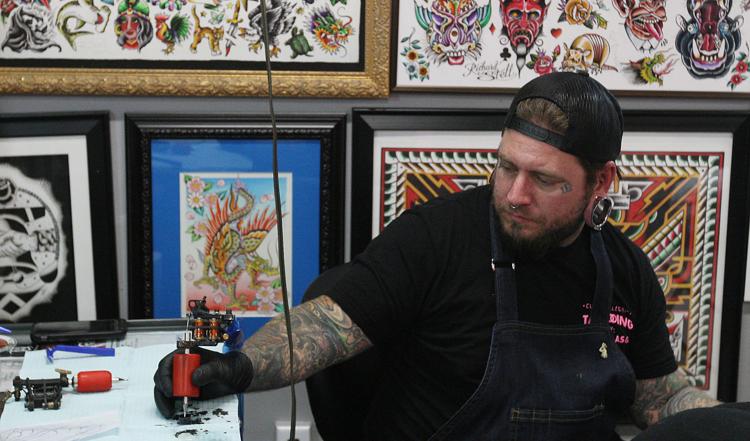 Sara Bodzin teaches at Durfee Magnet School, and she has several tattoos. The students do ask about them sometimes, partly because the ones that are visible are in other languages. Bodzin willingly explains when someone asks, and tells the story behind what each signifies to her, partly as a teaching moment.
"What I've noticed is, when we shut down a child's curiosity, they will be less likely to be curious about other things in the future," she said. "So why not appease them and teach them and open them up to a different type of art and creativity? To me, it's a win-win."
She got her first tattoo when she was 18, a treble clef and musical notes on her ankle. Everyone told her tattoos are forever, and she wanted to be sure it was something important to her.
She was a senior in high school then, and part of the diving and water polo teams, which didn't allow tattoos to show during competitions. Her coaches had to cover her ankle with waterproof tape, but she has never felt compelled to cover tattoos since then, she said.
"There are still people who see tattoos as voodoo, but I see them as art," she said.
The Decatur Police Department does not prohibit officers from having tattoos, said Deputy Chief of Police Shane Brandel, but tattoos and body art are not allowed on the face, neck or head. Any tattoo that is harassing, obscene, profane, offensive or unprofessional must be covered while the officer is on duty and any tattoo or body art that interferes with the officer's official duties is prohibited.
Real estate agent Tasha Smegal has a small tattoo on her shoulder that she got to mark her 40th birthday, and most of the time, it's hidden by clothes, but in summer it sometimes shows.
"I know my managing broker isn't thrilled by tattoos, but I have never had a client make a comment to me about it being inappropriate for business," she said.
John Bishop works in the beverage equipment industry in Decatur, and the policy is to keep tattoos covered. He had his tattoos placed with that in mind. One is on his wrist, where his watch would cover it, but when he got an Apple watch, it wouldn't read his heart rate and other information through the ink and he had to start wearing a bracelet on his left arm so he could move the watch to his right.
DECATUR — Old King's Orchard SPARK! has teamed with downtown Decatur's Art Farm to help rais…
Human resources professional Abby Cooper of Decatur said whether a tattoo can show depends on the job. Office personnel and managers tend to cover tattoos more than production or factory workers. It also depends on the subject matter. She has two tattoos herself, but because she interacts with the public, she took care to have hers placed where they were easily covered.
"Some people can be very judgmental when they see people with tattoos, and I wanted to avoid that at all costs," Cooper said.