PANA – Home & Garden Television may not yet have embraced the importance of camouflage in interior decorating, but the Pana Veterans of Foreign Wars Post 4431 marches to the beat of a different drummer.
The colorful results are parade-inspection ready at the VFW headquarters building on North Poplar Street. Formerly boring off-white walls are now decked out in a painted camouflage pattern of beiges and desert hues in the spacious bar area, with actual camouflage netting used as additional wall and window trim.
A military-grade cargo parachute has been turned into a dramatic ceiling accent, the 'chute looking as if it's forever floating towards Earth.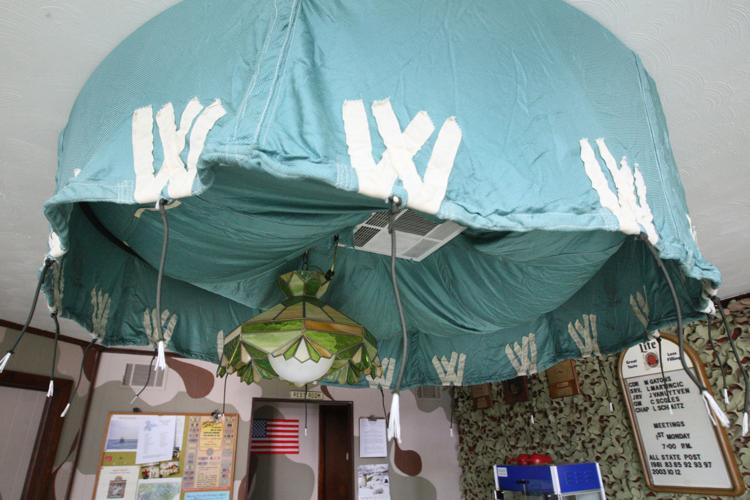 "There was one guy told me, 'There is no way you are going to be able to hang that up there, it won't work,' recalls Raymond Grandfield, 74, a former post commander who now holds the title officer of the day. "But I used some rubber tubing for a frame and, well, there it is."
The opening assault on the redecorating was launched in 2015 after Grandfield, a Vietnam Army veteran, sought inspirational advice from a younger soldier, Ross Jenkins, who had served in the War on Terror. Grandfield wanted to know what would make the post look more appealing in the battle to get newly minted veterans to join the VFW's ranks.
"He said camouflage," Grandfield says, "and I looked at him kind of funny and I said 'You're serious?' And he said, 'Yeah, you need camouflage in here because I've been to Afghanistan; over there it's all sand, sand, sand, and so everything is covered in camouflage to hide it. He drew a picture on the wall and showed me how to do it."
Grandfield, full of esprit de corps and totally mission-dedicated, ended up doing about three-quarters of the decorating work himself. He's added lots of other detail touches since then, such as draping camouflage netting on a big flat-top lamp over the pool table and, on the lamp's spacious top, setting out a model of a German World War II Tiger tank squaring off against a more modern American tank with a World War II Jeep sandwiched between them.
The bar is surrounded by a comfy wrap-around camouflage cushion, the latest decorating gambit, and the rear bar wall displays a World War I-era rifle and several bugles. The rifle was liberated from its tomb in the VFW attic and cleaned up, while the bugles -- and a working tabletop model of a Civil War cannon – were secured in frequent auction sorties launched by Grandfield, a materiel guy with a keen eye for a bargain.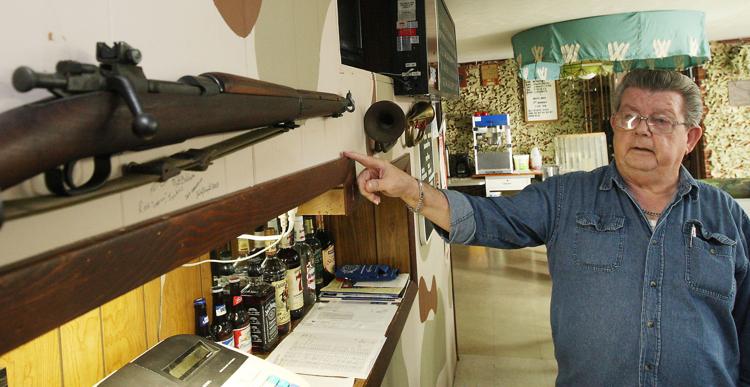 These acquisition conquests have been added to historical objets d'art that the post, created in 1945, already had in its feng shui arsenal. These include, for example, a metal plaque memorializing the sinking of the USS Maine in Havana Harbor in 1898. "This is actually made from a piece of the ship," said post Quartermaster Calvin Scoles, 71, a Vietnam-era Navy veteran.
"And it's very heavy," adds Grandfield.
You have free articles remaining.
So is the hefty burden the men and the post's leadership carry as they try to make sure their little slice of the VFW is not overwhelmed by the forces of indifference. The extensive redecorating has helped to spur some new membership interest but, at the end of the day, they have to face the fact that new recruits are not keeping pace with the rate old soldiers are fading away.
"Right now our membership is about 190," says Scoles. "At its peak in the 1980s, it was over 350 and this was a real going place. You know, at one time there were also 460 VFW posts in the state of Illinois; now there is 330."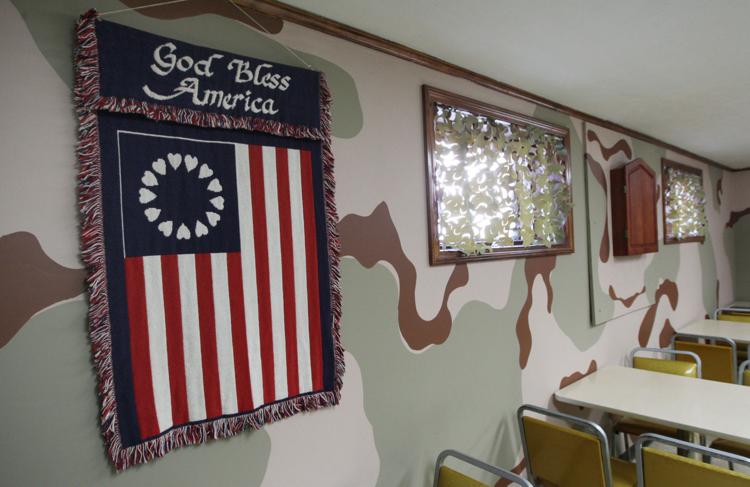 Fewer people means fewer willing hands to run the posts and less fundraising support to reinforce the work of the VFW organization in its mission to support veterans. On its national Web page, the VFW says its advocacy has helped more than 255,000 veterans recover $4.5 billion in benefits owed to them in the last three years alone. It's handed out $6.1 million in financial assistance since 2004 to military families in times of crisis and, with an eye to the future, given away $3.3 million in annual scholarships and awards as incentives that reward students for writing essays on the subject of patriotism.
It's all good, hardcore American values but the VFW model works less easily in an age where the size of the military has shrunk and soldiers are facing multiple deployments and greater family stress. Grandfield contrasts that with his Vietnam experience: drafted with friends he knew before he went in, they trained together and deployed together and the lucky ones, who got to go home again after fewer tours than today's soldiers, returned with their friends.
Today's volunteer warriors, joining up on their own and forging friendships with comrades who may live many time zones away, don't always return with the same sense of shared camaraderie for which the VFW provides a natural outlet.
But we may be going back to the future. VFW members are watching the arrival of President-elect Donald Trump and his pledges to boost and revamp the size and readiness of the American military.
"I look for the draft to come back with Trump; I really think it's possible," predicts Grandfield. "If he is going to build the military up, he is going to have to draft people."
That would surely open up a whole new political civil war but don't tell men who've been drafted that serving your country in uniform doesn't deliver serious benefits for society in peacetime as well. "It makes you more mature, makes you think, teaches you decision-making," says Grandfield of the men and women molded by Uncle Sam.
"You learn to stand on your own two feet and you learn that nobody owes you anything; you come out a different person."
And for those draftees who get to serve overseas in a "war, campaign or expedition on foreign soil or in hostile waters... or service in Korea for 30 consecutive or 60 nonconsecutive days" (VFW membership criteria), the highly redecorated Pana post would be happy to welcome them home.