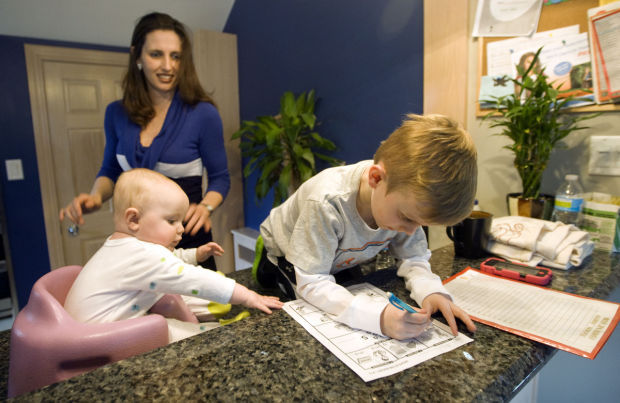 DECATUR — Forced as a girl to look her mother in the eye, often before getting punched, Sarah Burleton still finds it difficult to make eye contact.
Yet the 33-year-old Decatur woman is stepping out as a volunteer spokeswoman for Prevent Child Abuse Illinois as part of a journey that began in 2010, when she wrote "Why Me?" chronicling the years of physical and mental torment she suffered at the hands of an abusive mother.
Becky Rauff, who was working at Millikin University's writing center, edited the book.
"I didn't plan on publishing it when I wrote it; it was more therapeutic," Burleton said. "Then, I thought maybe I could help someone who went through what I did.
"That's still all I want to do — go out and help kids."
Initially self-published on Amazon's Kindle and Barnes & Nobles Nook as an e-book, "Why Me?" was so popular, Amazon printed a 106-page paperback edition a year ago. The work was also one of 60 self-published books initially highlighted by Apple last month when it launched its "Breakout Books" feature on the main page of its iBookstore.
"I thought about going the traditional publishing route, but I'm not a very patient person," Burleton said.
Roy Harley, executive director of Prevent Child Abuse Illinois for the past 14 years, predicts she will enhance the organization's work.
"She demonstrates that people are not helpless," Harley said. "They can get involved in their communities and do things to stop child abuse."
Burleton's first public appearance in Decatur will be April 18, when she joins Jean Moore, executive director of the Macon County Child Advocacy Center, at the Decatur Public Library for an adults-only presentation on how to prevent abuse and help children who have been abused or neglected.
She will make her debut representing Child Abuse Illinois in Springfield this week to kick off April as Child Abuse Prevention Month.
Even now, the thought gives her pause.
"I work out a lot, and I put on this front like I'm a strong, confident person," Burleton said, "but gosh, it's still embarrassing to admit my mom got her rocks off hitting me and beating me up. You still feel like it's your fault in some way."
Born to a teenager whose tantrums included locking her own mother in a closet until she got her way, Burleton grew up in Walnut, a small town in Northern Illinois.
"Why Me?" opens on the day in 1986 that the Challenger Space Shuttle exploded, with Burleton trying to sneak out of her first-grade classroom to use the bathroom because her breakfast that morning had been two glasses of orange juice.
Refusing oatmeal, even after her mother pulled her to the table by her hair, Burleton was dragged to the kitchen and told to hold liquid dish soap in her mouth for several minutes.
Her mother offered her the juice after she rinsed the soap out of her mouth, and it was a story Sarah didn't feel she could share with her teacher.
After that, Burleton's mother killed beloved pets and beat her daughter with brooms, whips, extension cords, belts and anything else within reach. The book concludes with Burleton finally hitting back, punching her mother in the jaw, and leaving home at age 16.
Burleton said she's lived in Decatur since graduating from high school, previously working as an accounts payable clerk, earning a bachelor's degree in management and organizational leadership from Millikin University and not marrying her best friend Aron until 2003.
"I didn't want to get married or have kids," she said. "No. 1, I didn't know who my father is, and Mom is on marriage No. 5. I was spending my entire life trying not to be her."
She gave birth in 2007 to a son, Evan, but had a different role model in her sister-in-law, a loving mother to two daughters.
After the woman died of cancer three years ago, Burleton needed an outlet for her anger and wrote "Why Me?"
"I couldn't believe God would take somebody so good and leave my mom," she said.
Burleton has since written two other e-books, "What It Is," in 2011 about coping with child abuse as adult and "Anorexic Annie" in 2012 about her struggle with an eating disorder. She also had a second son, Alex, seven months ago.
"I still am insecure," she said. "I am stubborn. I don't like help from anybody. I keep people at a distance and don't know how to trust. Isn't that pathetic?
"But I love my kids. And I am a good mom."