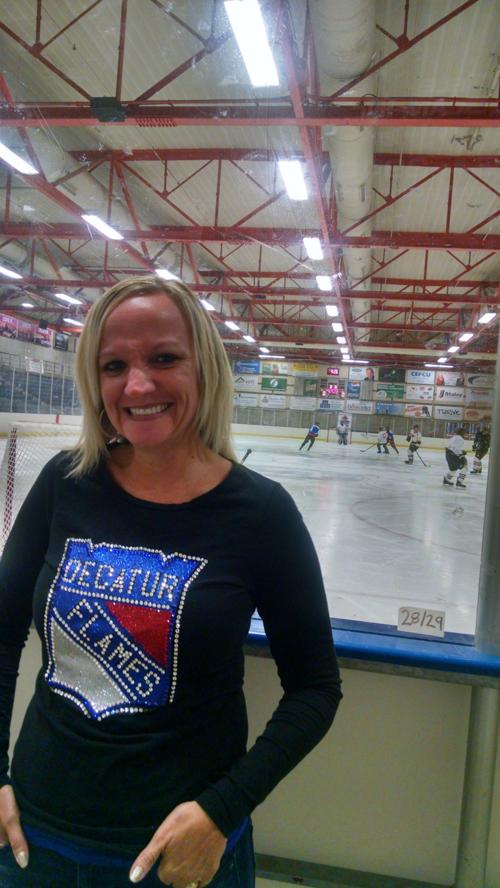 Title: Decatur Youth Hockey Association President
City of Residence: Decatur
How did you become associated with DYHA? This is my ninth year serving on the DYHA board of directors. Hockey runs in the family blood. My husband has played hockey since he was 4, here in Decatur. He came back to coach after her quit hockey. When he and I were dating, he was coaching hockey with DYHA. Once our first son was born and old enough to skate, we came back to hockey. Our oldest, Brendan, will be 16 in a month. We have another one, Aidan, who is 12.
As soon as our youngest started playing, I became a volunteer. I got involved with the association anyway I could. A few years after that I ran for a board position. I was secretary for several years, then that progressed into vice presidency. When the president's term ended, I became president last year. Now I am in my second term.
What do you love about the association? I love giving back. I love seeing the association grow. I love all the good things that hockey does. We give back to the community.
My favorite part is seeing the smiles on the little guys faces. Our Learn to Skate program, I love seeing them step on the ice for the first time and want to come back again.
I love seeing our numbers grow. There was a time I was concerned Decatur Hockey might not continue to prosper. That made me nervous. I didn't want to see it not be here.
Hockeyville help with that. We were runner-up for Hockeyville U.S.A. That put Decatur Hockey on the map. During that time people came to us and said they didn't know Decatur had hockey.
A lot of communities have hockey year-round. With Decatur only having ice six months out of the year, that makes it hard.
What is your experience on the ice? I'm lucky to stand up on skates. I can get around the ice, but I can't stop. I go into the boards or run into somebody to stop.
I'm still a fan. I love the family. My kids play a lot of youth sports. There is no greater connection and no greater family than a hockey family. It's like hockey runs deep down into your soul.
The joke in our family is that my husband takes care of the stuff on the ice and take care of the stuff off the ice. I've been a team manager, a tournament director, just about everything the association as done I've touched. I like leadership roles and I like to give back.
What are your hobbies? I love to shop. If you ask people, they will tell you I like to shoe shop. But most of the time, whatever my kids are involved in, I'm involved in. I enjoy my kids' activities. They play travel baseball and travel hockey. We travel all summer and all winter.
What are your hopes for the league? I hope we continue to grow, especially at the lower age. That is what is going to keep Decatur Hockey successful. We need the lower numbers to continue to survive. I hope we continue to give back to the community.
My biggest wish is that we continue to grow and be sustainable.
And I hope kids continue to love the game.