"You want to know my story?" Hood said, then shook her head. "Oh wow, are you sure you want to listen to this?"
For anyone in Decatur not familiar with Hood, that answer should be a resounding yes. Hood grew up on a farm in Bells, Tenn., but for nearly 25 years she has been one of the most important sources of information and voices for African-Americans in the Decatur community. What began as a search for information about her mother's relatives evolved into a continually growing museum.
"OK, I'll tell you my story," said Hood, the museum's founder, curator and chief executive officer. "Never, if you would have told me I would be here today, would have I believed it."
Hood may not have seen it coming when she started what was supposed to be a simple resource for African-Americans who wanted to research their ancestry, but she began dreaming big early, and, at 74 years old, still is.
Hood's mother, Elnora Williams Bond, moved to Decatur after the death of her husband, Hood's father, Tolson Bond. Elnora Bond knew she had family who had lived in Decatur in the early 1900s, but wasn't sure of the connection and asked Hood to research it.
But by the time Elnora Bond died in 1990, Hood hadn't gotten to it. When she finally did two years later, she quickly regretted not starting sooner.
"I let my mom leave me without a lot of information," Hood said. "You need a really good oral history to start. All the relatives I knew of lived in Tennessee."
Hood eventually learned that her two great aunts, Fannie Elders and Callie Smith, started the first black Pentecostal church in Decatur in 1916. It's now the First Church of God in Christ, the church Hood attends.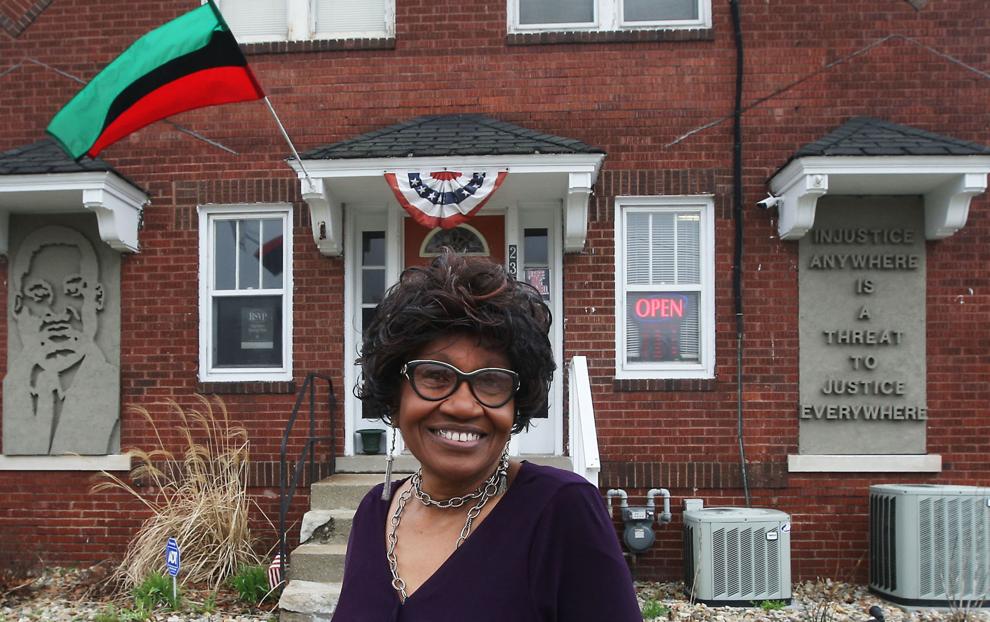 "My mom's people were preachers, business people and educators," Hood said. "Maybe that's why I'm sitting here today — all those genes got in the mix. That's why I think it's always important to know as much as you can about your family. It can really teach you why you're motivated to do certain things."
A new passion
The more Hood dug, the deeper she got. She set a goal to trace her ancestry back to Africa. It became an obsession.
"Once you get into genealogy, it takes all your time," Hood said. "One time my husband asked me, 'Are you married to me, or are you married to the computer?' It can get addicting."
Hood loved the feeling of finding out about her family's history and wanted to spread that feeling to others. She found out through research that only 1 percent of African-Americans in Decatur used the Decatur Genealogical Society's library.
"African-Americans need to know about their heritage, too," Hood said.
Hood was a clerk at the Decatur Public Library at the time, and her supervisor was Karen Anderson, a local historian and genealogist.
"She encouraged me to do more with it," Hood said. "She said, 'Evelyn, it would be good for you. And it will help people, because there aren't that many African-Americans who do their genealogy.'"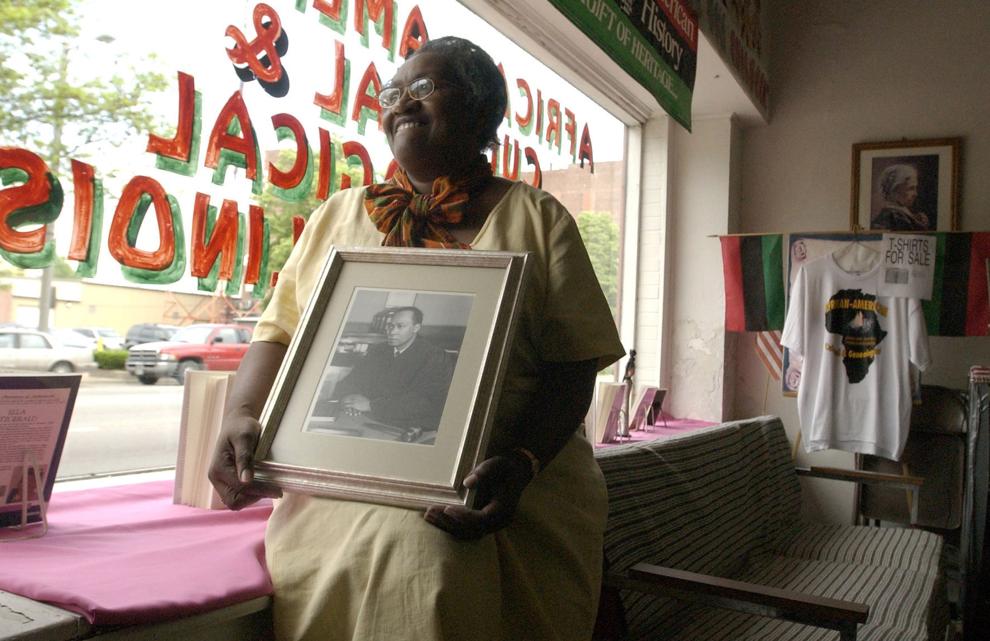 That was when Hood began considering a genealogy library for African-Americans. With Anderson's help, the idea became a reality.
"She wanted to do it right," Anderson said. "She wanted it to be an organized nonprofit, and she asked me to help her write the by-laws and things like that, and we spent a lot of lunch hours working on that sort of thing."
Hood set the library up as a 501(c)(3) nonprofit organization, formed a board and what was then known as the African-American Genealogical Library of Illinois was born.
"At that point, the library was basically a scrapbook at my house," Hood said, laughing.
Cotton fields back home
Hood frequently reminds herself that she never thought she'd become the founder of a museum. While her mom's side of the family had been preachers, businessmen and teachers, most of her relatives on her dad's side were farmers.
Hood's dad had been a sharecropper until saving enough money to buy his own land in 1943, the year Hood was born.
"We were lucky to have that farm. Thank God for that," Hood said. "A lot of African-Americans had to sharecrop. We lived down the road from many people who were sharecroppers, and they were making a minimal amount of money."
But that doesn't mean Hood liked farm work. Her father's land was at the edge of Haywood and Madison Counties in Tennessee — cotton fields.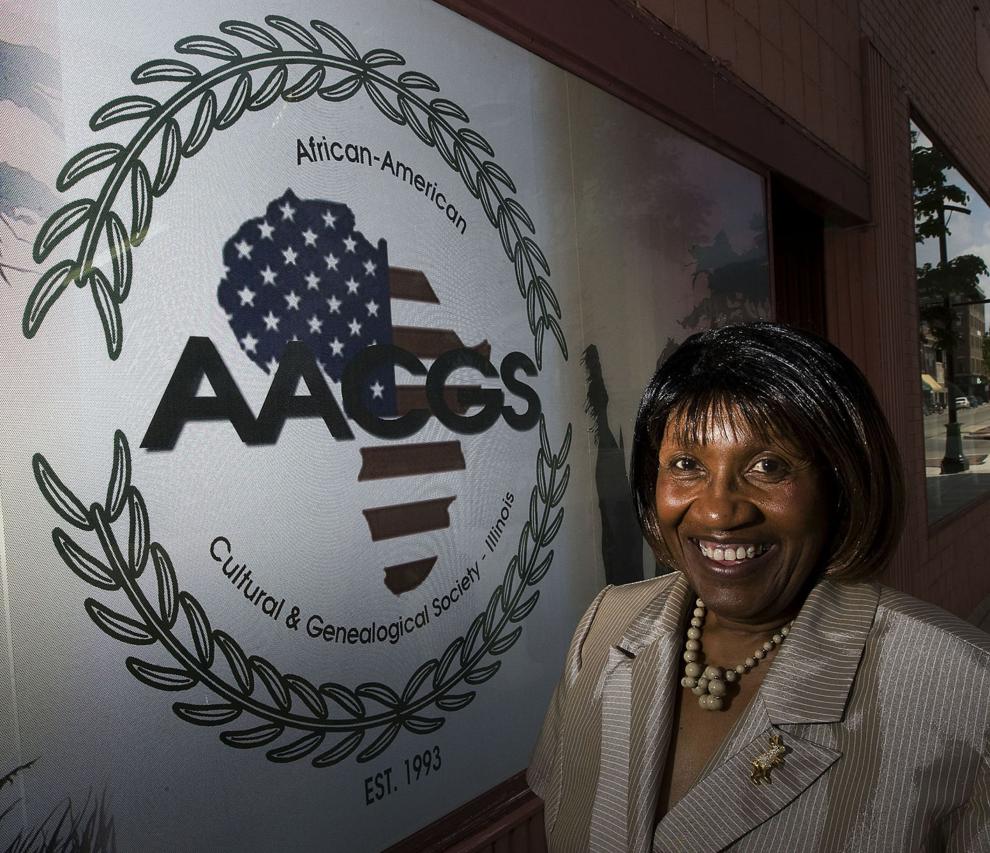 "When I was young, we had to get out there and chop cotton and pick cotton and I didn't want anything to do with the farm," Hood said. "But I was still out there working from sunup to sundown. I hated it. I said when I was in the cotton field that I was going to become a lawyer and fight for civil rights."
It was the late 1950s and much of the U.S. was still segregated, particularly in the South. Hood couldn't go to the library and went to segregated schools.
"I lived through all of it," Hood said. "We couldn't stay at hotels, we had to use colored water fountains and go to the back of the bus. I remember having to go to the back of Dairy Queen to get my mom a hamburger."
Hood moved to Decatur in 1961 and attended Brown's Business School, but went back to Tennessee, to Memphis, for several years before returning to Decatur. She said she was always shy and reserved — until she discovered genealogy.
"You wouldn't believe this, but I used to not talk that much. Now, I probably talk too much," Hood said, laughing. "Once I got into genealogy, that's what got me out of my shell. When you have something you're passionate about, you like to talk about it."
After forming her library, Hood began looking for its home. She was walking downtown one day and saw a shoe store was moving out of 314 N. Main St., so she rented the location.
Through some donations, Hood was able to set up a library and an office. The African-American Cultural & Genealogical Society Of Illinois (AACGS) opened in September of 1993. Hood made an early impression. Then-H&R Community News Editor Bob Fallstrom wrote on Nov. 14, 1993: "Evelyn Hood is as enthusiastic as an auto salesman, as gung-ho as a marathon runner, as certain of success as a Wal-Mart executive."
But not everyone was happy with Hood's new downtown venture.
"I got calls saying, 'N----- go home,'" Hood said. "But I'd lived in Tennessee. I was used to the remarks. They didn't bother me. They thought they could use those remarks to run me away, but I wasn't going away."
Hood's focus was genealogy and she never expected it to be any different. But then people started to bring her things. It started with wills, but then became African tools and artifacts.
"I just said, 'Oh sure, we'll take it,'" Hood said. "I really didn't know what I was getting into. It was exciting and I was learning more and more about our history."
The more people brought Hood, the more excited she got. By 1995, she was already envisioning a tourist attraction with a theater, concessions, a gift shop and access for the handicapped. By 1996, she was trying to raise $5.5 million for a museum.
"I started to realize that this was just a start," Hood said.
Then, in 2011, Rich Hansen, a history teacher at Mount Zion High School, began teaching a class called "the African-American Experience." He'd never heard of the African-American Cultural & Genealogical Society Of Illinois Museum, but in looking for local sources on African culture, ran across the museum and eventually met Hood.
"We struck up a good relationship right off the bat," Hansen said. "She helped me out with what I needed, and I knew she wanted to expand, so I thought: Why not have the kids help create something each year that could be used in the museum?"
Six years later, Hansen's classes have created five permanent exhibits in the museum and will present a sixth on May 8. Hansen is now a member of the museum's board.
Hood said sometimes Hansen's enthusiasm can be overwhelming, but she's glad he's on board.
"We were in our old building, and they were making all these big exhibits, and I'm saying to myself: Uh-uh, we don't have room for this," Hood said. "Lord knew I didn't have room for Rich and his ideas. But he was inspired, and he wanted to help, and I'll never turn down help."
Crisis averted
In 2014, Hood got some bad news. Her lease at 314 N. Main St. wouldn't be renewed, and she had to move out in 60 days.
"I didn't know whether I would continue or not," Hood said. "But if I didn't continue, who would I give the stuff to? I didn't want to get rid of these items and artifacts that people had donated."
Hood rented a self-storage unit in Mount Zion and crammed in more than 500 rare items, paintings, books and exhibits she'd collected through the years.
In February 2014, Hood was contacted by the Herald & Review and WAND, pleading her case in stories with both outlets. While Hood doesn't mind talking to the media to spread the word about the museum, she felt like she came across as desperate.
But soon after the stories ran, Hood got a call from the Rev. Sally Hammond at Central United Methodist.
"She said she had a building for me," Hood said.
Hood went with board member Ethel Mitchell to see the 4,000-square-foot building at 235 W. Eldorado St., which was empty.
"I thought, OK, what is this woman going to charge me for this building," Hood said. "I asked her what the rent would be and she said, 'Nothing.' She said I'd have to pay for lights and gas, but otherwise we could knock down the walls and do whatever you want with it.
"Big tears just started rolling down. I guess the Lord saw me on TV and said, 'That child is so pitiful. I'm going to make sure she gets somewhere.'"
A pioneer
Even if that would have been the end of the museum, Hood's impact can't be denied. As early as 1995, Fallstrom wrote that Hood was a "Decatur pioneer," having opened the first African-American museum in Central Illinois.
Hood also began the annual Juneteenth National Freedom Celebration in 1994. Juneteenth commemorates June 19, 1865, the day when slaves were officially freed in Texas 30 months after President Lincoln issued the Emancipation Proclamation. Hood learned about Juneteenth while doing her genealogy.
Hood has also lectured at schools, held an essay contest for students with a scholarship prize and put on annual Kwanzaa Day and Black History Month. In addition, she's a minister, Sunday school teacher and choir member at her church and a part of the prison and nursing home ministries.
In 2006, she was honored by the Decatur City Council for the work she did to receive a Studs Terkel Humanities Service Award. Then-Mayor Paul Osborne nominated Hood for the award.
"It's one of those awards you're just pleased to present," Osborne said in the Dec. 26, 2006 H&R. "It's long overdue that something like this, some kind of a tribute, was paid to her."
Hood was shocked at the recognition.
"If you would have told me when I was in the cotton field that something like that would happen to me, I would never have thought or dreamed it," Hood said.
Anderson, who later volunteered for Hood in retirement, admitted she was surprised to see her once-quiet employee turn into one of Decatur's most distinguished citizens.
"She's become well-known in the community and she's an inspiration to a lot of people," Anderson said.
The new home of the African-American Cultural & Genealogical Society of Illinois Museum opened in June 2015.
It's a much bigger, more visible location than her last one, but it's filling up fast.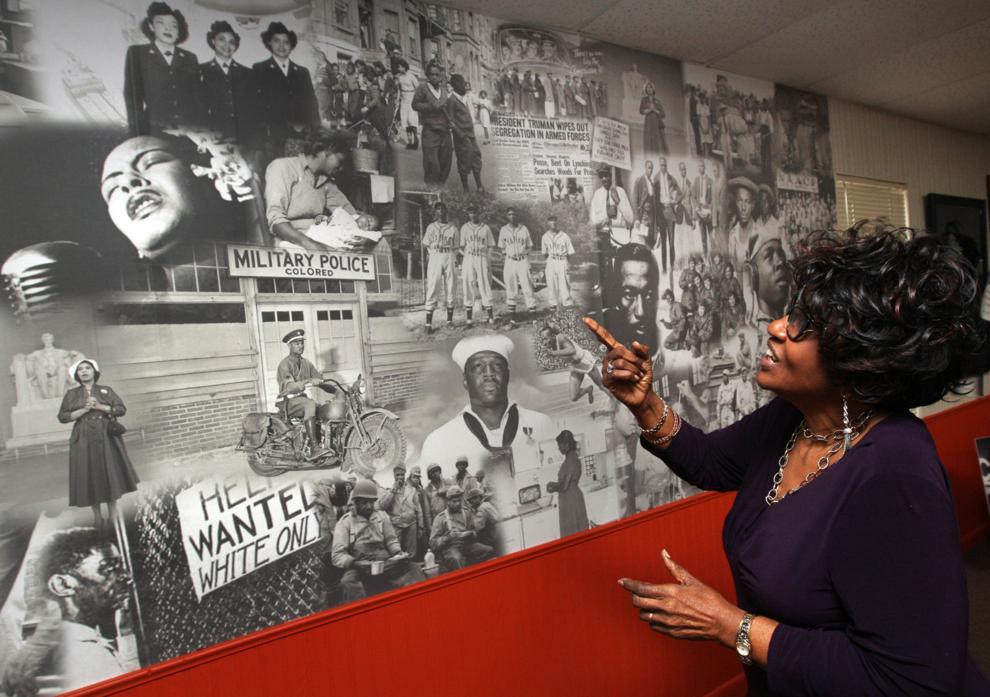 "We've grown leaps and bounds," Hood said. "We've had people visit from as far away as California.
"And once Rich saw this place, his wheels started turning. I said, 'OK, Rich, whatever.' I knew him, and I knew he'd have that whole place filled with all the exhibits he wanted to put up."
But as much as Hood becomes exasperated with Hansen's ambition, it pales in comparison to her own. Hood has always envisioned something more.
"The way I see it, Decatur doesn't know what it's got," Hood said. "I think, if they would take another look at what this could become, they'd be more ready to make it what it needs to become. I think we could get people from far and near to come. I don't think the community would regret it. I think it could bring educational pieces, tourism and jobs. But you have to invest.
"Within the community we talk about people coming back and investment in jobs. I think this could make the community better. I know people think I'm kind of crazy. I'm not saying this, by itself, could make Decatur better, but it could be one of the pieces of the puzzle."
Pat McDaniel is a member of AACGS and former director of the Macon County History Museum. He's known Hood for more than 15 years and has served as a friend and adviser. He said he's been amazed at what Hood has built the museum into and agreed there's potential for more.
"What she and her board have done with very little funding is remarkable," said McDaniel, also a member of the Decatur City Council. "She just keeps working and the museum just keeps improving. I'd love to see what she can do if she could get some funding and move into an even larger place."
An amazing woman
Hood has established her family tree back to the 1700s, but never has connected it all the way back to Africa. A cousin said she'd traced her dad's side back to Madagascar, and DNA testing her sister had done showed a high amount of Congolese DNA.
Hood said her sister has encouraged her to visit Africa to try to find more about their ancestry, but as of now it's not on her list.
"I'm not going. I don't have time," said Hood, who then paused. "I mean, I would like to visit there or some part of Africa. It's in my intentions to do that. But right now, it's not my focus."
Still, Hood acknowledged that at some point, she'll no longer be able to run the museum, something she does for no pay.
"I've never been paid for it," Hood said. "If you believe in something, you just do it. I think Decatur needs diverse services, and I'm going to provide it.
"I believe if we don't preserve our history, it'll be lost. We've done too much in America and have had too many accomplishments for it to get lost again. I know I won't live forever, but someone has to tell our story."
Hood has been in contact with the United Way about hiring a part-time person to help out, and she's confident the museum will continue to grow after she's gone. But Hood is a treasure. There'll be no replacing her.
"She's an amazing woman," Hansen said. "She has this dream of where she wants to go, and she doesn't let anything hamper her. Her positivity, her patience, her perseverance … that's what has sustained that museum, when so many times people looked at it and thought it wasn't going to go where she envisioned it. She's proven them wrong."
"I believe if we don't preserve our history, it'll be lost. We've done too much in America and have had too many accomplishments for it to get lost again. I know I won't live forever, but someone has to tell our story."

— Evelyn Hood, African-American Cultural & Genealogical Society of Illinois Museum