ARTHUR — Every great artist needs a muse, and Brenda Vowell found hers in the shape of a bug-eyed pooch named Mooky.
Her tiny pet chihuahua served as a living model while Vowell sliced and diced a cheese carving she called "Nacho," sculpted to look like the Taco Bell dog used in the TV ads. Carved from a 1-pound block of cheese in just 30 minutes, Nacho creamed the seven rival carvers and won Sunday's cheese carving competition at the Arthur Amish Country Cheese Festival.
For Vowell, 57, who lives in Latham, this was her fourth win in a row. She loves the challenge and said preparation is everything.
"I think about what I am going to do and how I am going to do it all year," she said. "And I like a play on words: Last year, I had the Leaning Tower of Cheesa, and the one before that was the Mona Cheesa."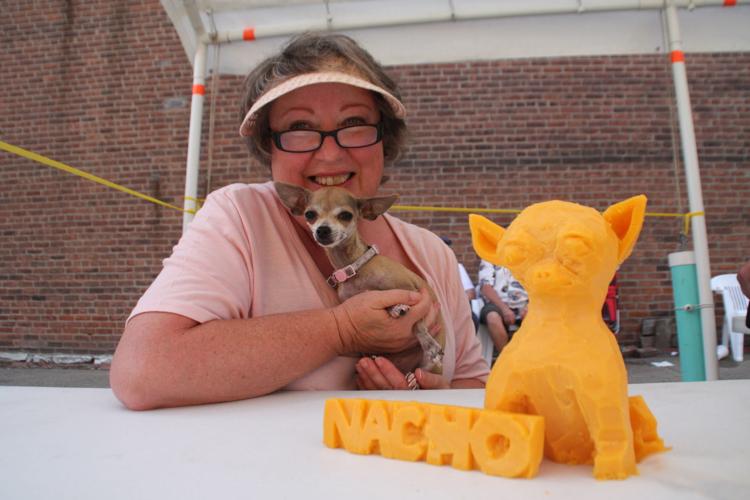 The festival started Saturday and finishes up today, and daily special events like the cheese carving packed the visitors in even as temperatures in the 90s and high humidity made many festival-goers feel like a human cheese toasty.
One of Saturday's highlights had been the cheese eating competition, when another returning champion — junior high math teacher Brian Cordes — never bit off more than he could chew. His winning time for downing a half pound of Colby cheese was a 1 minute, 19 seconds, and saw him swallow his fifth annual cheese-victory in a row.
Like the champion cheese-carver, the secret to his success is careful preparation and practice, and he uses water to smooth the way.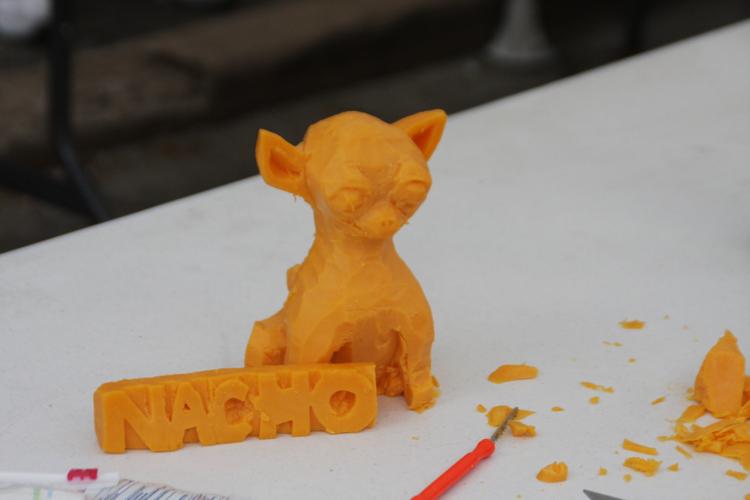 "I start by just drinking a quart to 2 quarts of water as quickly as I can," said Cordes, 38. "And I work my way up to drinking a gallon of water as fast as I can."
One of today's festival highlights is the 11:30 a.m. World Championship Cheese Curd Spitting Contest, and Joy Cordes, Brian's wife, is a master at this event.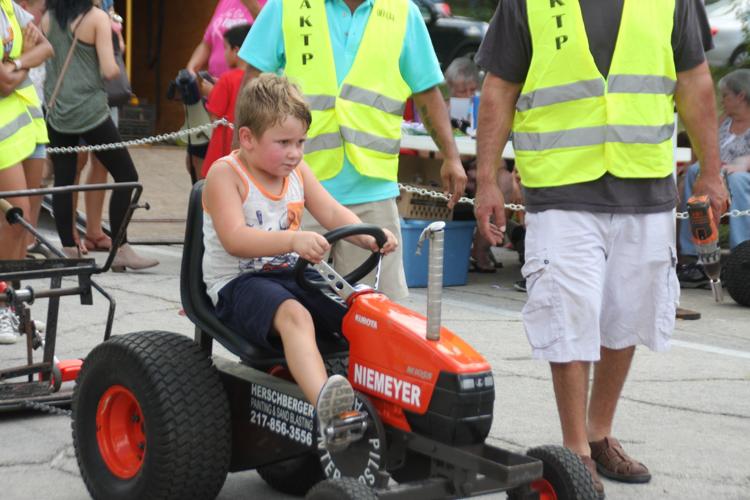 "She's been women's champion a couple of times," said her proud husband.
For those who like to savor their cheese, the festival organizers give away some 700 pounds of the stuff over the three days and spice it up with exotic flavors such as blueberry cobbler and bacon. Wrap it all up with 100 vendors selling everything from antiques to food, kids tractor pulls, inflatable bounce houses, pony rides and a petting zoo, and it's a cheese festival with a flavor for everyone.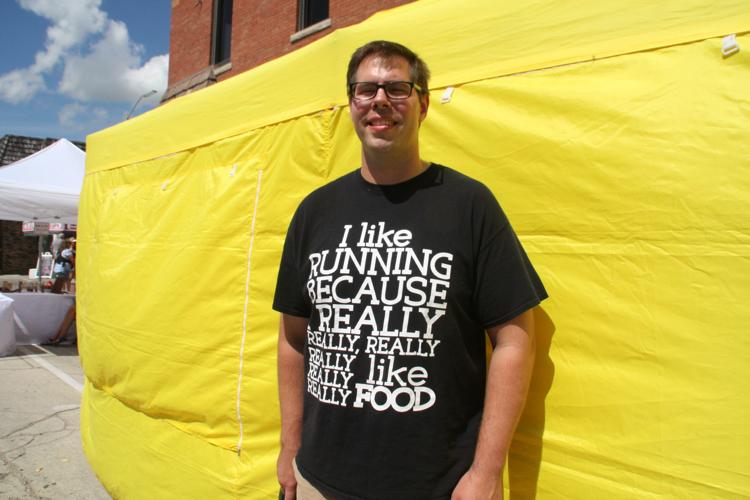 "It's about bringing people to Arthur to promote not only our downtown, but our Amish country businesses," said Stephanie Wierman, festival chairwoman. "Tourism is the heart and soul of this community."