DECATUR — Brace yourself: The armadillos are coming, albeit slowly.
The leathery little creatures are native to Central and South America and the southern United States. Most of the 160 reported sightings in Illinois have been in the southern third of the state, according to the Illinois Department of Natural Resources.
But they are coming this way.
Champaign County's first confirmed sighting was this summer, WILL-TV reported in August. Last year, an associate professor of zoology at Southern Illinois University launched a study to track the migrating mammals.
"They're limited based on how they can weather the winter," said Ben Rapson, education and volunteer coordinator for Scovill Zoo. "If it gets too cold, there's no way for them to survive. As they get warmer and warmer winters, they can move further north."
Armadillos are brown or yellowish-white and the size of a large cat, about 24 to 33 inches long, according to IDNR. They have a carapace of bony plates for protection and will roll up when threatened. They mostly eat insects.
If you do see one, there's no reason to be scared.
"All wild animals will bite if cornered, but they're more getting in trouble for digging holes," said Richie Wolf, nature center manager for the Macon County Conservation District. "Much like the groundhog, they dig quite a bit."
Armadillos are known to carry the bacteria that can cause Hansen's disease, also known as leprosy, which can cause parts of the body to change color and lose sensation.
You have free articles remaining.
The disease was once feared as highly contagious and debilitating. In the Bible, Jesus is lauded for touching and healing those suffering with leprosy after they were ostracized by everyone else.
But today, leprosy is highly treatable and rare, according to the Centers for Disease Control and Prevention, which says its unlikely people who come into contact with the animals will get it. More than 95 percent of people are immune to the disease, and it is not spread through casual contact.
Wolf said the armadillo is following a trend of sorts.
"A lot of the animals are starting to show up more and more where they maybe wouldn't have been before," he said, citing laws that protect endangered and vulnerable species. "The river otters being one, the bald eagles — the things that used to be here in abundance that disappeared and now they're coming back."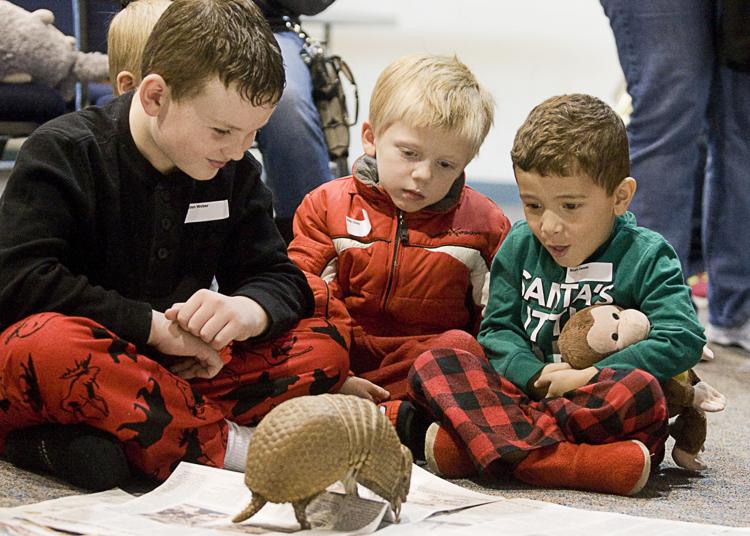 One place you won't find an armadillo is Scovill Zoo, which lost its three-banded armadillo, Chalupa, to old age earlier this year.
The 19-year-old animal was a fixture of the mobile zoo, Rapson said. He came to Decatur from the Cinncinnati Zoo in October 2013. 
"He was very popular. He looked a lot like a windup toy," Rapson said. "He was awfully cute."
Three-banded armadillos are smaller than the kind that is migrating north, and are the only armadillos that can roll completely into a ball, Rapson said. The larger varieties can't roll up and tend to hunker down instead.
The zoo is working with the Association of Zoos and Aquariums to get a new armadillo.