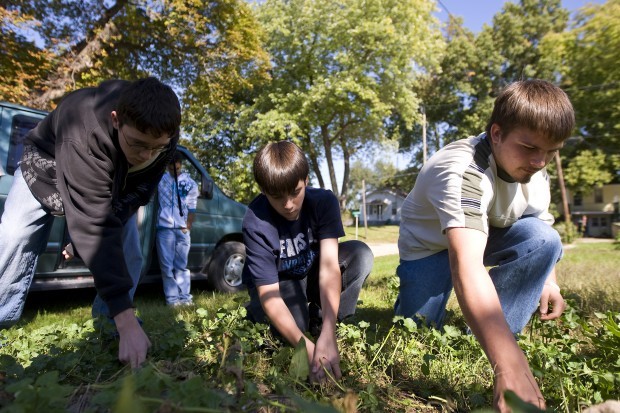 SULLIVAN - True, gardens basically are done for the season.
But the Local Victory Gardens idea still is growing.
Operating because of a dream of Doug DeLong's, the garden was born last winter after DeLong chose to take a gardening class. Matt Kracht, director of community education programs in the Sullivan School District, said he and John Dean, a former greenhouse owner, planned the course in which participants raised seedlings in Sullivan High School's agriculture department greenhouse.
But then what to do with the seedlings they'd started?
"I talked to John about a spot (near his former greenhouse)," said DeLong, who already had been gardening for some 15 years.
"It turned out that other people kept on joining in. It kind of just expanded from there."
The garden spot, with soil rich from about 20 years of composting, provided individual plots of about 10 feet square. Carol Elder, who developed the Web site for the gardening group, said there were roughly 20 plots.
"John Dean has been very helpful to us," DeLong said. "He was kind of like the adviser to everybody. He would every day take water from his own property and drop the containers off for us to use."
Jim Bryant, a molecular biologist who had been a corn and soybean breeder all of his life, also assisted.
"I was an adviser, a consulting person, I suppose you'd say," Bryant said.
It took the Sullivan-area residents working this block garden two months just to develop a name. DeLong, Moultrie County civil engineer, said looking back on the victory gardens of World War II for a name was no accident.
"We wanted something that could be hooked onto later, if the idea actually caught on," he said.
And involving the world, at least in small steps, seems to be working.
"It's going to happen," Bryant said. "It will grow into another area. We're a diverse group; everybody brings a little bit to the table."
They got a local restaurant, Jibby's, to use overflow produce this summer on its menu. When either fruit or vegetable items from the garden were used in a dish, the restaurant donated a portion of the charged price to the Moultrie County Food Pantry, according to Barbara Waymire, Moultrie County Outreach coordinator. Garden owners also donated extra produce, she added.
The garden has Colorado and Ohio residents interested, as well as Egle Martuseviciene, a Lithuanian who visited the United States last year.
"I was attracted by Doug's idea to renew activities of Victory Gardens," wrote Martuseviciene via e-mail.
"I even have a hope that (the garden) could be first small sprouts of changes in overall social habits that could lead to big environmental and lifestyle changes.
"It gives opportunity, not only (to) consume but to grow your own food; this is a big difference. I was inspired to start my own garden this summer in Lithuania (as a foreign branch of Sullivan Victory Garden in Lithuania!)," she continued.
Martuseviciene said she's not an experienced gardener, so she started small, planning to expand next year and even planning to overwinter a few plants in her kitchen.
"This will be useful and look nicely too," added the auditor/accountant, who has been a vegetarian since 1990 and a raw vegan since 2007.
Now that the gardening season is ending, it's time again for Kracht's community education students to get involved again.
"What's going to happen when it's done is we'll clear (the plot) off," Kracht said.
Some participants already have captured their seeds for next year. Bryant, who had a yellow cherry tomato "unique in the world" at the site, said the best way to save tomato seeds is to write variety and date on a piece of paper, then squeeze some seeds onto that paper to let the seeds dry.
"They can keep in there for four or five years," he said. And when ready to plant, just cut out a small piece of paper with the seed on it and plant seed and paper together.
Be the first to know
Get local news delivered to your inbox!