ASSUMPTION — As cold floodwaters poured into her sinking vehicle and rose to clutch at her throat, Misty Deurloo thought she was doomed.
The 50-year-old Decatur woman, heading home the evening of June 22 from her factory job in Shelbyville, had driven into a flooded section of County Highway 16 Tower Hill blacktop five miles east of Assumption.
"I believed I was going to die," Deurloo recalled Monday. Her sport utility vehicle had floated off the road and began to sink in more than six feet of swirling dark water. "It was one of the scariest days of my life."
But her desperate cell phone pleas for help had been answered and, on Monday night, the two heroes who swam to her rescue were honored: Assumption Police Officer Peter H. Zeitler III and Assumption Fire Department firefighter James A. Rowcliff were both presented with plaques and medals honoring their bravery from their respective services.
The presentation took place in Assumption at a meeting of the city's Police Committee, where a celebratory cake had been prepared honoring the two men and Deurloo spoke, fighting back welling tears. "I know you guys don't feel like you are heroes, but to me you are more than that," said the mother of four and grandmother of 10.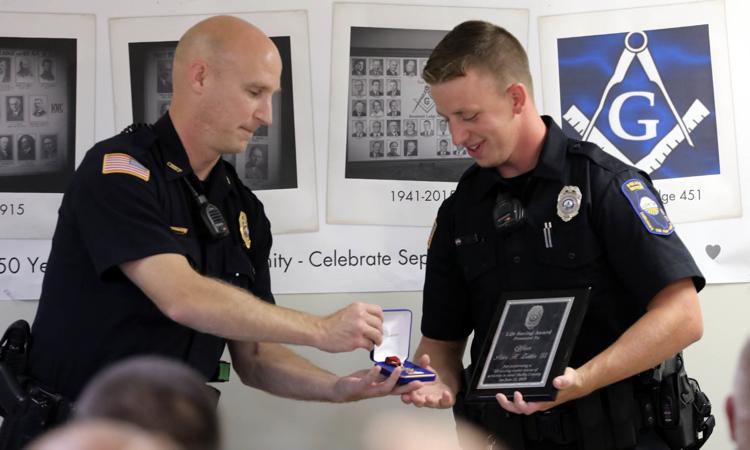 "I am so grateful for what you both did for me ... you went out of your way to save my life without regard for your own life or safety. And I can never thank you both enough."
Recalling the dramatic rescue, Rowcliff, a firefighter for 22 years, said both he and Zeitler swam out to the car. Zeitler used his baton to smash the rear window and pull Deurloo free. She was terrified because she can't swim and Rowcliff then took hold of her and swam them both to the nearest dry land, about 100 feet away from the now sunken vehicle.
"I'm 5-feet-11 and I'd say the water was more than 6-feet-deep," recalled Rowcliff, 51. "It would have been above my head."
Zeitler, 25, a patrolman for little more than a year, said the rescue went smoothly and both men worked well together to get the job done as fast as possible. "I like to think I am a strong swimmer but, anyway, it worked out well that day," he said.
Congratulating them both, Assumption Police Chief Brian Wade said they were fine examples of the brave men and women across the world who put on a uniform and a badge and set out to help others.
"The common factor is they choose to do so, they choose to serve others," he said. "And they did so without regard to their personal safety."