"I'm just a kid who grew up in the 800 block of East Johns Street," Brown said at the annual Black Heritage Breakfast on Saturday. "I've never forgotten where I came from."
The breakfast at Main Street Church was sponsored by the NAACP Decatur branch. Mildred Bond served as emcee and reminded those in attendance that much of what the NAACP does is behind the scenes.
"The real work is things you don't see," Bond said. "Most of what we do is confidential. Would you want us to publicize what you have come to us to help you with?"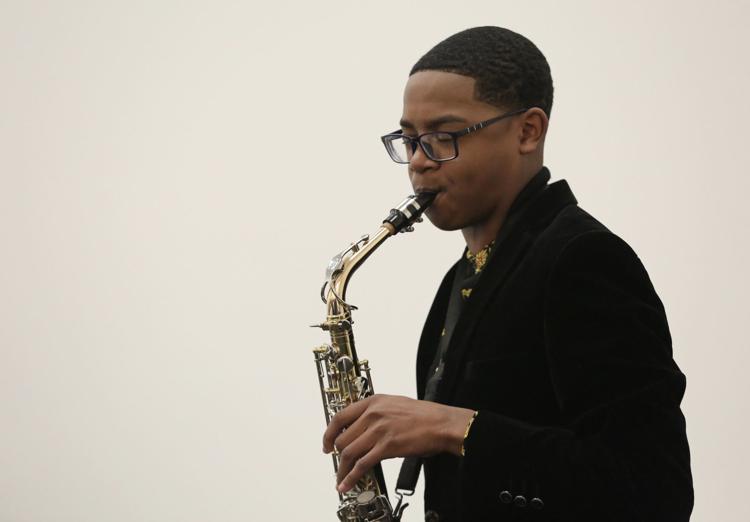 Her pastor, the Rev. James C. Hendricks, recently installed at Trinity Christian Methodist Episcopal Church, opened the event with prayer and later led the participants in "Down by the Riverside," after joking that Bond had asked him to sing last minute.
"I've learned never to say 'no' to Mrs. Bond," he said.
The keynote came from Brown, who was elected by one vote in a close and contentious election last year. His opponent, Jim Root, was originally declared the winner, until the provisional and mail-in ballots were counted, which included 99 more votes for Brown. Root is now legally challenging the results.
Brown began his talk with his own history, which he said it was important to understand to know what motivates him. Adopted as an infant along with his older sister, Brown said his father, Thomas, died when he was only a year old, leaving his mother to raise the siblings alone. Living in "the hood," as he called it, with a single mom, could have made him a statistic, if not for the firm foundation of faith and discipline his mother, Joyce, instilled. He quoted Proverbs 13:24: "Whoever spares the rod hates their children, but the one who loves their children is careful to discipline them."
"I'm not talking about beating your kids," Brown said. "Think about a shepherd. The rod is used to corral the sheep and make sure they're going where they're supposed to go. That sounds like good parenting to me."
His mother equipped him, he said, with the tools for a successful life and the first and most important one was his faith. After she died in May 1992, he found a mentor in Roger Walker Jr., former sheriff of Macon County and the first black sheriff elected in Illinois. When Brown first encountered Walker, when Brown was a boy, Walker was already known for his community outreach and good relationships with people.
"I knew that was what I wanted to do and who I wanted to be," Brown said.
Walker took him under his wing when Brown joined the sheriff's department in 1990 as a correctional officer, and mentored him when he became a deputy in 1991, he said.
He reconnected with his birth family and was able to meet with his biological mother and thank her for having the courage to place him and his sister for adoption, he said.
"People, we have to forgive," he said, quoting from Matthew 6, where Jesus introduces the Lord's Prayer and explains that believers must forgive others if they expect God to forgive them. "We need to begin to let things go," Brown added. "None of us are without sin and we do not judge others simply because they sin different than we do."
That got a round of applause and "amens" from the listeners.
The annual breakfast drew well over 100 attendees, including featured musical performer Theodore Fisher, a junior at MacArthur High School, who performed Marvin Gaye's "What's Going On" on the alto sax and received a standing ovation.
Fisher didn't begin playing saxophone until seventh grade, and his music teacher at Garfield Montessori School told him that it was too late to begin, but he was determined, he said. He plans to minor in music and major in architectural engineering in college.
"I give glory to God for this," Theodore said. "Without him, I'd be nowhere. This (music) is my life. This is going to get me a scholarship. This is going to get me everywhere. Playing for these people is very humbling and I appreciate it. I'm giving back. The Bible says, 'As much as is given to you, you have to give back,' so I'm just giving back and using my talent."
Amaury Cook of Decatur was attending the annual breakfast for the first time. "(I'm here) to establish some type of connection with people around you and give myself a basis of what's going on, who's doing what and what direction things are going," he said.
Nearby was Jim Taylor, who with Bill Oliver helped get the name of Martin Luther King Jr. Boulevard changed from Broadway in the 1990s. That effort took about 10 years, he said. A lifelong member of the NAACP, he's never missed an event.
"Whatever they have, I'm there," he said.