DECATUR — Six-year-old Kenzie Hays donated money to the Salvation Army's red kettle outside Walmart East Friday night, because Wonder Woman was there ringing a bell.
The little girl liked the tall superhero, but she admits she would prefer to meet another one. "Batgirl is my favorite, because she can fly," she said.
Wonder Woman is one of nearly 20 Heroes of Legend Cosplay characters seen throughout the area at various events, including at parks, festivals, the Children's Museum of Illinois and Scovill Zoo. 
The group's latest stop was as bell ringers for the Salvation Army at Walmart East. They will return to help the organization from 4 to 8 p.m. Saturday, Dec. 23, at Walmart North.
Wonder Woman, AKA Jennifer Wempen, is scheduled to be there again.
"She is a strong female role model. A lot of the girls don't have positive superhero role models," Wempen said.
Standing at 5 feet 11 inches, she is ideal for the part. "I am perfect Amazon size," she said, comparing herself to Wonder Woman's ancestry.
Having studied her character, Wempen said the superhero doesn't feel cold like everyone else, a convenient trait for someone ringing a bell in a doorway in the winter. "She is not normal," she said.
Wempen remains in character during her time as Wonder Woman, although she cannot use her powers. She tells the children she is allowed to be at the event if she promises not to bend metal or use her golden Lasso of Truth. "They are dangerous and powerful," she said.
The team of superheroes works together during similar events. Wes Krall often dresses as Iron Man, Superman or Spider-Man. Krall is one in a group of mild-mannered citizens throughout the day, but when he is needed, he is ready to fight the never-ending battle for truth and justice.
"We just try to make a little bit of a difference," he said.
Kyle Karsten, the Salvation Army's director of development, was happy to have the Heroes join the bell ringers.
"The kids can have a lot of fun with them," Karsten said about the first-time bell ringers. "We have a generous community anyway. But now you get to see your superhero helping out."
You have free articles remaining.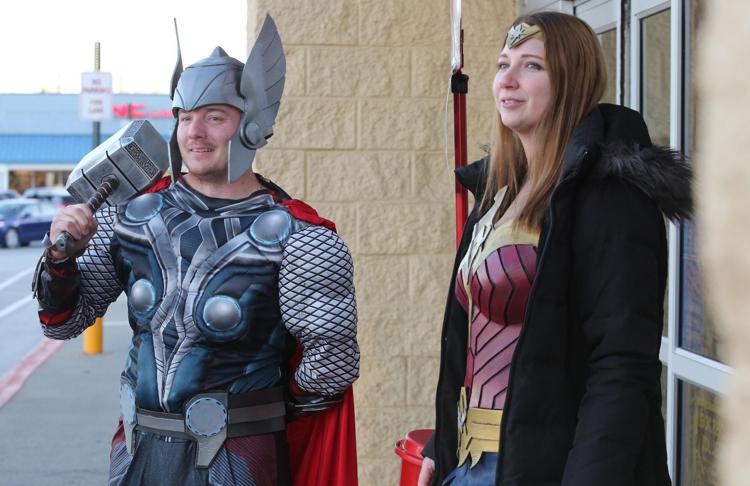 The Salvation Army's overall goal is $470,000 for the year. The organization helps serve the community through their regular programs such as youth events as well as senior citizen and women's programs. Portions of their yearly and seasonal fundraisers will be used to provide needy families with food and toys during Christmas. Other Salvation Army fundraisers are scheduled throughout the year including food drives, golf outings and concerts.
The holiday events are the organization's busiest time of year, with giving opportunities such as a free community piano concert, Guns and Hoses bell-ringing competition involving firefighters and law enforcement, and a Red Kettle Gala.
Bell ringers and the Salvation Army kettles are located throughout Decatur, including all four Kroger stores, Hickory Point Mall's Hobby Lobby, Big Lots on Pershing Road, Rural King on Mount Zion Road and Sam's Club on Prospect Drive as well as two bell ringers at the entrances of both Walmart locations. A large kettle is located in Hickory Point Mall's center court.
The Heroes of Legend Cosplay motto — "Be the light that shows the way," — fits well with the Salvation Army's goal.
The group began two years ago. They attend events in costume and in character drawing attention wherever they go. The super heroes jump at the chance to help others.
"We don't ask for pay," Krall said. "We ask, 'Can we come help?' "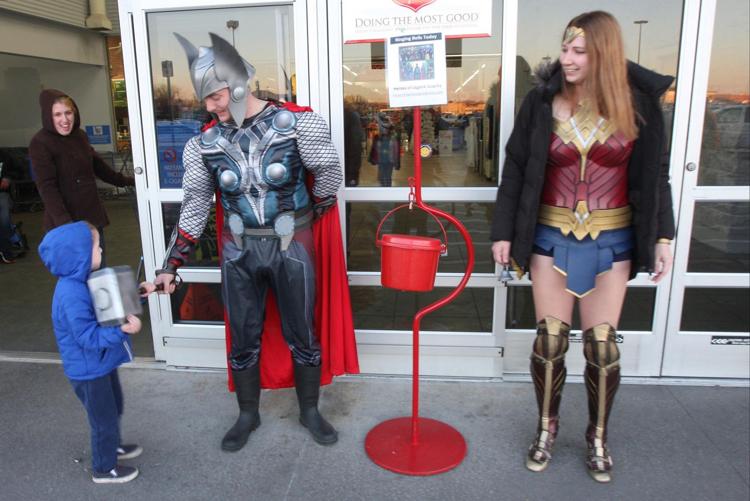 During their bell-ringing, the heroes give away candy canes, play Christmas music and happily pose for pictures.
Although Wempen likes dressing up in the famous costume, her favorite part of the events is the reaction she gets from the families. "Every time a child comes up to me, their face lights up like a Christmas tree," she said. "It is magical every single time."
She gives them high-fives and hugs. Katiana Benedict, 3, was happy to see the superhero. Wonder Woman is one of her favorites.
"She is beautiful," Katiana said. "That's what I'm going to be for Halloween."
Her 5-year-old brother Zakotah saw the job as little more important than just being superhero. "They are making money for Jesus," said.