DECATUR -- For a century, Decatur has been like a desert for those who wanted a taste of locally brewed beer.
Sure, there were bars that served craft beer and several local homebrewers who made some suds for friends and families; but not a locally made beer easily accessible to the general population.
It was there that Dreux Lewandowski, co-founder of Decatur Brew Works, saw a need.
"Decatur was long overdue for this," Lewandowski said. "It was kind of like putting a water hole in the middle of a desert, in a way."
Tucked in a small 3,000-square-foot building on the corner of Main and Main, Decatur Brew Works has become a unique spot that has served not only locally brewed beer, but also a unique sense of community that has helped it stand out for more than just being the first brewery to open in the city in a century.
With its 24 beers on tap, a mix between local brews and those from other craft breweries, and an emphasis on "bring your own food," the brewery has earned just as much a staple of downtown Decatur as Central Park.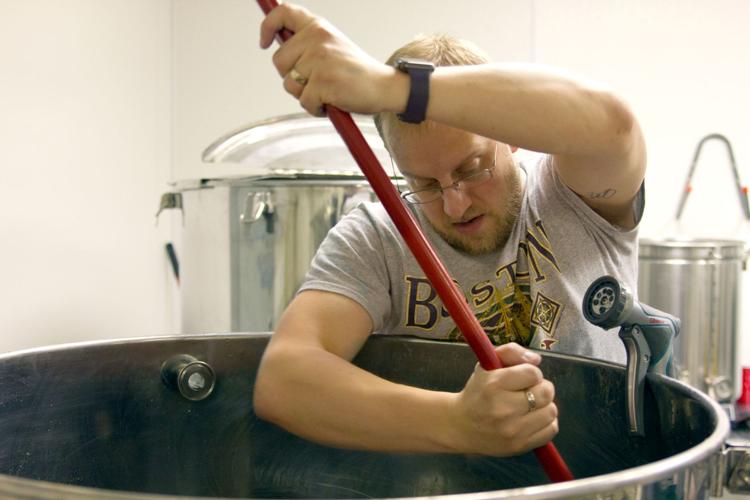 Not too shabby for an idea that began years ago as a conversation between a couple of homebrewers.
The first drop of the Decatur Brew Works story can be traced back a few years, when Lewandowski and Micah Koll met through the local home brew club.
Koll later came to work for Lewandowski at Macon Resources Inc., or MRI, where the latter has been the longtime executive director.
While there, Koll pitched a business plan for a brewery as an expansion opportunity for MRI. While supportive, the MRI board of directors passed due to hesitation of the agency entering the brewing industry. But from the pitch came a partnership between Koll and Lewandowski, as well as Stan Rives and Renee Manring, who came together to determine whether Decatur was ready for a brewery.
After a year of preparation, which saw them remodel the space, obtain permits and even launch a Kickstarter campaign that raised nearly $13,000, the brewery was finally ready to open its doors on Jan. 26, 2016.
Even as the grand opening approached, there was curiosity on whether the project would succeed in Decatur. Aside from being the first brewery in the area, Koll talked about the industrial nature of Decatur, with blue-collar workers who stereotypically prefer beer staples such as Budweiser or Miller over the more expensive craft beer.
Within the first few weeks, when people regularly lined up outside for the brewery to open and a seat inside became one of the hottest tickets in town, those concerns about whether Decatur Brew Works would survive were put to rest.
"My favorite thing is to see guys who come in and say, 'I only drink Bud Light, what have you got here for me?'  " Koll said. "And then they come in the next week and drink new stuff, and again and again.
"I couldn't say enough about how great Decatur has been in supporting us."
The variety of beer styles has especially helped the brewery stand out from other bars in the area, with many styles usually seen done by larger brewers. Those styles can vary from a blueberry beer that shares a name that celebrates Millikin University to a Belgian style than can tickle one's taste buds with its various flavors.
When the doors are closed on Sunday, you can usually find Lewandowski and Koll in the basement of the building, where the brewing system is set up. The two, with about 25 years of homebrewing experience, come up with number of beers to compliment the regular house styles on tap, such as the popular Commodore India Pale Ale and D-Town Brown.
It is more than just the beer that has made Decatur Brew Works such a destination spot.
The brewery has made a name for itself by hosting one of the only regular trivia nights in the area, taking place every other Tuesday night and covering everything from general knowledge to entire nights dedicated to topics such as "Game of Thrones" or "Saved By The Bell." Other unique events have featured monthly yoga sessions and a ukulele night.
The events get down to what Lewandowski said was one of the goals of the business: to foster a culture where regulars and newcomers could bond over good beer.
That bond is a big reason why Brian Bell continues to return to the brewery long after earning the title of Brew Works' first customer.
Bell, 38, waited more than an hour outside in the cold to earn that recognition; coming to the grand opening to help support locally made beer.
His return visits were about more than just the drinks though, as Bell said the brewery became something like a neighborhood bar. He's since become something more than just a patron, as he has regularly hosted the trivia nights and written the questions himself.
"It's exciting, it's a relaxing environment where people know each other and can just chat," he said.
The events also help boost traffic on what Koll calls normally slow business days: A recent trivia night dedicated to "Gilmore Girls" saw the taproom filled to capacity not normally seen on weekdays.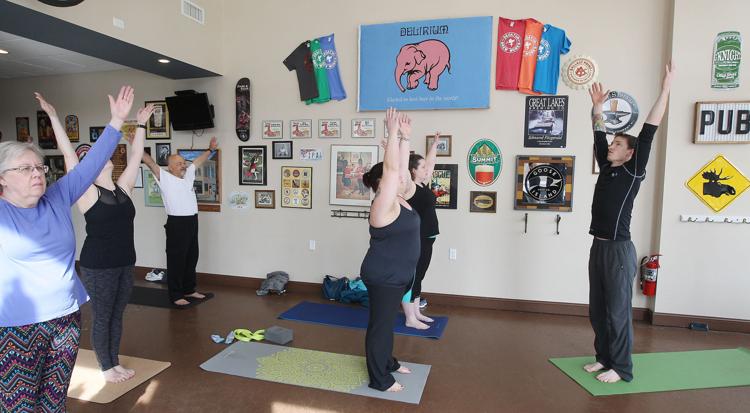 The space is one thing that is brought up, as about 75 patrons can be in the bar at once. That fact can make it especially chaotic on weekends or other big events. It's part of what Lewandowski said have been early conversations about which direction to take the brewery. What those may entail remain to be seen, as he and Koll declined to get into specific future plans or the financials of the business. They said only that is has been a fulfilling venture.
While the idea of a large-scale brewing process that includes bottling or canning their beer for wide consumption is a dream of any brewer, Lewandowski said the plan now is to continue what has made Brew Works such a hit in the community.
"To go too much, too fast is not really a good business plan," he said. "We were modest in our approach, and I think that's why we've been so successful."