DECATUR -- Just as Central Illinois digs itself out of 2019's first significant winter storm that dumped more than 9 inches of snow over the Decatur area, comes news of a new snow storm heading this way.
Weather experts say the second storm of the season is due to hit around Friday and especially Friday night. But it's just too far out at the moment to say how bad it will be.
"Right now, the models are all over the place," said John Parr, hydrometeorological technician with the National Weather Service in Lincoln. Asked if there was a possibility the storm could be as significant as the one we've just endued, Parr added: "Well, it's a possibility. I'd say we need another three days for the this model to firm up."
Recent warmer winters have cut back on significant snowfall, with the last major event -- dumping more than 11 inches -- dating back to 2015. This most recent storm far exceeded that total in some places, said Parr, with Jackcsonville recording a hefty total of 16 inches while most of the Decatur area was hit with between 9 and 9½ inches.
In Springfield, the Springfield's State Journal-Register reports that the state capital broke a 55-year record for daily snowfall on Saturday. It cites the National Weather Service as saying the 8.4 inches of snow that fell on the city broke a previous record for Jan. 12, set in in 1964 with 6.6 inches. The Charleston area was perhaps the luckiest this time, escaping with a coating of 6 ½ inches overall.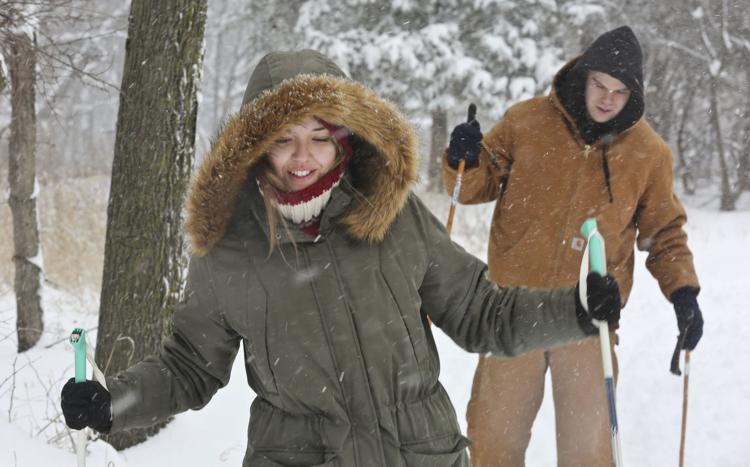 The snow finally stopped falling Sunday but still left plenty to clean up with blowing and drifting creating hazardous conditions on many exposed routes. Lt. Jamie Belcher with the Macon County Sheriff's Office said his second shift officers had dealt with five slide-off accidents Sunday and warned this morning's commute could be hazardous in places. He said the Illinois Department of Transportation had also advised many state highways were still dangerous Sunday night.
"Take it easy, slow down, increase following distance and leave yourself extra time when heading out for work or school Monday," added Belcher. "Crews have been out all day and all night working the roads, trying to get them cleaned up -- but obviously Mother Nature can ruin that overnight."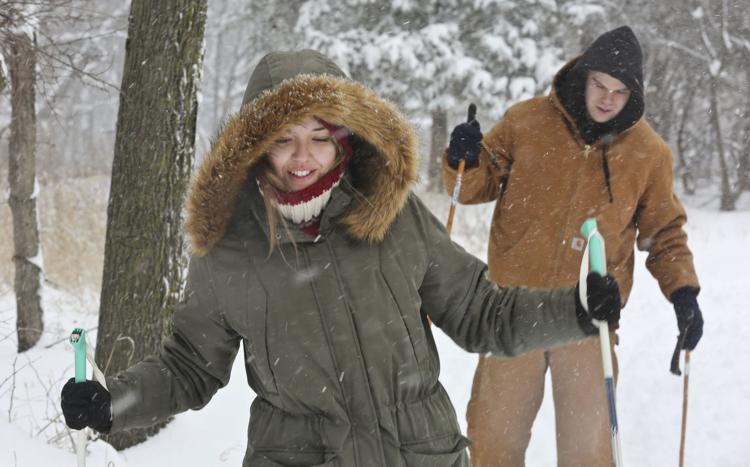 Bruce Bird, the Macon County engineer, said the drifting had posed significant headaches but the situation was easing into Sunday night as winds died away. He had nine pieces of equipment, including two huge motor graders, out working Sunday and said clean-up was going well, but echoed Belcher's caution on the Monday morning commute.
"People need to be careful when they are driving," he said. "But the sun is supposed to come out Monday and, by Monday afternoon, we'll have really good looking roads by then."
In Decatur, Municipal Services Manager Dan Mendenall said he'd had a full shift of 19 workers out clearing roads and they were aiming to have all neighborhood streets plowed off by this morning. "We're getting there, we're getting it done," he said.
One tragic accident in the Chicago area underscored the need for drivers to exercise extreme caution when navigating winter weather. The State Police said snowfall may have been a factor in an accident that claimed the life of Trooper Christopher Lambert. He was killed Saturday when a car struck him as he got out of his squad car to deal with a three-vehicle crash. Lambert had been on his way home on I-294 near Northbrook when he pulled over to help. The State Police Director Leo Schmitz said Lambert had positioned his squad car to protect the three cars and "took on the danger himself."
The 34-year-old was married with a year-old daughter. Schmitz called Lambert a hero and said "everybody loved him."
The Associated Press contributed to this report.