DECATUR — Circle around and learn the story of a day that offers an opportunity to celebrate math, food and the knowledge that not all good things must come to an end.
Today, March 14, or 3/14, is "Pi Day," an annual honor to the first three numbers of the mathematical constant 3.14. The symbol for pi —the Greek letter Π — is used to determine the ratio of the circumference of a circle to its diameter. Pi has been calculated to 2.7 trillion digits, with no repeating pattern, infinite.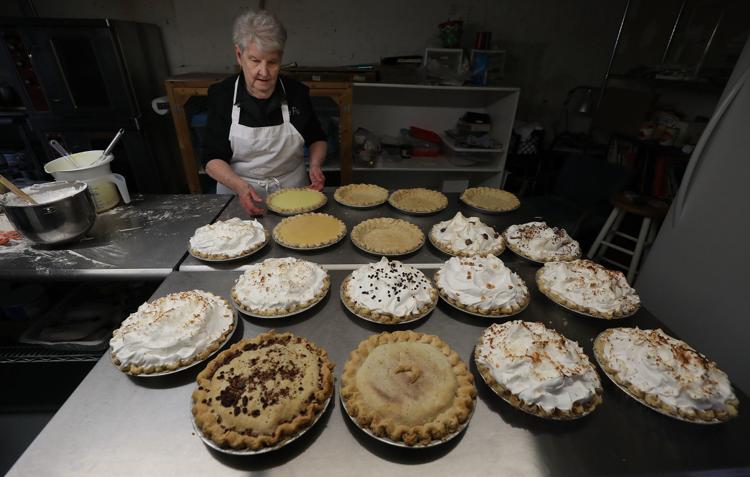 The fact that pi rhymes with pie is but the sweet part of this celebration, owing also to the relative circle shape of a dessert that comes in a seemingly infinite variety of flavors and fillings we also include the dinner that might precede it: pizza pie. Cream pies, fruit pies, pizza pies, as long as it is round, feel free to indulge today.
Hidden beneath the popular downtown restaurant is a well-stocked, small kitchen devoted to baker Flo Coombes and her handcrafted pies. Coney McKane's has a delicious selection of pies that include butterscotch, banana, chocolate/peanut butter, caramel apple and lemon.
Coombes, 85, has been making pies for several years. "The pies for about 20 years," she said. "But I did wedding cakes and things like that before."
She devotes most of her time to the restaurant's desserts, including cookies, cupcakes and sheet cakes as well as a few meals. Her days starts out before breakfast and often ends after lunch.
Coombes said the most popular pie is coconut.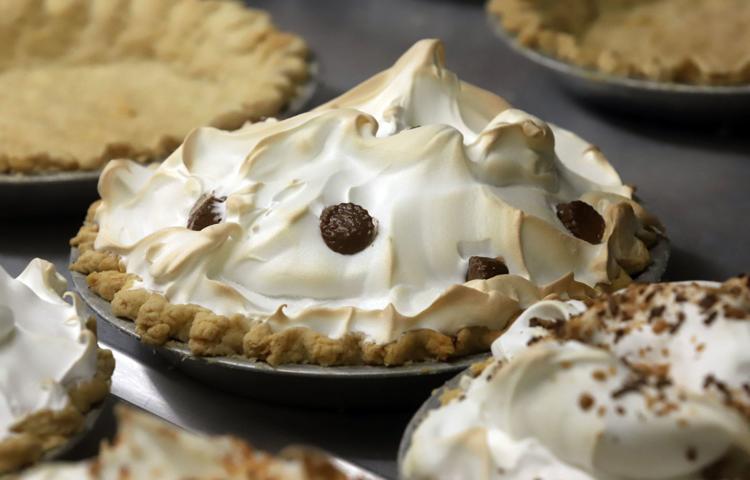 "I have no idea why, but that's the seller," she said. "But strawberry when it is in season, I can make eight a day, and we run out."
Coombes said she isn't particular when it come to sweets.
"If I make a pineapple cream pie, I may eat it," she said. "But I may have a cookie or something like that."
When the restaurant opened more than 20 years ago, pies were produced by another chef. Coombes assisted and learned the techniques, but also added her own touches. The pies continue to be made from scratch.
"For the pie crust, I started out with a recipe that I changed quite a bit," she said.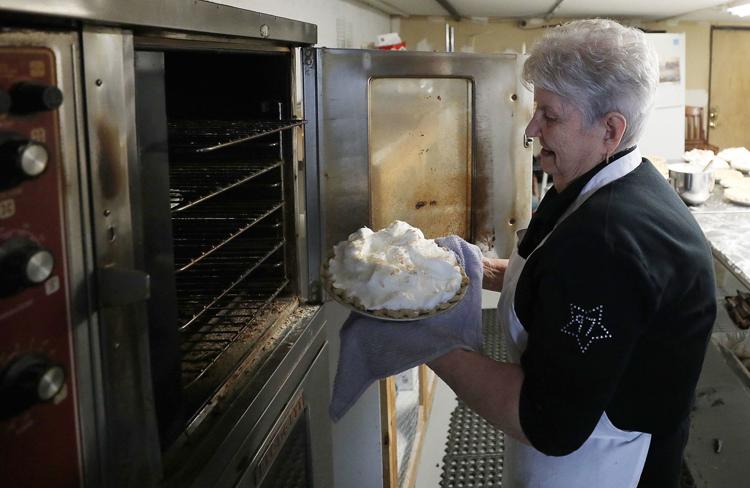 Coombes said she rarely measures the ingredients, using her hands to analyze how much to put in the bowl. Some people have little patience in waiting for their favorite seasonal pies. Customers have brought in their own fruit, such as preseason strawberries or gooseberries, because they know local stores aren't ready for them.
"She'll buy them anywhere she sees them," said Bunny Thomas, general manager. "But if they are white or gross inside, then there's no pie."
Customers are able to special order their favorite pie, but if the flavor of the fruit is not up to Coombes' standards, she will not guarantee the product.
Unlike pi, though, her pies aren't infinite. Throughout her workday, Coombes will make about 25 pies. During the busy season, she may double the amount. 
"Some are special orders, but most are for us at the restaurant," she said. "We usually sell most of them. The boss likes for us to run out."