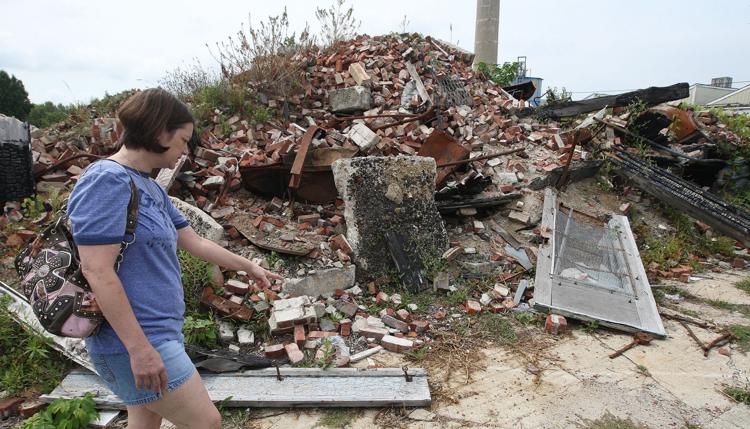 DECATUR CITY GOVERNMENT
$300,000: City may tear down gutted Decatur warehouse
DECATUR — Taxpayers may wind up paying to remove a block-long pile of charred and scattered rubble that has become a haven for scavengers and illegal dumping, nearly three years after fire gutted the century-old East Grand Avenue warehouse.
City Manager Tim Gleason estimates it will cost $300,000 to clear what's left of the building, which is believed to contain asbestos, and the nearly acre parcel. Because the owner died last year, the city is facing a protracted legal battle and is exploring paying for the cleanup with property tax revenue to avoid an even longer wait, Gleason said. 
The property, which was not insured, had housed a restaurant equipment business, Aaction Equipment. After the January 2015 fire, the city took property owner Robert Powell to court to force him to remove the massive pile of bricks and other debris left behind when the structure collapsed. The city postponed the case after Powell died in April 2016.
In the meantime, the weed-choked ruins that include mounds of mortar, pipes and rusted metal are an eyesore for neighbors, who say people frequently trespass to pick up loose scrap metal and drop off trash and old mattresses. On a recent afternoon, milk crates, an old door and liquor bottles peaked through rubble, some of which littered the sidewalk. Debris measures nearly a story high in places.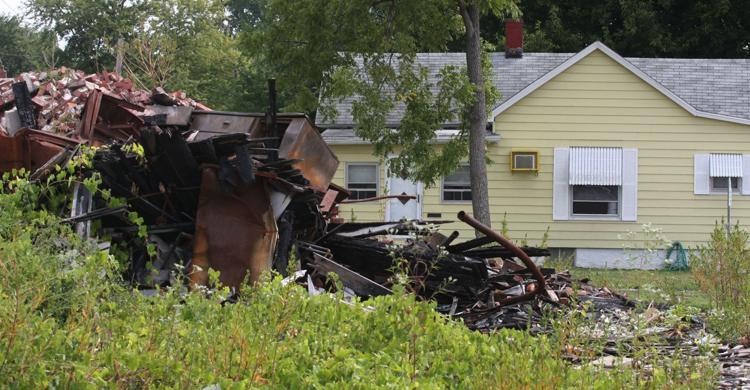 "It's just literally become a landfill," said Charity Doyle, who lives across the street.
Gleason said the city is seeking a final estimate for clearing the land, and then the Decatur City Council would have to approve the work. He said the warehouse rubble could be removed before 2018.
"You just find what rises to the top is the need to get it cleaned up versus four or five years of litigation," Gleason said.
Gary Geisler, who is listed in court documents as Powell's attorney, did not return repeated messages seeking comment for this story.
From 1894, the three-story building was home to Faries Manufacturing, one of Decatur's stalwarts of the industrial era, which made various commercial and consumer goods like kitchen cabinets, mirrors, bird cages and stands. Its Art Deco-style lamps from the 1930s are still sought-after by some collectors.
Demand for its products fell off in the late 1940s and 1950s, and the business sold the building to Sol Tick & Co. in 1955 and moved to Elkhart, Indiana. 
Robert Powell bought the warehouse in 1979 and ran his restaurant equipment business out of it until the fire, said Tom Powell, one of his surviving sons. In addition to the equipment sales, the Aaction owner stocked the vast space with valuable antique items like an 150-year bar counter from a nearby shuttered coal mining bar, Tom Powell said.
"Before 2008-2009, when the housing market crashed, their business was phenomenal," Tom Powell said, "but after that it really just dropped off and it was a constant struggle for him."
'Not responsive at all'
A few years before the fire, Tom Powell said, his father learned he would have to spend $300,000 on a new sprinkler system to insure the building, and decided to accept the risk himself.
"He was an old-school guy, and he said 'What's mine is mine,' and if he loses it it's his, and it just wasn't economically feasible," the younger Powell said.
The fire consumed the building, requiring most of the Decatur Fire Department's equipment and firefighters as well as reserve units from Hickory Point, Mount Zion and Warrensburg's departments. The warehouse collapsed in sections as it burned.
"It was one of the larger fires we'd had in the last decade," Fire Chief Jeff Abbott said.
Streets were closed the following day as city workers cleared the area of immediate hazards.
In the aftermath, the city directed Powell to fence off the hazardous area, but neighbors say it came down several months after his death. Since Powell's death, Gleason said, the estate has been silent.
"They're not responsive at all. So, there's no reason for me to think that there really is any glimmer of hope that it isn't, unfortunately, going to become a burden on the taxpayer," Gleason said.
The city has so far not entered into any further legal action since Powell's death.
"My understanding is there's not been an appropriate estate opened, so there is no contact," City Attorney Amy Waks said.
Waks said she asked the court to delay the case so that the city could explore its legal options. She did not indicate what further action the city might take.
According to Macon County court records, Powell in July 2015 said he could not afford to have work performed on the site because he was undergoing dialysis for kidney failure. In the same motion, Powell confirmed that the building was not insured and said Aaction Equipment had been his source of income.
Tom Powell said his father's attorney, Geisler, assured him after his father's death that any liability for the ruined warehouse was not attached to his name.
Macon County records show Robert Powell is still listed as the owner of the warehouse. His widow, Sharon Rambo, sold the site's adjacent building and empty lot across the street, for $8,000 each a few months after his death.
Tom Powell said both properties were previously owned by his late father, and said Rambo controlled his father's holdings following his death. The Herald & Review could not reach Rambo directly but left a message with a relative, which she did not return.
Fear of asbestos raised 
Blighted, abandoned properties — and how to pay for removing them — have been a key issue for the city for years. The parcels drive down nearby property values and can be used for criminal activities. 
The Herald & Review reported in February that more than 100 properties had been deemed unsafe by the city, marking them as potential targets for demolition. Each residential property costs roughly $15,000 to tear down, but larger cleanups such as the warehouse come with a much higher price tag.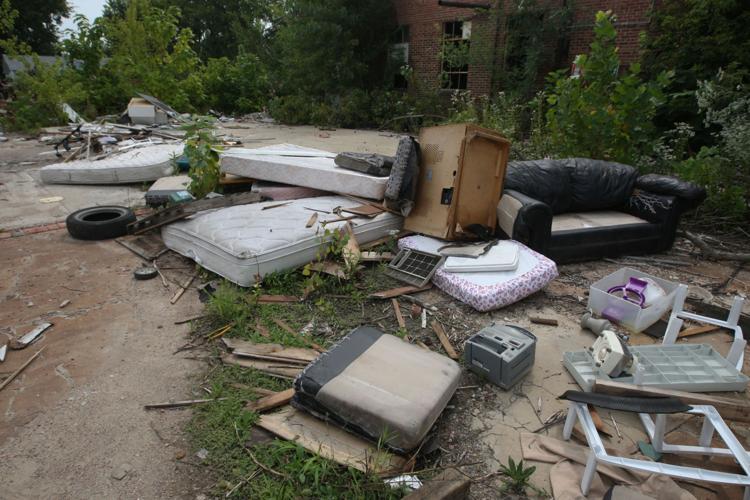 About $300,000 from this year's property tax revenue could pay for the work, Gleason said. In the future, that amount of money could be funneled to other neighborhood revitalization efforts, a key topic among city leaders for years and a heated campaign issue leading up to Decatur City Council elections in April.
Gleason told an audience at the Decatur Club last month that city leaders were prepared to launch committees to receive community input, and a study session on the topic is planned for the Sept. 25 City Council meeting to introduce what could be a years-long initiative.
Like many abandoned properties, the Aaction Equipment warehouse has raised concerns about trespassers. 
Residents said people routinely go onto the site to pull out and resell old copper, steel, and iron piping.
"Somebody's going to get hurt eventually collecting a few dollars that you might be getting out of it," Doyle said.
While there may be some value to what's left at the site, Gleason said city staff suspect it could be contaminated by asbestos. So does Doyle, living across the street.
"We're all breathing this over here," Doyle said. "I keep stressing the environment."
In its legal action against Robert Powell, the city advised him any cleanup required inspectors from the Illinois Environmental Protection Agency to make sure any presence of asbestos didn't become a hazard.
"It's a requirement, but it's nothing more than somebody standing there with a fire hose so the dust stays down," Gleason said. "(There are) just a number of different hoops to sort of jump through to try to make this happen."
Neighbors hope that the city will intercede to clear up the mess they've been watching for nearly three years -- and counting. 
"It's an eyesore," said Greg Bradley, chairman of the board for Central Illinois Christians in Mission, a charity located down the block. "For those people that live across the street … they've gotten tired of looking at a mountain of bricks."